Supporters Join Celebration of 30th Anniversary of Falun Dafa's Public Introduction
(Minghui.org) Thirty years ago, on May 13, 1992, Master Li Hongzhi first taught Falun Dafa, an ancient spiritual and meditation discipline, in a small park in Changchun City, Jilin Province. 
Since then, the practice spread through word of mouth across China. Many people, although they don't practice Falun Dafa themselves, also identify with Falun Dafa's principles of Truthfulness, Compassion, Forbearance, and have received blessings for their support. 
On the 30th anniversary of Dafa's public introduction, which is also the 23rd World Falun Dafa Day and Master Li's 71st birthday, many supporters join the celebration of this historic event by sending their warmest greetings to Master Li through the Minghui website. Below are select greetings from the supporters.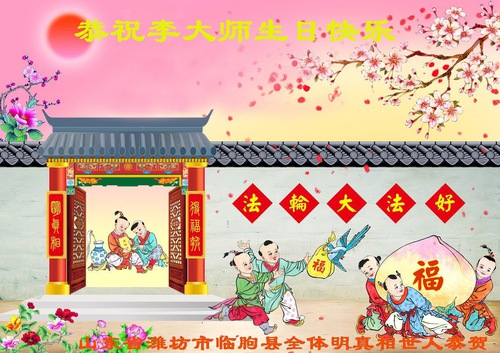 A family from Hengshui City, Hebei Province said, "We are a married couple in our 30s. We have family members who practice Falun Dafa and we know that Dafa is great from their changes. Not long ago, when my wife went through a regular physical, the doctor found that she had contracted Hepatitis B more than ten years ago. But without taking any medication, she never suffered any visible symptoms and the infection was cured on its own. We all think it's a blessing because of her support for Dafa."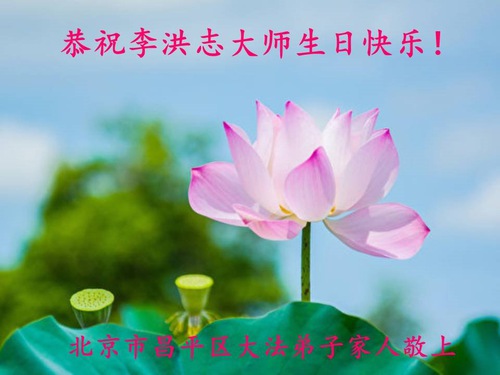 A man in his late 70s said, "Today, Dafa has been widely spread around the world. People's morality has improved and their bodies purified. However, in China under the rule of the Chinese Communist Party, Dafa practitioners are still being persecuted, and the situation is even getting worse. But no matter how fiercely the communist regime persecutes Dafa, nothing can stop us from supporting Dafa. 
"We believe that the truth will prevail over evil. With the efforts of righteous people all over the world, China will usher in a beautiful future without communism.
"My wife and son both practice Dafa. My wife suffered severe ailments in her youth, which were soon cured after she took up Dafa. Although she is in her late 70s, she still does the house-chores every day. I have also benefited and enjoy good health myself. I ride my bike every day and I can still carry some heavy items upstairs. Many people younger than us have passed away or become bedridden, but we are still full of energy.
"For all these years, I often hear about the brutal persecution the practitioners are suffering. Some became disabled, some went insane and some were even killed for their organs. I felt really sad about it. 
"One day, the thing I worried the most happened – my son was arrested and sentenced to a heavy term. He endured savage beating by several officers and the torture lasted for years. The persecution is appalling and I witnessed it all.
"Fortunately for him, he came home alive, without going crazy or becoming disabled. But the police didn't leave him alone. One day when he went out, he was rejected while trying to take a taxi. The police also harassed him at home, forcing him to move to another city to hide from them.
"Seeing that people the age of my son had long established their families and made achievements in their careers, I felt rather bitter when seeing my son displaced in another city. He said to me that it's not that he didn't want to get married, but he didn't want anyone to be implicated in the persecution.
"I know how devout and determined he is in upholding Dafa. I didn't understand him in the past. But now I do. What he and countless other Dafa practitioners are doing are truly saving the world's people. I long for the day when the persecution is stopped and we all have a bright future."
Other greetings came from supporters in the following regions:A person surnamed ChenA person surnamed LiA taxi driverA small business owner in BeijingA retired military officer in Shandong ProvinceThe daughter of a practitioner in Xi'an City, Shaanxi ProvinceAn 85-year-old practitioner and 24 of her family members in Mengyin County, Shandong ProvinceAnshan City, Liaoning ProvinceLinqu County, Shandong ProvinceChangping District, BeijingXuchang City, Henan ProvinceDongying City, Shandong ProvinceLinqing City, Shandong ProvinceQianxi County, Hebei ProvinceHarbin City, Heilongjiang ProvinceLiangshan Yi Autonomous Prefecture, Sichuan Province
Copyright © 1999-2022 Minghui.org. Content on this page may be reproduced with attribution.