Falun Dafa Practitioners in Over 30 Professions in China Celebrate World Falun Dafa Day
(Minghui.org) When Mr. Li Hongzhi first taught Falun Dafa to the public on May 13, 1992, many understood from learning the practice the true meaning of life. It has now been 30 years since the public introduction of this ancient spiritual discipline, and its practitioners are spreading it across the globe. Many recount how their health improved and their spirits were uplifted.
At the 23rd anniversary of World Falun Dafa Day and Mr. Li's 71st birthday, Falun Dafa practitioners are sending their heartfelt wishes to celebrate this grand occasion and wish Master Li a Happy Birthday.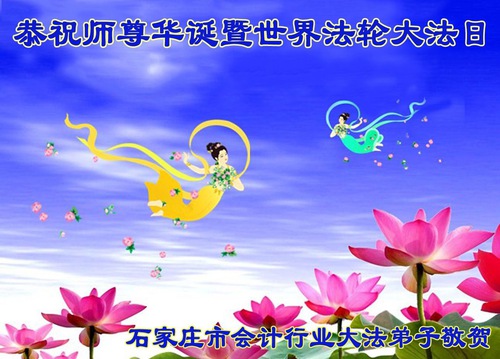 In this report, we present greetings received from practitioners in over 30 professions in China. They live by Falun Dafa's principles of Truthfulness, Compassion, and Forbearance and strive to be better people in all circumstances.
A retired railroad worker wrote, "I always wear a Falun Dafa lucky charm. I was hit by a car in June 2021. My motorcycle was destroyed, but I only got a scratch on my foot. I also survived a dangerous surgery that removed two-thirds of my stomach in November. I declined my doctor's suggestion of chemotherapy but repeated 'Falun Dafa is great, and Truthfulness-Compassion-Forbearance is great,' and I listen to Master's lectures every day. Though I'm almost 80, I'm recovering quickly, and eating better and better. I sincerely thank Master for saving my life! Master, I will not let down your compassionate salvation! My family and I wish you a happy birthday!"
Other greetings come from practitioners in the following professions:
Healthcare system in Changchun, Jilin ProvinceShengli Oilfield, Shandong ProvinceRailroad system in Ankang, Shiaanxi ProvinceFinancial system in Hebei ProvincePublic servants in Hebei ProvinceBanking system in Jilin ProvincePetrochemical field in Gansu ProvinceTextile manufacturing system in Gansu ProvinceHealthcare system in Zhongjiang County, Sichuan ProvinceWater utility system in Linqu County, Shandong ProvinceHuanan Forestry Bureau, Heilongjiang ProvinceDaqing Oilfield, Heilongjiang ProvinceZhongyuan Oilfield, Henan ProvinceAccounting profession in Shijiazhuang, Hebei ProvinceFinancial system in Hebei ProvinceHeavy machinery system in Xi'an, Shaanxi ProvinceConstruction profession in Shijiazhuang, Hebei ProvinceHealthcare system in Yunnan ProvinceArts and entertainment professions in Yunnan ProvinceHongguang State Farm in Heilongjiang ProvincePharmacy profession in ChinaHealthcare system in Guan County, Shandong ProvinceRailroad system in Bei'an, Heilongjiang ProvinceDalian, Liaoning ProvinceNanjing, Jiangsu ProvinceLaiwu Steel Group Co., LtdRailroad system in Guangzhou, Guangdong ProvinceDaqing City Production Plant, Heilongjiang ProvinceHuairou, BeijingInsurance profession in Bejing
Views expressed in this article represent the author's own opinions or understandings. All content published on this website are copyrighted by Minghui.org. Minghui will produce compilations of its online content regularly and on special occasions.