Madrid, Spain: Three Days of Activities Commemorate 1999's April 25 Appeal
(Minghui.org) Falun Dafa practitioners in Spain held three days of events in Madrid from April 23 to 25 to mark the 23rd anniversary of the April 25 Beijing appeal.
They collected signatures on the Plaza del Callao in the center of Madrid on April 23. With the lifting of the mask requirement, Spain has returned to its pre-pandemic normalcy. The city center was crowded with people enjoying the warm weather. Many people stopped to read the display boards and signed the petition to end the Chinese Communist Party's (CCP) persecution of Falun Dafa.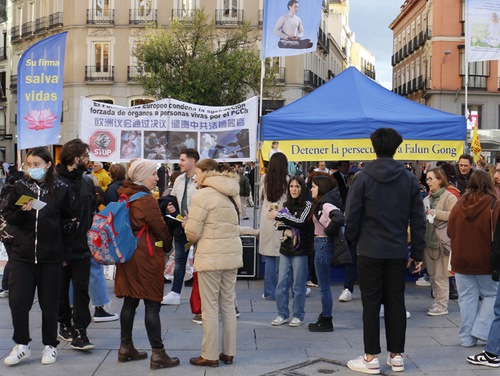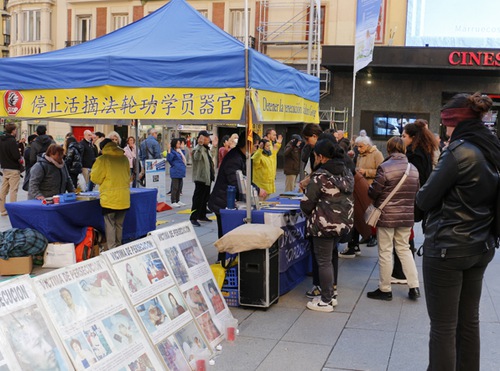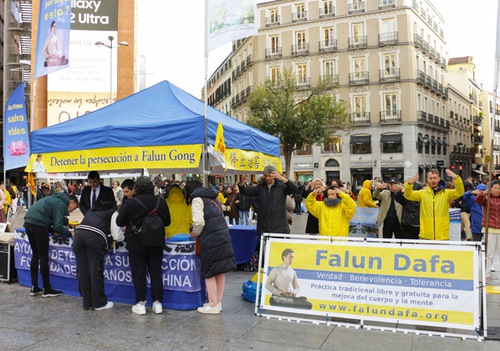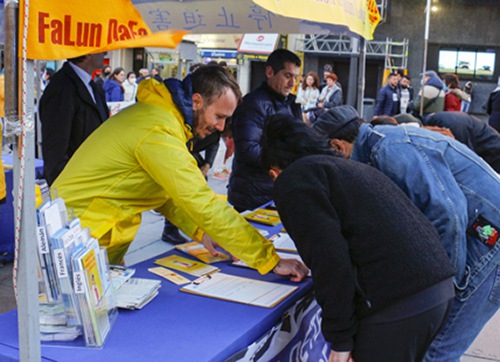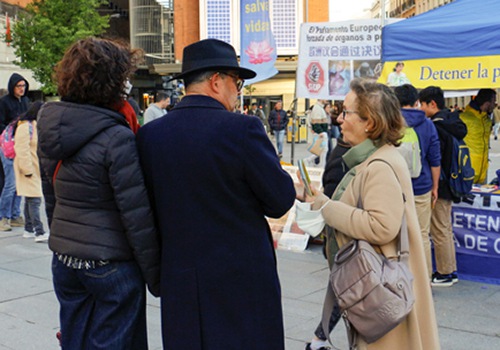 Practitioners held activities in Madrid to commemorate the April 25 appeal.
Francisco, a 28-year-old Spaniard studying law, talked to practitioners and took videos of the display panels with information about the persecution and the CCP's organ harvesting. Francisco said the persecution is frightening and it's very difficult for people in the West to imagine these human rights abuses taking place on the other side of the world. He is grateful that he lives in a democratic country, where everyone can freely express themselves. After reading all the display boards, he signed the petition to end the persecution.
Another young man, who was studying diplomacy, stopped and read the information. After talking with practitioners and learning that the persecution was still taking place in China, he said, "I thought I knew the evilness of the CCP very well, but I didn't expect that this regime is so cruel that it persecutes good people and uses live organ harvesting to end their beliefs. Because of my studies, I have done a lot of in-depth investigations, but I had no idea about this (persecution of Falun Dafa)."
He was visibly moved after learning how Falun Dafa practitioners are persecuted for practicing their belief. After signing the petition, he said, "Thank you for your courage and continued efforts. If one day I become an important diplomat, I will do everything in my power to make sure this never happens again."
Ms. Noelia works in a multinational company. Her friend from Rome was visiting her. They passed the square and noticed the practitioners' truth-clarification activity. Noelia was surprised and said, "The whole world should pay attention to this persecution and condemn this terrible crime." Her friend Fabio said that he had seen similar activities organized by practitioners in Rome, but he hadn't signed the petition. This time, he signed it.
Event Held in Front of the Chinese Embassy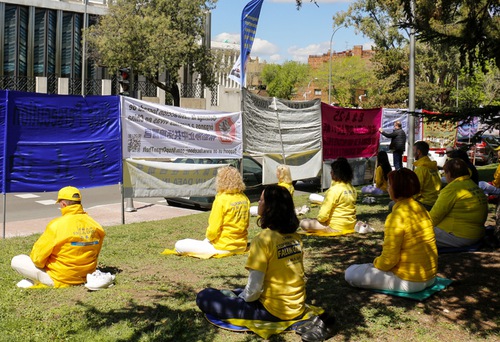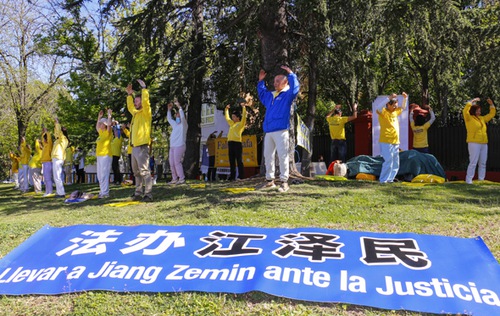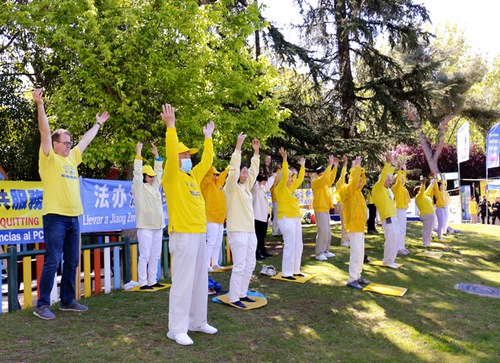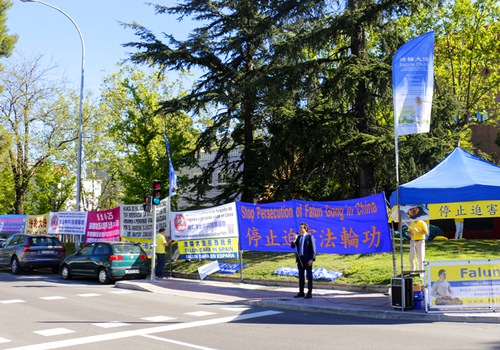 Rally in front of the Chinese Embassy
On April 25, practitioners set up display boards and banners near the Chinese Embassy. Many passers-by and drivers of passing vehicles gave them a thumbs-up. Some drivers honked their horns to show their support.
Ms. Virginia said that she's seen practitioners' peaceful protests before. She agreed with this and firmly opposed organ harvesting, "It's a pity that such crimes are not covered in the media so most people don't know that it's taking place. People have freedom of speech and freedom of belief." She wished practitioners success.
Both Ms. Silvia and her friend signed the petition. They felt that such terrible persecution should not exist. Silvia said, "Today's world lacks humanity as many people just look at economic interests and turn a blind eye to human suffering." They said that a society without a dictatorship is a free society.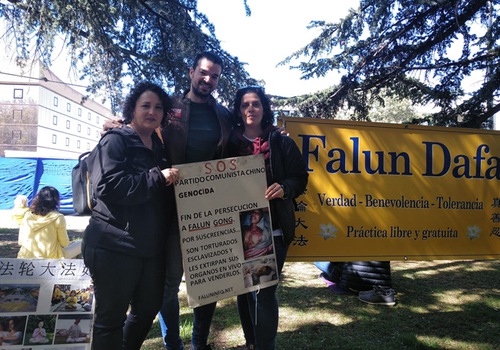 Esteban (middle), Montse (right) and a coworker
Esteban and two of his coworkers from the Council of Workers (CCOO) passed by the embassy and asked for more information. Esteban said, "Most people agree that the CCP is a dictatorship. The CCP does whatever it wants. The same is true for the persecution of Falun Dafa. The CCP doesn't care what the world thinks of it. That's why it's difficult to end the persecution."
His coworker Montse said, "More people need to get involved in this kind of human rights activity. Only then will it get more attention. While the mainstream media isn't doing what it should, all people need to unite and do whatever we can. This is a war and you have our absolute support."
Maria said she felt sad when she saw the display boards showing the torture suffered by Falun Dafa practitioners in China. She said, "This is terrible. People are persecuted because of their beliefs. It's terrible." She said she hadn't heard of Falun Dafa before, but the persecution must be condemned.
Exercise Demonstration in the El Retiro Royal Park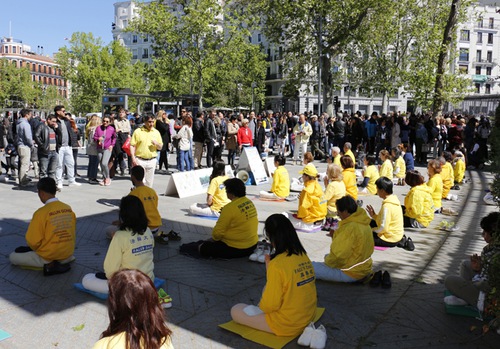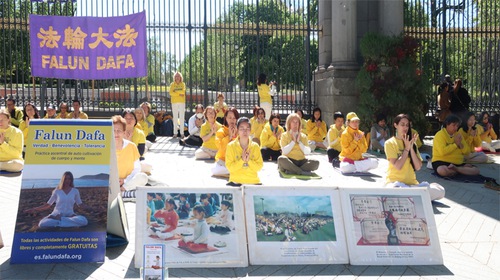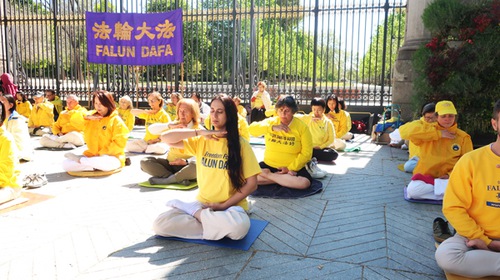 Practitioners demonstrate the Falun Dafa exercises.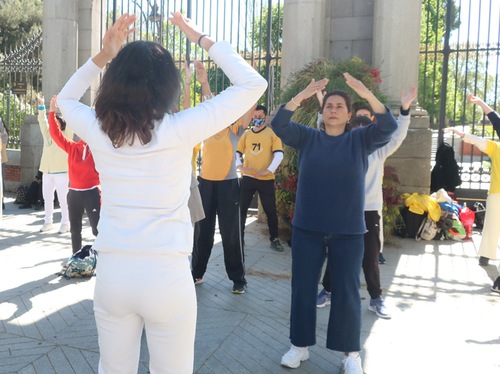 People learn the exercises.
The weather was warm and sunny on April 24th. Practitioners gathered at the main entrance of the Royal Park to introduce Falun Dafa. The Royal Park is a famous tourist attraction and many buses stop there.
As practitioners demonstrated the five sets of exercises many passers-by were attracted by the soothing music and stopped to watch. Some people asked to learn them. Some said they felt a strong and peaceful energy field. People were curious that in such a noisy environment, practitioners could practice and meditate so calmly. Many people were happy to receive information about Falun Dafa and said they would browse the Internet to read the books. Some asked where they could learn the exercises.
Background: What Was the April 25 Appeal?
Falun Dafa (also known as Falun Gong) was first introduced to the public by Mr. Li Hongzhi in Changchun, China, in 1992. The spiritual discipline is now practiced in over 100 countries worldwide. Millions of people have embraced the teachings—which are based on the principles of Truthfulness, Compassion, Forbearance as well as five gentle exercises—and experienced improved health and well-being.
On April 23 & 24, 1999, police officials in Tianjin, a city near Beijing, assaulted and arrested dozens of practitioners who had gathered outside a magazine office to discuss errors in a recently-published article attacking Falun Dafa. As word spread of the arrests and more practitioners inquired with officials, they were told they had to take their appeals to Beijing.
The following day, April 25, some 10,000 Falun Dafa practitioners spontaneously gathered at the Central Appeals office in Beijing, as they had been instructed by Tianjin officials. The gathering was peaceful and orderly. Several Falun Dafa representatives were called in to meet with Chinese Premier, Zhu Rongji, and members of his staff. That evening, practitioners' concerns were answered. The arrested practitioners in Tianjin were released and everyone went home.
Jiang Zemin, former head of the CCP, perceived the spiritual discipline's growing popularity as a threat to the CCP's atheistic ideology and issued an order to ban Falun Dafa on July 20, 1999.
Minghui.org has confirmed the deaths of thousands of practitioners due to the persecution over the years; the actual number is suspected to be much higher. More have been imprisoned and tortured for their faith.
There is concrete evidence that the CCP sanctions the harvesting of organs from detained practitioners, who are murdered to supply the organ transplant industry.
Views expressed in this article represent the author's own opinions or understandings. All content published on this website are copyrighted by Minghui.org. Minghui will produce compilations of its online content regularly and on special occasions.