Heilongjiang Woman Faces Prosecution After Being Reported by Her Former Tenants for Telling Them about Falun Gong
(Minghui.org) A Harbin City, Heilongjiang Province resident has been detained for over two months and is facing prosecution for her faith in Falun Gong, a spiritual discipline that has been persecuted by the Chinese communist regime since 1999.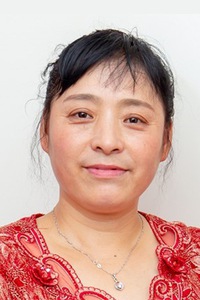 Ms. Sun Tairong
Ms. Sun Tairong, 52, was arrested on January 20, 2022, after being reported by her two former tenants for talking to them about Falun Gong. Wang Binghao and Li Tang, two young men, had rented her apartment in preparation for civil service exams required for government jobs, the most stable jobs in China with decent income.
Feeling that it wasn't easy for the younger generation to start their career, Ms. Sun offered many additional help to her tenants, including providing free high-speed wifi for them and waiving the early termination fee when they suddenly decided to move out before the lease expired.
Ms. Sun also agreed to return the unused rent. When delivering the money to Wang and Li, she told them about Falun Gong and its health benefits, hoping it could help them to stay healthy during the pandemic.
The two young men reported her to the Nangang District Political and Legal Affairs Committee, an extra-judiciary agency tasked with overseeing the persecution of Falun Gong. The police followed Ms. Sun for a period of time and then arrested her.
The police interrogated Ms. Sun for 53 consecutive hours following her arrest and ordered her family to persuade her to give up Falun Gong. She refused to give in and also asked her family not to blame the two young men for reporting her.
Ms. Sun is now being held at the Yaziquan Detention Center for two months. The authorities have blocked her lawyer from visiting her, citing the pandemic as an excuse. Her arrest was approved on February 16 and she is now facing prosecution.
Taking Up Falun Gong
Ms. Sun suffered many ailments since she was in her twenties, including rheumatism, an abnormal growth under her stomach, and unexplained fainting. She visited almost all the hospitals in town and tried both western and Chinese medicine, but nothing was very effective in treating her ailments.
Falun Gong was introduced to her village in 1995, and she began practicing it after hearing about its superb health benefits. In just a few days, the growth under her stomach disappeared. She no longer fainted, and her body weight returned to normal. Revitalized, she took on the house-chores and farming work, to lessen the burden on her husband. Her family and the villagers were amazed by her changes.
Becoming a Better Person
Ms. Sun's mother-in-law, who favored her having a boy over a girl, was not happy when she gave birth to a girl. The older woman refused to babysit her granddaughter. She, however, showed strong favoritism to her other son and his wife, who had a boy. She adored her grandson and gave his parents gifts and monetary support when needed. Ms. Sun and her husband felt slighted, and her resentment towards her mother-in-law only grew over the years.
After taking up Falun Gong, Ms. Sun let go of her resentment towards her in-laws and treated them with respect and care.
Ms. Sun's husband once bought a plot of land to grow crops. But before they had a chance to plant the seeds, another family took over the land and gave her and her husband another piece of land with a slope. Ms. Sun's husband was very angry and tried to take back their original plot. Ms. Sun stopped him from fighting with the other family and persuaded him to accept the sloped land.
On another occasion, while Ms. Sun's cousin was building a new house, he took over a small portion of land from Ms. Sun's family without telling them. After Ms. Sun's husband found out, he was furious and wanted to fight with him.
Ms. Sun persuaded her husband, saying that they had already received so many blessings from her practice of Falun Gong, including building a new house and having a son (after having a daughter). They were living a happy and prosperous life and there was no need to fight with their own family over that small piece of land. She added that since Falun Gong teaches people to be good, they should live up to it without just giving lip service.
Ms. Sun's husband was stunned by what she said. He said he admired how Falun Gong had turned his wife into such a broad-minded person.
Years later, the wife of Ms. Sun's cousin who took over their land developed uterine cancer. Ms. Sun didn't only look after her but also lent them 10,000 yuan to pay her medical bills.
Ms. Sun and her husband worked as paint contractors. They were known for their dedicated work ethic and their customers were quick to recommend them. While working on a project in the summer of 2010, Ms. Sun fainted and fell off a ladder. When she later had a checkup at the hospital, she was completely fine and had no injuries. Her general contractor said he was so worried that Ms. Sun might seek a huge compensation from him, like many others do in China, and he appreciated her honesty and the fact that she wasn't hurt at all.
Perpetrators' contact information:
Wen Hongyu (温洪宇), secretary of Nangang District Political and Legal Affairs CommitteeYu Guohui (于国辉), director of Nangang District Police Department: +86-451-87664229Lyu Bingtao (吕炳涛), officer of Nangang District Domestic Security Office: +86-13303606266Li Fumin (李福民), officer of Xuanqing Police Station: +86-15636827199
(More perpetrators' contact information is available in the original Chinese article.)
Views expressed in this article represent the author's own opinions or understandings. All content published on this website are copyrighted by Minghui.org. Minghui will produce compilations of its online content regularly and on special occasions.