74-year-old Woman Twice Forced to Live Away from Home to Avoid Being Targeted for Her Faith
(Minghui.org) A 74-year-old woman in Xiangtan City, Hunan Province, has been forced to live away from home since early March 2022 to avoid being arrested for practicing Falun Gong, a spiritual and meditation discipline that has been persecuted by the Chinese communist regime since 1999.
A group of officers from Chengzhengjie Police Station broke into Ms. Liu Huilan's home at 9 p.m. on March 7, 2022. She initially refused to open the door of the room she was in but relented after the police threatened to break down the door. The officers turned her room upside down and smashed open her cabinet with a kitchen knife. Three of her cellphones, including a broken one, as well as an audio recorder and a video recorder, were confiscated.
The police took Ms. Liu to the Yuhu District Police Station, didn't allow her to use the restroom, and verbally abused her. She was later taken to another location and interrogated. The police claimed that a surveillance camera recorded her distributing Falun Gong materials in a subdivision. They also questioned her as to why she practiced Falun Gong. She was forced to press her fingerprints on the deposition.
When releasing Ms. Liu, the police threatened to arrest her again at any time. To avoid the persecution, she decided to live away from home. Her family is now under tremendous pressure and worries about her wellbeing.
This is the second time that Ms. Liu has been forced to live away from home to avoid being persecuted by the police in two years. She was previously displaced after the police harassed her on August 27, 2020, and threatened to arrest her. The police intimidated her husband and daughter in an attempt to find out her whereabouts.
In addition to the recent harassment, Ms. Liu was arrested and detained multiple times in the earlier years of the persecution.
She was first arrested in August 2003 for talking to people about Falun Gong on a bus. She was beaten and hung by her handcuffed wrists at the police station, and her home was ransacked. After over a month at the Sanjiaoping Detention Center, she was taken to the Baimalong Forced Labor Camp, where she was subjected to intensive brainwashing and forced to work without pay during her one-year term.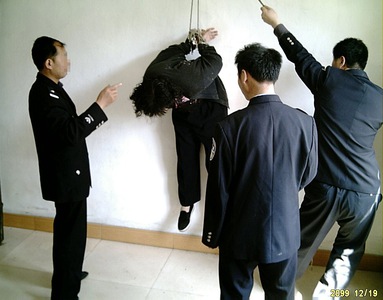 Torture reenactment: Hung by handcuffed wrists
The police kept harassing Ms. Liu after she was released. Hou Bufan, an officer from the Xiangshui Police Station, arrested her again in 2011 and held her at the Wujiahuayuan Brainwashing Center for nine days.
Officials of the Xiangshui Village government and 610 Office ransacked Ms. Liu's home in March 2012 and confiscated her MP5, some DVDs, and Falun Gong magazines. They attempted to search her place again the next day, but her husband didn't let them.
Three police officers, including Chen Ziqiang and Zhao Hanshan, as well as local 610 Office director Liu Wang, ransacked Ms. Liu's home again on August 16, 2012. They confiscated her Falun Gong books, photo of Falun Gong's founder, and her Falun Gong magazines.
Ms. Liu was harassed two more times, on April 18, 2013, and April 1, 2017. While she escaped from the back door during the 2017 harassment, the officers ransacked her home and took away her Falun Gong materials, photo of Falun Gong's founder, a cellphone, and other belongings.
Perpetrators' contact information:
Ma Simin (马思敏), officer of Chengzhengjie Police Station: +86-13907327223Wu Zhiming (吴志明), officer of Chengzhengjie Police Station: +86-13507325917Wang Lianjun (王联君), officer of Chengzhengjie Police Station: +86-13973294119
(More perpetrators' contact information is available in the original Chinese article.)
Views expressed in this article represent the author's own opinions or understandings. All content published on this website are copyrighted by Minghui.org. Minghui will produce compilations of its online content regularly and on special occasions.