Retired Engineer Dies in Misery After Being Blinded with Drugs and Suffering Broken Legs
(Minghui.org)
Name: Wang LiuzhenChinese Name: 王柳珍Gender: FemaleAge: 80sCity: N/AProvince: ChongqingOccupation: Retired metallurgical engineerDate of Death: January 1, 2022Date of Most Recent Arrest: July 27, 2010Most Recent Place of Detention: A psychiatric hospital
While the world celebrated the arrival of New Year's Day 2022, Ms. Wang Liuzhen passed away in misery, capping decades of suffering persecution for her faith in Falun Gong. She was in her 80s.
Ms. Wang, a retired metallurgical engineer in the Chang'an No. 2 Factory in Chongqing, began to practice Falun Gong, an ancient spiritual and meditation discipline, in 1996. She credited the practice for curing many of her diseases. 
After the communist regime ordered the campaign to eradicate Falun Gong from China in 1999, Ms. Wang was given two labor camp terms and held in a psychiatric hospital three times. She was fed and injected with toxic drugs, which damaged her internal organs and caused her to become blind. 
In order to monitor Ms. Wang, the authorities built a sentry box outside her home and monitored her around the clock for over ten years. The personnel monitoring her often beat and verbally abused her, breaking her nose with a wooden stool at one point. When Ms. Wang refused to stay silent and still tried to seek justice even after she became blind, the personnel retaliated by taking her to a hill, where they beat her so badly that they broke her legs. 
Forced to Divorce and Alienated by Her Children
After the persecution started in 1999, Ms. Wang went to Beijing to appeal for the right to practice Falun Gong. She questioned why the government decided to ban Falun Gong overnight when the practice teaches people to be good and has only benefits for society. 
In Beijing, she was arrested and taken back to Chongqing to serve a labor camp term. The guards added toxic drugs to her food, which caused shortness of breath and dizziness. She held a hunger strike to protest the persecution, only to suffer even more severe torture. On the verge of death, the guards took her to the hospital. 
In order to force Ms. Wang to renounce Falun Gong, her workplace, the residential committee and the Jiangbei District 610 Office forced her husband to divorce her, threatening to suspend his pension if he didn't. Her children were also forced to sign agreements not to visit their mother, or they would lose their jobs. 
Held at a Psychiatric Hospital
In the beginning of 2009, the authorities harassed Ms. Wang again, trying to force her to renounce Falun Gong. To evade the persecution, she moved to a senior center. But the police still arrested her in March 2009, fabricating the allegation that she was planning to go to Beijing to appeal for Falun Gong. 
Ms. Wang was taken to the Jingzishan Psychiatric Hospital on March 18, 2009. According to a witness, she was subjected to constant beatings, yet she remained firm in her belief. 
The police attempted to give her another labor camp term, but the president of the hospital affiliated with her workplace persuaded them, "It's just a spiritual belief. Her age is quite advanced. We can just keep her in the hospital's psychiatry department." 
As Ms. Wang held a hunger strike to protest the persecution at her workplace hospital, she was taken back to the Jingzishan Psychiatric Hospital.
Blinded
In 2010, the authorities built a sentry box outside Ms. Wang's home and monitored her around the clock. The Jiangbei District Political and Legal Affairs Committee, an extra-judiciary agency tasked with overseeing the persecution, appointed a 29-year-old man called Zhang Jun to lead the monitoring team. Under Zhang were eight staff members from the "Wulidian Security Company." These nine people monitored and followed Ms. Wang everywhere in three shifts.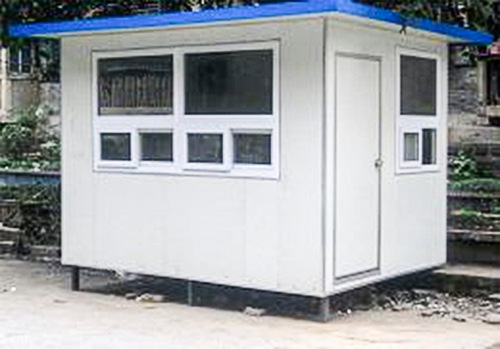 The sentry box built specifically for monitoring Ms. Wang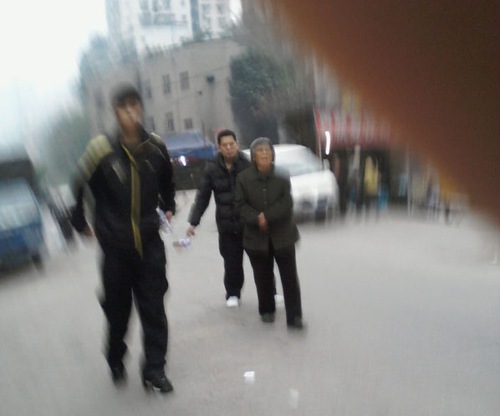 Ms. Wang being followed by security personnel 
To seek justice, Ms. Wang went by herself to the Chongqing 610 Office on July 27, 2010. She shouted "Falun Dafa is good! Truthfulness, Compassion, Forbearance is good! There is nothing wrong for me to practice Falun Gong!" outside of the office building. The security personnel forcibly took her back and beat her. 
As the eight people's work contracts were expiring and they hadn't been successful in forcing Ms. Wang to give up Falun Gong, the 610 Office took her back to the psychiatric hospital and forced her to ingest drugs that damaged her central nervous system and her liver. She also became blind as a result. 
"I'm Going to Beat You to Death Tonight!"
To prevent Ms. Wang from exposing the forced drug administration, the local police hired two men in their 20s to monitor Ms. Wang in late 2010. They had micro cameras on their clothes. They followed her when she went out and didn't allow her to talk to anyone. One day Ms. Wang managed to get on a bus, but the two ruffians dragged her down, threw her to the ground and beat her. 
Due to her blindness and the ongoing abuse, Ms. Wang was reduced to skin and bones. She was unable to stand on her own and had to crawl. Yet the ruffians often verbally abused her, saying, "Go to hell!" or "Why don't you immolate yourself?" (One of the biggest propaganda stunts fabricated by the communist regime was the Tiananmen self-immolation hoax.) Ms. Wang often said to them, "I practice Falun Gong and it prohibits killing and suicide."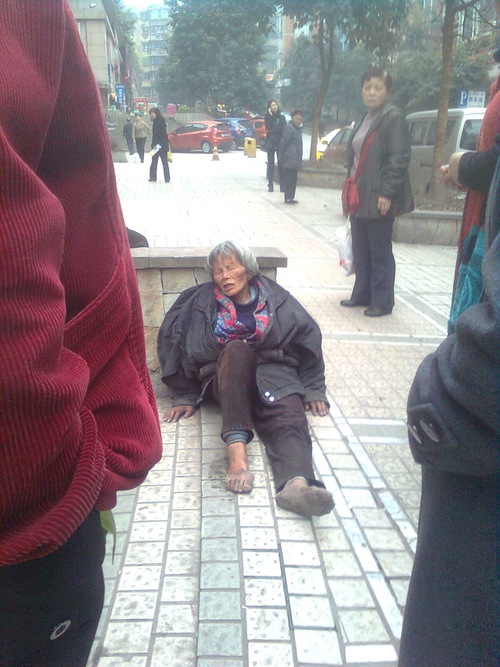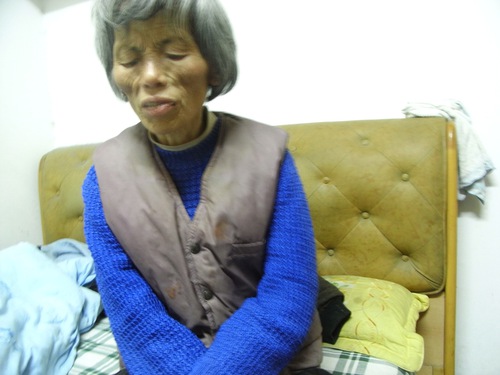 Ms. Wang was reduced to skin and bones from the abuse she suffered at the hands of CCP personnel.
Around the 2011 New Year, the ruffians monitoring Ms. Wang beat her and broke her nose with a wooden stool. Her face was covered with blood and her eyes were swollen. They shouted while beating her, "I'm going to beat you to death tonight!"
Fearing that people would see the blood on her face, the ruffians then pressed her against the ground and washed her face. Her ex-husband later found out about the incident. He called their son, who then came and took her to the hospital.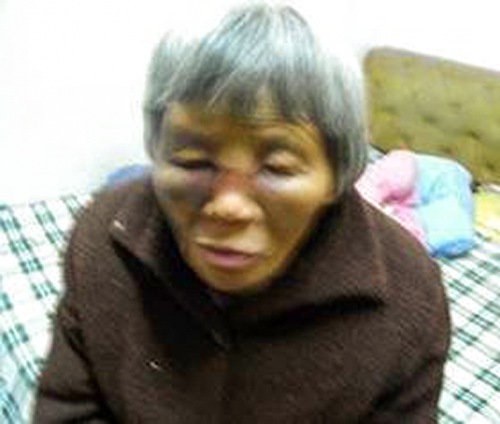 Ms. Wang after the beating
Concerned about the abuses against Ms. Wang, her family went to the police department on April 19, 2011 and questioned them about how long the persecution would last. The police officer replied, "We are no longer in charge of her. The street community is responsible for it now. They will do it until her life ends."
Legs Broken
Since then on, the abuses against Ms. Wang intensified. On August 13, 2011, she ran to the Guanyinqiao Pedestrian Street, a top shopping district in Chongqing, and shouted "Falun Dafa is good!" 
This irritated those who were monitoring her, as they were warned that if she went to Guanyinqiao to protest, they would have their salaries deducted.
The next day, two people led Ms. Wang to a small hill (Chongqing is a famous mountain city). With no one around, they beat her and broke her legs. They lied to her daughter, saying that she jumped from her home on the fourth floor (even though all of her windows had security screens and there was no way for her to get out of the window). They had another story for her ex-husband, saying that she went out on her own at night and fell down some stairs. 
Ms. Wang was taken to the Chang'an Hospital due to her leg injuries. Several local Falun Gong practitioners went to the hospital to visit her, but the doctor and nurse would not tell them where she was. Later a patient revealed that Ms. Wang was kept in the intensive care unit and even her family wasn't allowed to visit her. 
Shortly after, on August 15, several practitioners managed to get into the intensive care unit. They saw that the doctor kept Ms. Wang's mouth open with a mouth opener. It was obvious to them that the authorities were preventing her from talking about what had happened to her. The doctor also kept a nasal feeding tube in her. Despite the fact that she had no problem eating, the authorities force-fed her to increase her suffering.
According to the practitioners who saw Ms. Wang, her knees were wrapped in bandages. She could hear and understand what they said, but she couldn't talk to them and kept crying. The monitoring device also indicated that her heartbeat and blood pressure were all normal. 
On August 17, several practitioners visited her again. They said to her, "If you fell on your own, don't move. But if they harmed you, you can hold my hand." She then held the practitioner's hand. They repeated the same question several times and she had the same response. 
One practitioner asked her again, "How many people harmed you? You can shake my hand to indicate the number." She then held her hand twice. 
Kind Persuasion
No matter how those people abused Ms. Wang, she didn't hold any grudge against them and still tried to persuade them to be good. 
She once said, "For everyone who monitored me, I talked to them many times. I told them that we Falun Gong practitioners are all following Truthfulness, Compassion, Forbearance to be a good person. I tried to persuade them not to persecute good people. It's a heavenly law that good and evil are rewarded accordingly. What they do now will eventually bring tragedies to themselves or their family members." 
She said to her oppressors, "You are still young. There are so many jobs you can do. Why do you have to participate in the persecution?"
With her persuasion, about five young men quit the job. But there were also people who refused. 
Ms. Wang said, "The lead, Feng Wanjun, didn't beat me himself and he even said in front of me that Falun Gong practitioners are all good people. But I know it was him who ordered others to torture me. One of the people who often beat me was Zhou Chuanwei. His wife had an accident at work and had a comminuted fracture in her hands. But he didn't take it as a warning and continued to torture me."
Related reports:
Retired Engineer from Chongqing Suffers from Persecution-caused Blindness and Subjected to Illegal Monitoring
Blindness and Broken Nose Among the Injuries Suffered by a Retired Female Engineer
Retired Engineer from Chongqing Loses Vision in Both Eyes As a Result of Persecution; Her Family Torn Apart
Retired Engineer Monitored by Nine People Employed by Chongqing Authorities
Views expressed in this article represent the author's own opinions or understandings. All content published on this website are copyrighted by Minghui.org. Minghui will produce compilations of its online content regularly and on special occasions.