U.S. Department of State Human Rights Report Sheds Light on Persecution of Falun Gong in China
(Minghui.org) The "2021 Country Reports on Human Rights Practices" published by the United States Department of State on April 12, 2022, highlights the persecution of Falun Gong in China and the injustices that Falun Gong practitioners are facing.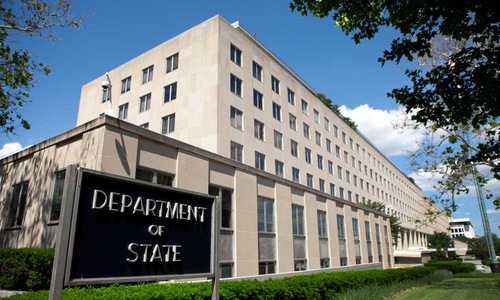 The U.S. Department of State
U.S. Secretary of State Antony Blinken said in a press conference on Tuesday that the Chinese Communist Party "continues to commit genocide and crimes against humanity in Xinjiang against predominantly Muslim Uyghurs, among other minority groups, to erode fundamental freedoms and autonomy in Hong Kong, and to carry out systematic repression in Tibet."
He noted "our interest in standing up for human rights isn't only principled; it is vital to our national security." He added that no matter where the human rights abuses were committed, there is "the same urgency to stopping abuses and holding perpetrators accountable."
The report pointed to the ongoing forcible harvesting of organs from prisoners of conscience, including Falun Gong practitioners and Muslims in Xinjiang. It also mentioned a statement issued by several United Nations experts in June 2021, expressing alarming concerns of organ harvesting "targeting minorities, including Falun Gong practitioners, Uyghurs, Tibetans, Muslims and Christians, in detention in China."
The report also outlined the communist regime's use of "administrative detention to intimidate political and religious advocates and to prevent public demonstrations," especially holding Falun Gong practitioners, political activists and other religious adherents in brainwashing centers, often known as the "legal education centers."
The case of Falun Gong practitioner Mr. Ren Haifei was highlighted in the report. Mr. Ren, of Dalian City, Liaoning Province and husband of a U.S. resident, was arrested without a warrant and required hospitalization after suffering severe injuries as a result of the arrest. The authorities held him in the Yaojia Detention Center after he was discharged. Prior to his latest arrest, Mr. Ren was twice detained, in 2001 and 2008, for practicing Falun Gong and protesting the government's inhuman treatment of other practitioners. 
In addition to Mr. Ren, another Falun Gong practitioner who is currently incarcerated is Mr. Bian Lichao, a middle school teacher in Tangshan City, Hebei Province. Mr. Bian is serving a 12-year term at Shijiazhuang Prison. His wife, Ms. Zhou Xiuzhen, was sentenced to four years in May 2015 for trying to secure his release. She developed a severe liver condition in prison and was denied medical parole. The authorities continued to harass her after she was released. She passed away on April 19, 2020 after vomiting a large amount of blood. She was 56.
The report also mentioned that human rights lawyer Mr. Gao Zhisheng is still held in a Chinese prison.
Views expressed in this article represent the author's own opinions or understandings. All content published on this website are copyrighted by Minghui.org. Minghui will produce compilations of its online content regularly and on special occasions.