Beijing Taxi Driver Secretly Sentenced to Two Years for Distributing Falun Gong Materials
(Minghui.org) Mr. Wang Zhenbao, a taxi driver in Beijing, around 60 years old, was arrested on December 17, 2020, after being reported for distributing informational materials about Falun Gong, a spiritual discipline that has been persecuted by the Chinese communist regime since 1999. 
It's recently been confirmed by Minghui.org that Mr. Wang has been sentenced to two years by the Pinggu District Court. Details about his case remain to be investigated.
Prior to his latest persecution, Mr. Wang was detained four times for practicing Falun Gong. He was also held in a brainwashing center and given two years of forced labor in 2003.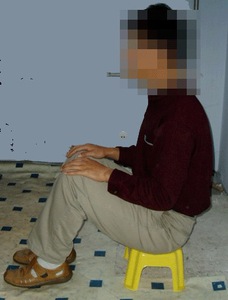 Torture reenactment: sitting on a small stool
While serving time at the Tuanhe Forced Labor Camp, Mr. Wang was deprived of sleep and forced to stand or squat for long hours. His legs suffered severe injury from the squatting and he was unable to walk on his own. He was also tortured by being forced to sit on a small stool for extended periods of time, which caused his buttocks to become swollen and develop sores that became infected.
The guards forced Mr. Wang to run laps under the baking sun in the summer. They once beat him all over his body and kneed him. His left leg was bruised all the way to his feet. The injury caused him to be unable to move for months. He had persistent pain in his chest and was unable to walk normally for years. 
For Falun Gong practitioners who refused to renounce their faith, the guards also withheld their food, giving them only a steamed bun and some vegetables for every meal.
Perpetrators' contact information:
Jian Qiangwei (见强伟), head, Mafang Police Station: +86-13911757555Qi Yuhang (戚煜珩), prosecutor, Pinggu District Procuratorate: +86-13911275187Zheng Shujun (郑淑君), president, Pinggu District Court: +86-18600311179
(More perpetrators' contact information is available in the original Chinese article.)
Views expressed in this article represent the author's own opinions or understandings. All content published on this website are copyrighted by Minghui.org. Minghui will produce compilations of its online content regularly and on special occasions.