Chengdu Woman Tortured for Five Years in Prison for Upholding Her Faith
(Minghui.org) Ms. Tang Yunxia from Chengdu City, Sichuan Province was arrested on October 27, 2016 for practicing Falun Gong, a spiritual discipline that has been persecuted by the Chinese communist regime since 1999. She was sentenced to five years on June 6, 2018 and was tortured in the Chengdu Detention Center and Chengdu Women's Prison.
When Ms. Tang's term was up on October 26, 2021, staff members from Pengzhou City's 610 Office rushed to the prison and ordered her to sign a statement to give up Falun Gong. She refused to comply. With her family's help, she was able to leave the prison in the afternoon.
Later, staff members from Ms. Tang's residential community kept harassing and calling her brother and uncle's families, still asking her to sign a statement to renounce Falun Gong. 
The following is the persecution that Ms. Tang experienced in the detention center and prison.
Tortured in Chengdu Detention Center
Ms. Tang was arrested by officers from Taoxi Road Police Station at her rented place on October 27, 2016 and her home was ransacked. A large amount of her personal belongings, including all of her clothes and shoes, were taken away. According to the police who raided her home, thousands of items were confiscated. The peephole on her door was removed, and the place was sealed. 
Ms. Tang held a hunger strike at the Pi County Detention Center to protest the persecution. On the fourth day, a guard surnamed He force-fed her. Prior to the force-feeding, four guards and inmates held her down to the ground and gave her a shot of unknown drugs. They also put the drug in the milk and force-fed her.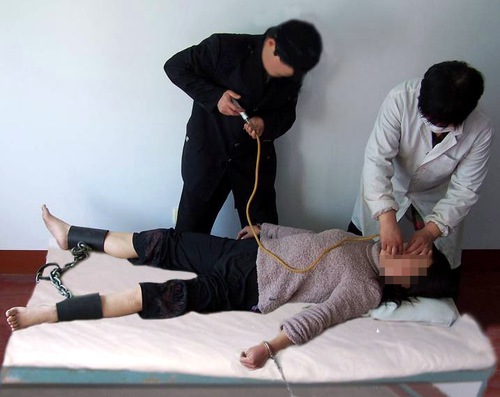 Torture reenactment: Force feeding
When Ms. Tang took out her dentures to wash them, an inmate reported it to the guards. A staff member blamed Ms. Tang for not reporting about her dentures and cut off her water usage, toilet paper and other daily necessities for a week.
Tortured in Chengdu Women's Prison
Ms. Tang was sentenced to five years on June 6, 2018. She was taken to the fourth prison ward of Chengdu Women's Prison on November 7, 2018.
The guards ordered her to write the "five statements" to renounce her faith. She refused. Then they wrote the statement and tried to force her to fingerprint it. When she refused again, four guards physically forced her to do so.
The prison guards forced her to stand in a military posture without moving from 6:20 a.m. until 11:00 p.m. for a total of 56 days.
During the 56-day period, Liu Yi, the supervisor of Ms. Tang's cell, ordered inmates from the entire cell not to lend her toilet paper. While Ms. Tang was standing, inmates Liu Wenzhen and Feng Yang beat her with long book scrolls, and verbally abused her, Falun Gong and its founder.
As Ms. Tang still didn't give in after the 56-day torture session, guard Lei Mengying turned to another torture method: in the cold winter weather, she instigated inmates Liu Wenzhen, Feng Yang, and Yang Chunhua to remove Ms. Tang's cotton-padded clothes and pants, leaving her with only fleece clothing. They forced her to sit at the door of the cell. The bench was only three and a half inches high and of the size of a palm. Ms. Tang was ordered to sit on it from 6:00 a.m. to midnight. She was not allowed to wash herself.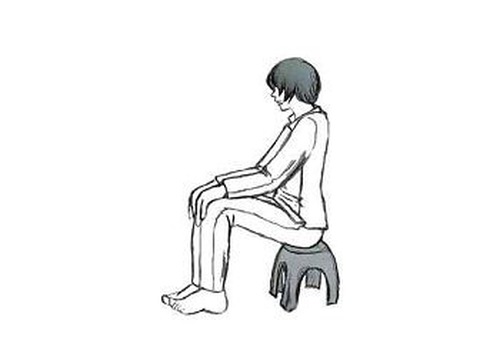 Torture illustration: sitting for a long time
When sitting on the small bench, Ms. Tang was ordered to put her feet together, straighten her back, and sit in a so-called military posture. If she moved, the guards or inmates would poke her hand with the tip of a pen or pour cold water down her neck. Her buttocks had blisters in just three days.
In order to force Ms. Tang to transform, the guards did not allow her to use the toilet. If she had to go, they would cover the bathroom wall with photos of Falun Gong's founder, or throw the photos into the toilet to insult Falun Gong.
In order to prevent Ms. Tang from doing Falun Gong's sitting meditation, the prison guards instructed the inmates on duty to constantly check Ms. Tang's legs at night.
The prison organized an ideological test. Ms. Tang refused to take the test. The prison guards then forced her to sit in the strict supervision room on the hottest day in summer after eating dinner.
The fourth prison ward held a meeting to slander Falun Gong and its founder. Ms. Tang stood up to stop them. They retaliated by not allowing her to leave her cell, or wash herself until her term was up.
Related reports:
Ms. Tang Yunxia Tortured at Chengdu Women's Prison
Views expressed in this article represent the author's own opinions or understandings. All content published on this website are copyrighted by Minghui.org. Minghui will produce compilations of its online content regularly and on special occasions.