Woman Loses Right Foot After Incarceration for her Faith, Arrested Again and Tortured (Graphic Photos)
(Minghui.org) Ms. Song Huilan refused to renounce her faith in Falun Gong after the Chinese communist regime started to persecute this ancient spiritual discipline in July 1999. The Jiamusi City, Heilongjiang Province resident has been arrested six times over the years and tortured in custody each time. 
The police put Ms. Song in a forced labor camp in 2002. After she was released three years later, she had to leave home to avoid further persecution. She was arrested again in 2011 and held in a detention center. The guards injected her with unknown drugs, which caused severe tissue necrosis that led to the loss of her right foot and rendered her left leg barely functional. 
The guards released Ms. Song only when she was near death. The 70-year-old woman was arrested one more time on September 29, 2021. She was released 25 days later with the help of her family, friends, and lawyer.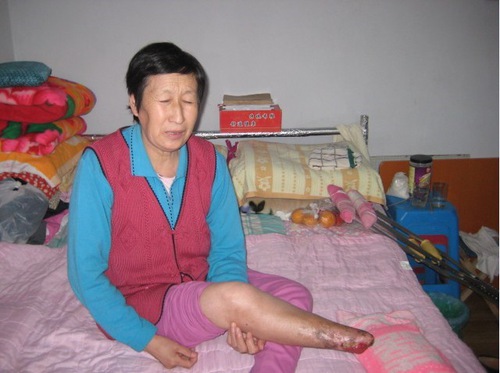 Ms. Song Huilan (with her right foot missing due to severe tissue necrosis)
The Most Recent Ordeal 
Ms. Song and two other Falun Gong practitioners, Ms. Yuan Lixin and Ms. Zuo Xiuwen, went to a park on September 29, 2021 to tell people about the brutal persecution of Falun Gong. A person reported them to the authorities and officers from the Baowei Police Station arrested the three women. 
When the police took the practitioners to the First Affiliated Hospital of Jiamusi University for a physical examination, a doctor said that Ms. Song's blood pressure was too high, but the police would not release her. Instead they incarcerated her and the other two women in the police station that night. The next day the police put Ms. Song in the Huanan County Detention Center, and the other two in the Tangyuan Detention Center. 
When Ms. Song arrived at the detention center, the police who took her there told the receptionist that her right foot was a prosthesis. Ms. Song told the receptionist how she was injected with poisonous drug years ago for not giving up Falun Gong. The drug damaged the major blood vessels in her thighs, which caused severe necrosis of her right foot, to the extent that the foot rotted away, and the drug caused her left leg to become permanently numb. The receptionist did not show any sympathy towards her and still proceeded with the paperwork for her detention, which Ms. Song refused to sign. The police signed it for her.
Two guards put Ms. Song in a wheelchair and took her to a remote room. One of them told her, "You must listen to us here." They handed her another piece of paper to sign. She still refused to sign, so they grabbed her hand and forced her to sign and fingerprint it. A female guard then came in to search her body and attempted to cut off the zipper on her pants. Ms. Song stopped her because she needs to keep her legs warm, as otherwise they hurt. The guard still cut off all the zippers on the clothes her family sent her. The guard also threw away her left shoe and replaced it with a slipper. 
Twenty Long Days in the Detention Center
The guards confiscated Ms. Song's crutches and assigned her the bed farthest from the door of the cell. Her bedding was thin and filthy, and yet she was forced to pay 240 yuan for it. Her bed was right next to the window, which stayed open all the time for fresh air exchange because the room was crowded. The cold wind in October took a toll on Ms. Song's health. She had constant, excruciating pain in her legs and her heart ached. The pain prevented her from sitting or lying down comfortably. One night an inmate saw that she struggled and called the doctor for her. The doctor took her blood pressure and said that she was fine. A guard verbally abused her, blaming her for "causing trouble."
There were 13 people in the cell but only nine beds, which were connected together. Everyone had to sleep on their sides, which made it extra difficult for Ms. Song to adjust.
In addition to the poor living conditions, the food at the detention center was also very poor: She ate only a steamed bun and spoiled soup for breakfast, and a bowl of porridge for lunch every day. 
Ms. Song twice wrote to the guards on duty to explain how she could no longer walk and care for herself, and demanded to be released. "My left leg is numb and my right knee slipped all the way into my prosthesis because I lost weight. I couldn't bend my knee as a result," she wrote. She didn't hear anything back. One day when Jia Bin, the head of the detention center, walked by Ms. Song's room, she told him about her situation. Jia told her to get a new prosthesis. "It's none of my business that you can't take care of yourself. You have to listen to me here. Walk even if you can't," he said. 
Another time Ms. Song told a guard that her left leg hurt terribly because of the cold weather and it caused her heart to ache. The guard scolded her, "I will buy you a pair of warm shoes if it's that bad. Do you have money in your account?" 
Home Ransacked and Daughter Suffers After the Arrest 
On the night of Ms. Song's arrest, her husband began to worry about her, as she hadn't come back home by late at night. He later heard someone knocking on the door, claiming to be conducting a routine household check. As soon as he opened the door, a group of officers rushed in to ransack the place and confiscated books, photos, and objects related to Falun Gong. This was when Ms. Song's husband realized that she had been arrested. 
The next day, Ms. Song's daughter went to the police station and saw her mother sitting on a stool with the prosthesis standing next to her. Her daughter hugged her mother and started crying. The police immediately dragged the daughter out. The daughter wanted to leave Ms. Song some instant noodles and clothes, but the police wouldn't allow it saying that there wasn't water for her to cook the noodles. 
In the evening a guard called the daughter, telling her that Ms. Song had been transferred to the Huanan County Detention Center. The next morning the daughter went to the police station asking to see the paperwork for her mother's detention. An officer told her, "It's just a piece of paper. We'll call you in a couple of days." Another officer yelled at her, "If your family continues to practice Falun Gong, your future generations will be banned from going to college and having a job!" 
In order to rescue Ms. Song, her daughter went to the police station repeatedly to ask for her release. She later went to the detention center to deliver daily necessities. Eventually she hired a lawyer to represent Ms. Song. With all the responsibility falling on her, she had to quit her job. On October 5, she finally received a notice of criminal detention signed by deputy police chief Min Qing. On the notice it stated that Ms. Song was charged with "using a cult organization to sabotage law enforcement," the standard pretext used to criminalize Falun Gong.
Ms. Song's lawyer visited her on October 18 at the Huanan Detention Center. A detainee carried her out of her cell and pushed her out in a wheelchair. She talked to the lawyer through a video link. The lawyer encouraged her and told her that she had committed no crime, hurt no one, and sabotaged no laws. He said that her freedom of belief is protected by the Constitution and none of the objects the police confiscated from her home would become evidence of any "crime." 
The guards' attitude toward Ms. Song improved after the lawyer's visit. The lawyer made three requests for Ms. Song: 1) allow her family to visit her; 2) release her due to her physical condition and advanced age; 3) make her medical report available. Her family delivered the lawyer's letter to the Baowei Police Station, the Huanan Detention Center, and the Xiangyang Police Department.
Released without Charge 
On October 20, 2021, after twenty days at the Huanan Detention Center, the authorities transferred Ms. Song to the Jiamusi Detention Center. Her family went to various agencies to demand her release. Many Falun Gong practitioners in China and overseas tirelessly called and wrote to the authorities to demand her release, stating that the persecution was wrong. Ms. Song was released five days later on October 25 without charge. 
Past Persecution 
Ms. Song, born in 1952, used to live on Xinhua Farm in Hegang City, Heilongjiang Province. She currently lives near Qiaonan Market in Jiamusi City. She once had liver and kidney disease, frequent uterine bleeding, and arthritis, which all went away after she took up Falun Gong in 1997. She no longer lived in misery and the practice saved her a tremendous amount on medical bills. She also learned how to live a positive life. "I used to argue and fight with my husband a lot. After learning the teachings of Falun Gong, I became easygoing and considerate. There was no more fighting at home, only laughter and peace. My dramatic changes had other families and friends praise the teachings of Falun Gong," she said. 
Summary of Ms. Song's Ordeals
When Ms. Song went to visit her sister in March 2002, the police arrested her at her sister's place on March 4. They held her in solitary confinement for 15 days. 
A month later, the police went to her home on April 19 and dragged her out of her home into a police vehicle. Without any legal process, the police put Ms. Song in Xigemu Forced Labor Camp in Jiamusi City to serve a three-year term. In the camp she refused to renounce her faith and was often beaten and handcuffed. The guards made Ms. Song sit on a small stool that had three nails on the seat. They shocked her with electric batons, made her do labor-intensive work, forced her to watch videos that slandered Falun Gong, limited her toilet use, and had two people watch her when she went to the toilet. 
Several officers arrested Ms. Song at her farm on April 19, 2008, and put her in Baoquanling Detention Center, where the guards handcuffed her to an iron fence, hit her head against the wall, and didn't give her food for 3 weeks. She was on the verge of death. Not wanting her to die in the facility, the guards released her. 
Ms. Song left home to avoid future persecution. The police continued to terrorize her family and extort money from them. The police twice arrested Ms. Song's daughter, threatening her to reveal Ms. Song's whereabouts. Her daughter nearly had a nervous breakdown from the stress. 
When Ms. Song went to Jixiang Town on July 1, 2010 to hand out Falun Gong fliers, the local police arrested her and confiscated her cash. She was tortured in the Tangyuan County Police Department for a week before being transferred to the Tangyuan County Detention Center, where she went on a hunger strike for 18 days. The guards released her when she was near death. 
Before she could recover, a prosecutor filed a charge against Ms. Song on November 2 and demanded that she go back to the detention center. Ms. Song had to flee her home. 
When she went to a practitioner's home on December 13, the police tracked her down and arrested her, as well as the other practitioner, and her family. Ms. Song went on a hunger strike at the Huachuan County Detention Center to protest the arrest. The guards force-fed her and pulled out two of her teeth during the process. She began to have diarrhea afterward and the guards tied her to a bed and wouldn't let her use the toilet. Her pants and bedding were wet and filthy and her health deteriorated. 
The police transferred Ms. Song back to the Tangyuan County Detention Center on December 30. The guards ordered her to sleep on the ground with only thin sheets. The extreme cold made her limbs twitch involuntarily. Her chest felt tight and she had a hard time breathing. Eventually she suffered a prolapsed uterus, resulting in her uterus slipping outside of her body and hanging between her legs. The pain was excruciating. 
The guards pinned Ms. Song down and injected her with a bottle of an unknown drug on February 23, 2011. The pain made her roll on the ground and she couldn't utter a word. She lost feeling in her leg, her body became stiff, and she became incontinent. On February 28, she could no longer withstand the excruciating pain and asked the guard on duty for medical attention. The guard disregarded her request. Her right foot began to blacken and swell and she became bedridden. The director of the detention center still claimed that she faked it and said he wouldn't release her "even if she died." 
It wasn't until the doctor at the detention center said that Ms. Song's condition was serious that the director sent her to the local hospital on March 1. By then, her leg was covered in purple blisters and the skin had blackened. The doctor at the hospital said that she had serious blood clotting in her major blood vessels and the leg must be amputated immediately, or the necrosis would spread and it could kill her. The doctor suggested transferring Ms. Song to a different hospital because he was unable to treat her there. The director of the detention center quickly called her family that afternoon and told them to pick her up at the detention center, without telling them how serious her condition was.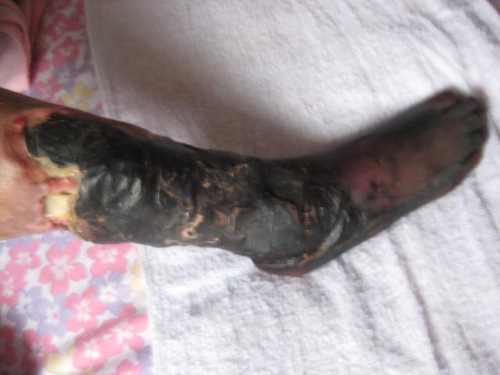 Ms. Song's right foot suffered severe tissue necrosis and eventually rotted off after the guards at the detention center injected her with unknown drugs. 
When she got home, Ms. Song's body and joints were stiff and she did not respond to people. Her right leg was blacked and necrotic with blood oozing out. Her right foot got darker and darker and blood ran out as soon as she moved. Three months later on May 25, 2011, her right foot fell off like a piece of rock. 
Ms. Song filed a lawsuit against Jiang Zemin, the former Chinese leader who launched the persecution of Falun Gong in July 1999, and sent the documents to China's Supreme Procuratorate and Supreme Court on June 18, 2015. In the complaint she wrote, "Four years have passed and I am still in a lot of pain. The skin on my leg bursts open every now and then and bleeds. The excruciating pain is unimaginable. My belief in Falun Gong keeps me alive. Jiang is the culprit of all the crimes that took place in the persecution and he must be brought to justice." 
Related reports:
Personal Account of the Persecution Suffered by Ms. Song Huilan from Heilongjiang Province
Song Huilan, a Farmer from Heilongjiang Province, Illegally Arrested and Persecuted Again
Persecution Causes Tissue Necrosis of Ms. Song Huilan's Legs and Feet, Exposing the Bones (Graphic Photos)
Ms. Song Huilan's Right Foot Falls Off Due to Forced Drug Administration
Woman Farmer Disabled by Forced Injection at Tangyuan County Detention Center in Heilongjiang Province (Graphic Photos)
Falun Gong Practitioner Ms. Song Huilan Faces Amputation after Torture and Administration of Unknown Drugs (Graphic Photos)
Falun Gong Practitioner Ms. Song Huilan Facing Amputation; Detention Center Officials Dodge Responsibility (Photos)
Views expressed in this article represent the author's own opinions or understandings. All content published on this website are copyrighted by Minghui.org. Minghui will produce compilations of its online content regularly and on special occasions.