Belated News: Disabled Man Dies Three Days after Arrest for His Faith, Cremated Without His Family's Consent
(Minghui.org)
Chinese Name: 张生范Gender: MaleAge: 38City: ShuangchengProvince: HeilongjiangOccupation: Factory WorkerDate of Death: June 12, 2001Date of Most Recent Arrest: June 9, 2001
Mr. Zhang Shengfan was beaten and force-fed alcohol after he was arrested on June 9, 2001, for practicing Falun Gong, a spiritual discipline that has been persecuted by the Chinese communist regime since 1999. He died three days later. The authorities had his body cremated without his family's consent and his family still doesn't know where his ashes are.
Taking Up Falun Gong
Mr. Zhang of Shuangcheng City, Heilongjiang Province, was only a few months old when one of his legs became disabled in an accident. He later found a job at a local factory. But less than a year later, his father died, and 13 months after that, so did his mother. The passing of his parents dealt him a heavy blow, and he began to drink and smoke, which then led to bronchitis.
In 1995, his supervisor at work recommended Falun Gong to him. Shortly after, he became a different person. His health issues disappeared and he had a bright outlook on life. His relatives were happy for him and said they no longer had to worry about him.
Even after he was later laid off, he didn't seek compensation like many of his coworkers did. "As a cultivator, I shouldn't create any extra burden for my workplace," he said. He gave private tutoring to middle school students and earned a meager income to get by.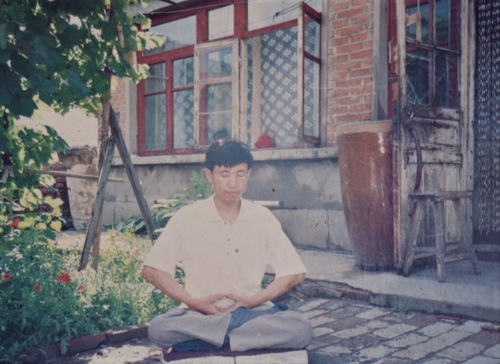 Mr. Zhang doing the Falun Gong meditation in his yard
Mr. Zhang at a conference telling how he changed after taking up Falun Gong
Detained for Appealing for Falun Gong
After the Chinese Communist Party mobilized the entire country to persecute Falun Gong on July 20, 1999, Mr. Zhang grew very worried. He went to Beijing to appeal for Falun Gong on December 27, 1999, and was taken back to Shuangcheng. He was held in the Shuangcheng Detention Center for over three months. Not allowed to use his crutch, he had to hop on one leg while leaning against the wall. The guards and inmates laughed at him and humiliated him.
Zhang Guofu, the chief of Shuangcheng City Police Station, harassed Mr. Zhang at home on July 8, 2000. Despite objections from his brothers, Zhang insisted on arresting him. His brothers later bribed the police with 2,000 yuan in exchange for his release.
Mr. Zhang was arrested once more, on January 8, 2001, and held in a brainwashing center for several months. He wasn't allowed to spend the Chinese New Year with his family. Due to his arrests and detention, his students didn't dare to show up anymore. He lost his only source of income.
Brutal Arrest
At 7 a.m. on June 9, 2001, before Mr. Zhang got up, several police officers, including Wang Shengli, Li Dabin, Huang, and officer Zhang Shiyue's son-in-law, showed up and asked him who made the Falun Gong materials he distributed. Mr. Zhang refused to give them any information. The officers then claimed that police chief Zhang Guofu wanted to talk to him. Mr. Zhang refused to go with them, maintaining that he didn't do anything wrong.
The officers called for backup, and they all dragged Mr. Zhang out of his home. He resisted, holding onto a long wooden bench. The back of the bench was ripped off, but they couldn't drag him any further, so they carried him out with the bench, threw him into the police van, and kicked him under the bench.
About 20 neighbors witnessed the police's callous behavior. One person said he saw Mr. Zhang was pushed under the bench. He tried very hard to sit up, but the officers kicked him. When the van left, they could still see the police beating him inside the van.
The police didn't stop beating Mr. Zhang until they got to the Shuangcheng Detention Center. When he was carried out of the car, he was unconscious and covered in abrasions. One inmate, who knew him from a previous detention, recognized him and condemned the police for beating him so severely.
Several hours later, Mr. Zhang came to, groaning in pain. When other Falun Gong practitioners in the cell and sympathetic inmates asked him how he was, he told them about the arrest and beating. Because he was still so weak, the police didn't interrogate him the next day.
On June 11, two days after his arrest, two officers came to interrogate Mr. Zhang. He remained half-conscious and couldn't speak. The police threw wine and water in his face and slapped him in the face. To prevent the inmates from seeing them beating him, the police ordered the inmates to go out. When they came back half an hour later, the police ordered them to carry Mr. Zhang back to his cell. That afternoon, Chen Peixin, the head of the detention center, ordered the inmates to transfer Mr. Zhang from cell No.1 to cell No.13, where there were no other Falun Gong practitioners.
Dead after Being Force-Fed Alcohol
Early on June 12, Mr. Zhang was unable to eat due to the beating the day before. At 8:30 a.m., detention center doctor Na Yanguo; deputy director Jiang Qingbo; and guards Xu Chengshan, Ren Guang, and Lyu Kekun came to interrogate him.
They had a three-foot-long, one-inch-wide plastic tube; a one-foot-long feeding tube, three bottles of liquor, and a basin. They ordered three inmates to carry Mr. Zhang to the sofa, inserted the feeding tube up through his nose, and poured the alcohol into the basin. Then the doctor himself force-fed Mr. Zhang the alcohol.
Mr. Zhang screamed during the procedure. Even inmates in the cells further away could hear him. The doctor continued to pour the alcohol into the tube. Unable to bear it anymore, Mr. Zhang said in a trembling voice, "You don't have to force-feed me. I will drink it myself."
"Why didn't you say so earlier? It's too late now," Na shouted at him. "Come on!"
Mr. Zhang made a very low sound during the last force-feeding, and then everything came to a sudden halt, followed by prolonged silence.
When guard Xu Chengshan carried Mr. Zhang to the east side of the detention center, the inmates saw him saying elatedly, "Aren't you guys going to heaven? Didn't you still surrender to us?"
They left him in an empty room until they took him to the hospital at 9:50 a.m. When they arrived, the doctor said he was already dead.
The guards didn't notify Mr. Zhang's family of his death until 8 a.m. the next day. They also barred his family from seeing his body. His family demanded an autopsy. A guard said they could only hire a forensic doctor approved by the detention center and the forensic doctor had to follow their instructions for the autopsy. The guard also refused to tell the family where Mr. Zhang's body was.
Family Hindered from Seeking Justice
In an attempt to censor information about Mr. Zhang's death, police chief Zhang Guofu ordered his subordinates to threaten his family and get them to sign a statement saying that Mr. Zhang died of a heart condition.
When the family refused to comply, the police went after them one by one. They first went to Mr. Zhang's oldest brother on June 20, along with Chen Peixin, the head of the detention center, and the director of the local health bureau, where the brother was working as a doctor.
The health bureau director said to Mr. Zhang's brother, "You should cooperate with the government and not get involved in his autopsy. If you do, you might lose your job." Police chief Zhang also ordered him and his wife to persuade his other brothers to work with them and not cause them any trouble. His wife was terrified and became very ill afterward.
Mr. Zhang's family filed several complaints with the Shuangcheng City Government, the Police Department, the procuratorate, the Municipal People's Congress, the Municipal Appeals Office, the Municipal Disabled Persons' Federation, and other government departments, citing the police violence that caused Mr. Zhang's death.
The family asked why the police arrested him without showing their IDs, why they beat a disabled person so brutally, and who gave the order? It was obvious that physical abuse caused his death, so why did the authorities claim that he died of a heart attack when he'd never had any heart issues before? The family also accused the police of withholding information as to which doctors tried to resuscitate him and what they wrote on his medical record. Lastly, why didn't the police inform them of his death right away instead of waiting a day and then preventing them from seeing his body?
Most of the government employees expressed their sympathy for Mr. Zhang's family, but none of them dared to do anything for him. One person said to the family, "It is our responsibility to investigate this case. But we've received an order from mayor Zhu Qingwen that we not get involved in this matter. If you can get clearance from him, we will take charge of it."
The family later escalated their complaints to provincial-level agencies, but the responses were similar, with the staff members expressing their anger about his death from torture and yet unable to offer any help.
The family learned later on that some agencies did contact the police about the case, but police chief Zhang Guofu repeated their claim that Mr. Zhang died of a heart condition.
Mr. Zhang's death sent shockwaves throughout the local community. One of his neighbors said, "How can they be so cruel to a disabled person? It's too brutal, too brutal. It's just unacceptable. He was short and thin. How could he bear such torture?"
Forcible Cremation
For over 50 days, the police kept refusing to allow the family to see Mr. Zhang's body.
On August 1, 2001, Chen Peixin, the head of the detention center, called Mr. Zhang's family. He said that they were planning to cremate his body the next afternoon and he told them to be at the funeral home by then.
Mr. Zhang's family objected to having his body cremated. Chen said, "Whether you come or not, we will cremate him."
Two detention center guards and two police officers went to the Zhang's early in the afternoon on August 2 to give them the final notification that his body would be cremated in the afternoon. The family again demanded an independent autopsy before they could cremate his body. The officers didn't say anything and left.
As the family never received further information from the detention center, they called Chen nine days later and asked about it. Chen told them that they had cremated Mr. Zhang's body and had sent his ashes for some examination, but they hadn't received the results yet. Chen also said, "We've spent over 10,000 yuan on him. You should pay for it."
The family was infuriated. "You arrested him and tortured him to death. Now you are asking us for money? It should be us who ask you to give him back to us!"
Mr. Zhang's family followed up with the detention center a few days later about the examination result of his ashes. The guards said that they were still waiting for it. To this day, the authorities still have not provided the family with any information about where his ashes are.
Perpetrators Meeting with Consequences
When the police interrogated other Falun Gong practitioners later on, one of the officers bragged, "We beat Zhang Shengfan to death. You still dare to come out and put up Falun Gong information? Aren't you afraid of death? See, we beat him to death. Even if you don't die, you will lose one layer of your skin." The thing the police referred to was something similar to an iron and they often used it to beat the practitioners.
Twenty-one years have now passed since Mr. Zhang's tragic death. Although some perpetrators are still at large and perhaps enjoy high ranks gained from participating in the persecution, justice has been served for some of them in a different way.
When Zhang Guofu was the police chief between 1999 and 2005, many practitioners in Shuangcheng City were arrested, fined, sentenced to heavy terms, or tortured to death. He later got severely ill and had to quit his job. He rarely made any public appearance after that.
The detention center doctor Na Yanguo, who followed Zhang's order to torture the practitioners, was fired from his job in 2004. His wife left him and he later suffered a stroke.
Jiang Qingbo, the deputy head of the detention center, developed cancer and died.
Wang Wenshan, the detention center political instructor, often took the practitioners to the hallway at night and played TV or radio programs that slandered Falun Gong. He died in a car accident.
Li Huaixin, another detention center guard, also died in a car accident.
Views expressed in this article represent the author's own opinions or understandings. All content published on this website are copyrighted by Minghui.org. Minghui will produce compilations of its online content regularly and on special occasions.