Himachal Pradesh, India: When You Have the Heart to Reach People, Doors Open – Part 1
(Minghui.org)
Bringing Falun Dafa to Himachal Pradesh, India
After having been at home continually for more than twenty months since the end of October 2019, a practitioner who lives in India finally set out during the rainy season for Himachal Pradesh, an Indian state in the Trans-Himalayan region.
This was the very first time since living in India for more than thirty years, and even for decades before that, that the practitioner had stayed in one place for so long. Just before the rains arrive, the climate is extremely hot and humid across most of India, due to which every year all schools are closed for long vacations. Because of the oppressive weather, the practitioner used to go to Ladakh, the most northern state of India, or another region with a more moderate climate to ride out these few months.
Yet due to the first lockdown starting in March 2020, and the second lockdown around the same time in 2021, she was just not able to leave her place during the summer months.
Finally, she stumbled across an online article titled "Tourism with a Vengeance," which mentioned that hundreds of thousands of domestic tourists from all over India were traveling to the state of Himachal Pradesh (HP).
Himachal Pradesh (HP), also known as the "abode of eternal snow," is located in the Western Himalayas. It encompasses the transition zone from the plains to the high Himalayas and actually crosses the mighty barrier to reach the Tibetan plateau. These Himalayan regions of HP border Tibet, Ladakh, and some other Indian states.
The high-altitude regions of Lahaul, Spiti, and Kinnaur in HP were opened to foreigners only in 1992 and bear a striking resemblance to Tibet and Ladakh. The regions that today comprise HP were in ancient times crossed by trade routes to Tibet, Central Asia (via Leh, Ladakh) and also led to Kashmir. HP is dominated by mountains and its associated rivers and valleys.
The practitioner didn't even realize that travel within India was actually permitted again until reading the article "Tourism with a Vengeance" mentioned above.
She decided to travel to Shimla, HP, by train. This allowed her to carry plenty of truth-clarification materials.
Getting to Shimla
The practitioner faced many difficulties, both in the preparation and on the actual trip to Shimla.
First, the extreme heat and humidity complicated the process of packing all the needed materials and getting them to and onto the train.
The train coach, a sleeper car, was air-conditioned and extremely cold. Many hours passed before the temperature came back up to normal. In addition, due to COVID rules, the usual bed sheets and blankets were not provided. The practitioner wasn't aware of this in advance, which left her uncomfortably cold at night, after months of intense heat and humidity.
Shimla lies on a ridge at a height of 2100 m (nearly 7000 ft in elevation). From a small village, it grew to become the state capital of Himachal Pradesh. With its easy-paced life and enjoyable walks, it is now a pleasant, sprawling town set among cool pine-clad hills with plenty of charm. It is located in the mid-hills of the Western Himalayas.
Steeped in history, Shimla presents excellent examples of colonial architecture. It is linked to the plains by the Kalka-Shimla narrow-gauge railway line, which opened to traffic in 1903 with 103 tunnels, around 800 bridges, and 900 curves. The train slowly winds its way up to the picturesque mountainside in about six hours. In 2008, the UNESCO's World Heritage Committee granted the Kalka-Shimla line World Heritage Status.
The views throughout the train journey are magnificent. There are fields, open valleys, and forests. Numerous tunnels and bridges that resemble Roman aqueducts dot the landscape along the way. Quaint little train stations along the way have neat hedges, flower beds, hanging baskets, and neatly gabled roofs.
Overcoming Sickness Karma
During the first few days in Shimla, the practitioner experienced illness symptoms. She wasn't able to eat, drink, or use the bathroom. Nor was she able to send forth righteous thoughts, practice the Falun Dafa exercises, or study the Falun Dafa teachings. Instead, she listened to Pudu and Jishi (music performed by Dafa practitioners), kept Master Li (Dafa's founder) in mind, and slept, slept, slept.
She felt that this very unusual state happened due to a variety of external and internal reasons, but only after gradually recovering and venturing out to meet people did she come to believe clearly that the main reason was interference from other dimensions, preventing people in this part of India from being saved.
The practitioner realized that this is often the case when venturing to areas where no Falun Dafa practitioner has visited before. The old forces do all they can to prevent the spread of Falun Dafa and materials that clarify the truth. Being the sole practitioner in a new area is often all the more challenging.
Facing Challenges in Shimla
Coming from a totally flat area of India to the never-ending ups and downs of Shimla, with no straight roads or footpaths, curves everywhere, and many endless steps with steep slopes, proved indeed very challenging, especially when carrying around the many materials to various places.
It often seemed that the various modes of carrying were wrong, as the rolling backpack proved challenging with the many steps and slopes, whereas a backpack or other bags were too heavy.
The rainy season was still going on when the practitioner reached Shimla in the middle of July 2021, and it continued for an unusually long period, into September and October. The rain made the ground slippery, which, compounded with the need to carry an umbrella and plastic to protect the precious materials, made carrying and distributing the truth-clarification materials all the more difficult.
Another rather unusual challenge was that one had to continuously watch out for the many monkeys everywhere! The best thing was to ignore them and not to carry any food items.
Throughout her stay of two and a half months in Shimla, practically not a single person anywhere had ever heard of or read anything about Falun Dafa or the persecution of Falun Dafa in China.
The only exceptions were two women who had read something about it online and a man who had met a Western practitioner on a train somewhere in India. It was shocking to realize that even lawyers in the High Court and District Court, presidents of these bar associations, a judge in a human rights organization, and many other high-ranking officials had simply not the slightest idea about Falun Dafa and the massive persecution in China. The only thing a few people knew about was the "dictatorship of the Chinese Communist Party (CCP)," as they call it.
Shimla, being the capital of the state of Himachal Pradesh, has attracted domestic and international tourists for many years. As basically no one knew anything about Falun Dafa and the human rights issues in China, the practitioner clearly realized that this was the reason why she had to come to this part of India, which until this trip she actually hadn't ever intended to visit.
A major challenge arose after having been in Shimla for two to three weeks, the Covid rules suddenly became very strict in HP. All visitors were required to get vaccinated and/or provide a negative test report. After much intense internal turmoil and careful consideration, the practitioner realized that despite her initial wishes otherwise, the best thing to do was to get vaccinated.
Yet another challenge was that there was no way to have a display anywhere in the center of town, as the permission to do so simply didn't exist, although the corresponding office in Ladakh had always given the practitioner permission to do so. And, as nobody knew the practitioner or anything about Falun Dafa or the persecution, it wasn't easy to put up posters.
When the practitioner had traveled to other areas of India, she was always welcomed to hold introductory Falun Dafa sessions in schools and colleges, teaching the exercises and talking about Dafa and the persecution to students, faculty, and staff. But throughout the initial time of her stay in Himachal Pradesh, all schools and colleges were closed. Some opened for a few days in August and after several delays, they open part-time in September, but classes were held online. Therefore, there were no possibilities to hold any Falun Dafa sessions in schools or colleges.
In addition, there was often a pervasive "panic atmosphere," as positive virus cases were increasing in Himachal Pradesh, and nobody knew what would happen next.
The many side effects of previous lockdowns were weighing down on people. Police were everywhere, mainly in the town center, ensuring that people were wearing their masks properly covering the nose.
Due to all these challenges, the practitioner just couldn't help but remember her prior visits to Ladakh, where people knew her from way back, even before she had become a practitioner.
There, in Ladakh, Dafa materials were regularly and often on display, mostly in the middle of the main street of Leh. Posters were put up everywhere and often kept up for years. And Falun Dafa sessions were repeatedly held in schools near and far.
Locals in Ladakh from various communities and religions often expressed much love and respect for Falun Dafa and deep concern about the human rights situation in China, and they extended their help and support in many different ways. (See previous articles about Ladakh on Minghui).
And yet now in Himachal Pradesh, none of these friends and well-wishers who had known the practitioner for so many years were present. Therefore, naturally, in this new situation, the practitioner experienced feelings of loneliness.
As there were no big parks in Shimla, the practitioner sometimes practiced the Falun Dafa standing exercises in a small park called Rani Jahnsi Park. It was indeed quite a challenge to do so the first time, demanding considerable courage to do the exercises all alone. Fliers and bookmarks were distributed, and a few people expressed interest in information about Falun Dafa, but not a single person showed any interest in learning the exercises.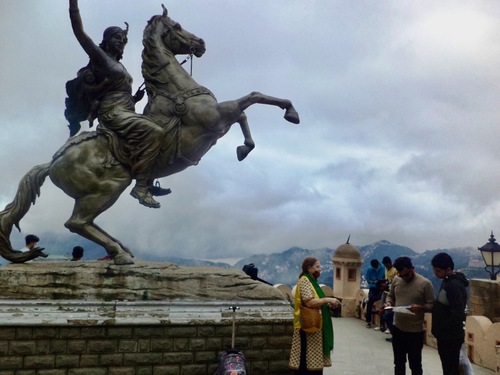 Under the ever-changing sky of Shimla, Himachal Pradesh, India, a Falun Dafa practitioner distributes materials at the Rani Jhansi Statue at Rani Jhansi Park.
On the last day practicing at Rani Jhansi Park, the practitioner heard something close by and opened her eyes to see a monkey sitting on a pillar one and a half feet away, gazing at her. Although she managed to continue the exercises, she did take a step back, and soon the monkey moved away. But only a few minutes later, a monkey and her baby came to sit at the exact same spot, quietly looking at her, before carrying on. Something like this had never happened to the practitioner before. It almost seemed as if the two monkeys were interested in the Falun Dafa exercises in their own innocent way.
More Challenges and Pleasant Surprises
The only person who expressed an interest in learning the exercises was a woman who worked at an office. She invited the practitioner to visit her at her home on a Saturday, which happened to be the practitioner's last Saturday before leaving Shimla.
The practitioner started walking toward the area where the woman lived and called the woman on the phone many times to get her exact address, yet the phone on the other end continued to be switched off.
On the way, the practitioner asked several people who lived in the area whether they knew the woman, yet nobody seemed to know her. The practitioner just continued walking, as there was no reason to turn back, and she kept asking people on the way and trying to call her.
Finally, a shopkeeper seemed to recognize her name and her profession and sent his young son to guide the practitioner to her home, which turned out to be another rather long walk. What a miracle and total surprise to finally find a person, knowing only her name, profession, and a bit about her family, in an unknown area in the outskirts of Shimla!
The lady remained the only person who was individually introduced to the Falun Dafa exercises during the practitioner's entire two-and-a-half-month period in Shimla.
Another challenge and a huge surprise: One day the guesthouse owner was so kind to drop the practitioner at a far-away school, and warned her not to climb up to the Buddhist temple on top of a hill but suggested to go there another day, and then to only climb up from the other, more accessible side.
Yet after meeting the school principal, the practitioner inquired from some locals and was told that there was a shortcut and that the temple was quite near. It should be noted, that locals mostly always say that places are "near," as since childhood they are used to the rugged terrain of Shimla – but this is usually not the case.
The practitioner thought that she wouldn't have time to come to this area again, so she told herself "better now than never," and just started walking with her rolling backpack still full of heavy materials. Once again she walked and walked, stopping many times, but hardly met anyone along the way, and for the first time in her life climbed so many countless steps on a single day. It seemed to be truly never-ending—with no end in sight and no way to turn back.
When she finally reached what appeared to be the destination, she was told to go to another area still higher up. When she got there, she was told that the temple wasn't there, and was directed to return to the previous destination. At that point, she nearly gave up, but then finally made it.
She had always heard that this temple had a beautiful view, and of course, hoped that on the way she would meet people to distribute fliers too. To her surprise, there was even a school beside the temple, and to her even bigger surprise the person in charge, not knowing her or Falun Dafa, immediately and without any second thought agreed to have a Falun Dafa session at the school the following day, adding, "If it doesn't rain."
This whole episode was surely the most amazing experience of "no loss, no gain." Even more surprising was the fact that the same evening it started raining and continuously rained all through the night and the whole next day; which hadn't happened so far during her stay in Shimla, and even locals expressed astonishment at so much continuous rain at that time of the year around the latter part of September.
The practitioner thought, "Now that's the end of it. What an extremely unusual interference for the first and only Falun Dafa session in Shimla! Yet even more surprisingly, after a few days, this first and only Falun Dafa session did indeed take place and went very successfully with conversations and materials given to the library.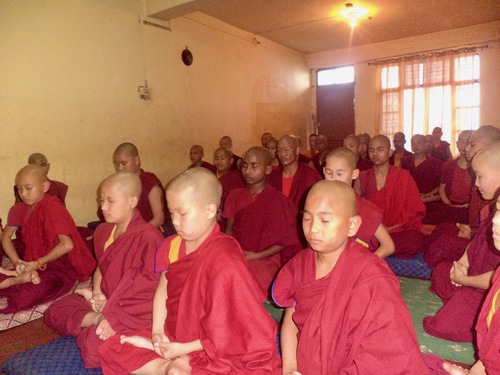 Student monks in Shimla, Himachal Pradesh, India, learn the Falun Dafa exercises during a session at the end of September when schools were opening again.
Another challenge and another surprise: At yet another school, where the "short-cut" once again included many steps, slopes, etc., the practitioner arrived for her third attempt to meet the principal. Though, while waiting in the office, she clearly felt for the first time in Shimla something like an intense battle between good and evil going on. When she finally met the principal, the principal immediately and very straightforwardly told the practitioner that she would only accept the English Falun Dafa flier and no other materials as in her own words "they were already doing all these things" at the school.
The practitioner didn't want to give up just like this, and somehow the conversation was going on for a rather long time—a true exchange with both sides listening and sharing.
During the process, the principal seemed to totally change, and very happily accepted all the various materials. At the very end, she even gave the practitioner a big, warm, and affectionate hug. It was the first time that the practitioner got a hug from a school principal, a surprise that came even more unexpectedly, as in these "corona times" most people keep a distance.
This unusual meeting was indeed another one of the several truly predestined connections the practitioner experienced in Shimla, as if finally meeting a long-lost friend, only to part again.
One day the practitioner decided to visit a well-known school and college, both for girls only. When asked how to go there, a person working at the guesthouse where she stayed said that there was a shortcut, which wasn't far at all.
Walking on that road, the practitioner saw a sign saying "Human Rights Commission" which she returned to visit the following day. She met the retired judge in charge. He accepted many different materials that clarify the truth about the atrocities in China, and at the end of their long meeting, he spontaneously stood up from his seat while receiving a Falun Dafa lotus flower.
After noticing the "Human Rights Commission" sign, the practitioner kept walking and walking, without any end in sight; it was once again one of these sheer "endless" walks, which locals often call shortcuts or nearby. Surprisingly, there were none of the usual ups and downs on this long road. This was the first and only time in Shimla that a walk was really scary, as there were no people at all on this road, only very rarely cars passed by, and even more strangely, there wasn't a single monkey, although monkeys are usually everywhere in Shimla. The practitioner felt that if she weren't here in Shimla, and in HP in general, where everything feels so safe, friendly, and reliable, she would never have undertaken such a lonely walk anywhere.
And once again, there was no way out but to keep going, not knowing how long this would take and hoping for the end of this road to finally show up; which indeed did... eventually.
There was a well-visited restaurant at the end of the road whose owners accepted posters and fliers. It was pouring rain when the practitioner arrived at the destination, and at the college, she met the principal, a Catholic nun from southern India. At the nearby school, she met another sister from another south Indian state, who was surprised to be given the Tamil flier, and with whom she had another engaging conversation.
So after all the initial surprises, all was well in the end. The most surprising statement came after returning (this time by bus) to her guesthouse. The owner was very surprised that the practitioner had taken this long and lonely road, mentioning that the road is well-known for having a lot of monkeys who are often aggressive and attack people, and even leopards who attack – although much more in the winter when food is scarce!
(Continued in Part 2)
Views expressed in this article represent the author's own opinions or understandings. All content published on this website are copyrighted by Minghui.org. Minghui will produce compilations of its online content regularly and on special occasions.