Taiwan: Positive Changes and Wisdom Inspired at Minghui Winter Camp
(Minghui.org) The 11th Taiwan Minghui Winter Camp was held in Yunlin January 26 and 29. Sponsored by the Falun Dafa Club at TransWorld University, young practitioners and parents gathered together for a fun and productive event.
From preschoolers to elementary students, from high schoolers to adults, many who attended shared their stories of how the principles of Truthfulness-Compassion-Forbearance fostered better health and improved their character.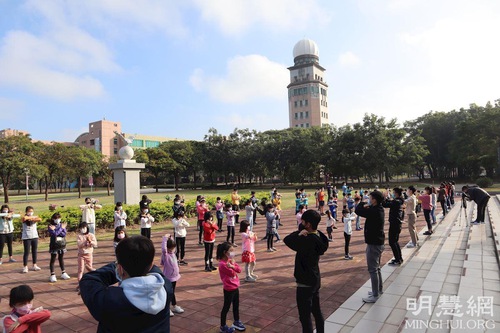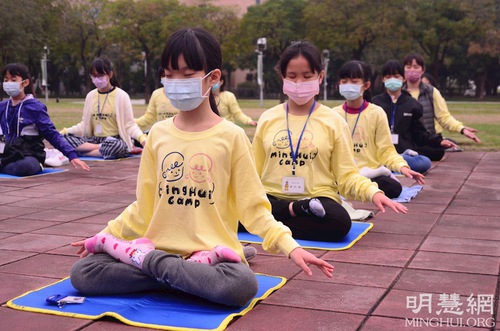 Attendees of the 11th Minghui Winter Camp in Yunlin, Taiwan, practice the Falun Dafa exercises.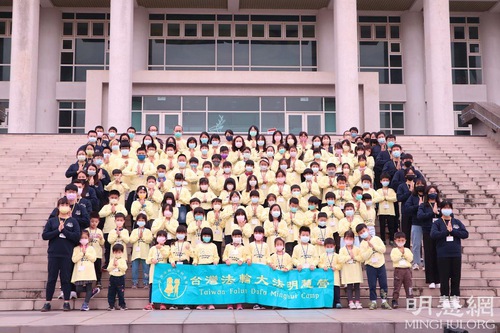 Practitioners who attended the camp wish Mr. Li Hongzhi, the founder of Falun Dafa, a Happy Chinese New Year.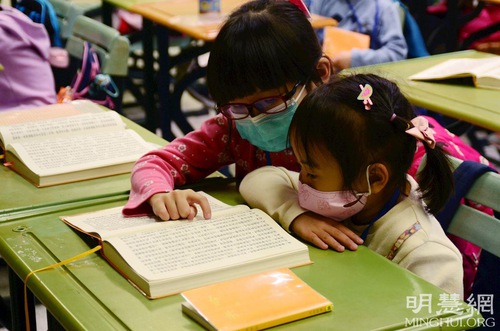 Mother and daughter read the Falun Dafa teachings together.
Living by the Principles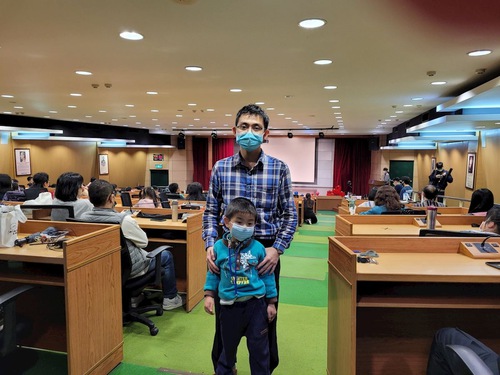 Jiajun and his son
Jiajun from New Taipei City and his son attended the camp for the first time. He said, "I learned so much here. Through the discussions we all had a better understanding of how to apply the principles of Truthfulness-Compassion-Forbearance in our daily lives. Many questions were answered and problems were solved." He said his wife and three-year-old son plan to attend next time, so that the entire family will have a special, memorable time together.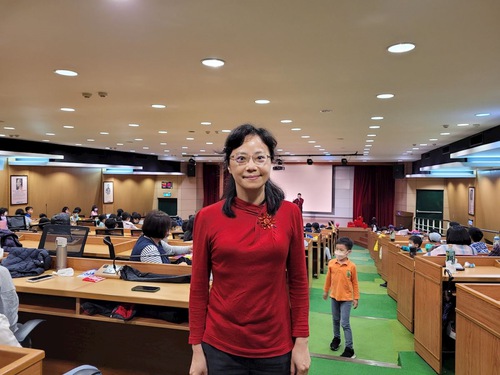 Yu Qing attended the camp with her son and daughter
Coming to the camp again with her son who's in fourth grade and her daughter who's in first grade, Yu Qing said she is glad to have this opportunity to meet other young practitioners and improve together. "The college staff members did a great job explaining to the children the importance of being good, and they also used vivid examples to illustrate how to remove bad thoughts in our minds. From agenda to interactive activities, everything was great. Thank you!" she said.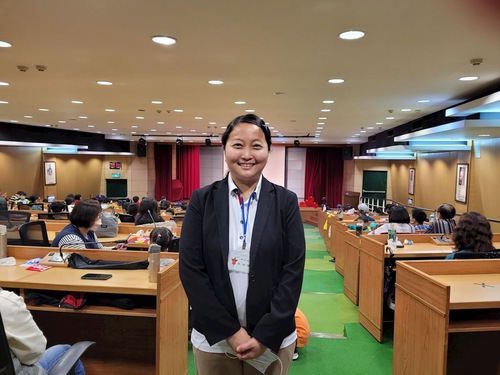 Zihui, who has practiced Falun Dafa for three years, came with her three children.
Zihui, a mother of three, began to practice Falun Dafa in 2019. She previously attended the camp twice with her first two children. This year, her little daughter was old enough and she was thrilled to come with her older siblings. "She used to take a nap after lunch every day, but while we were at camp, she was full of energy until all the activities were over in the evening," Zihui said.
"The camp benefits both children and adult practitioners," Zihui added. "One grandmother realized that she had recently slacked off in doing the exercises and reading the Falun Dafa teachings. She came with her grandson and said she learned so much."
Kindness and Trust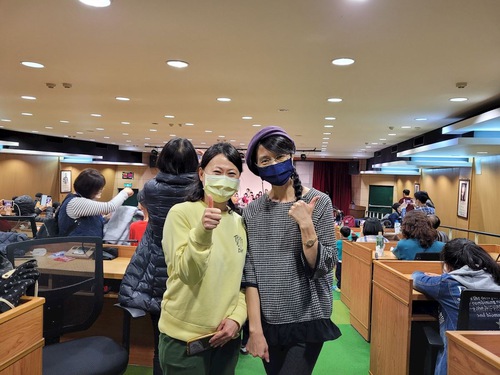 Yijing (left) is relieved her two hyperactive children found a safe place.
As a mother of two, one in fourth grade and the other in middle school, Yijing often worried about her kids, both of whom had been diagnosed with hyperactive problems. They saw all kinds of doctors and had numerous therapies, but there was little progress.
Both children have a good time at the Minghui camp and Yijing is happy to bring them here almost every year. "Occasionally, they talk back to the college staff members, but the staff members still treat them nicely and do not make a big deal of it," Yijing said. "They have good manners consistent with the principles of Truthfulness-Compassion-Forbearance, and the other campers are also very nice."
In such a positive environment, Yijing was gratified to see her children improve. "This is a place I can trust and I really like it," she added.
Xiaozhen from Taoyuan has been to the camp twice with her son Yu. Starting from when he was very young, Yu developed more slowly than his peers and he could not walk even at age two.
But mother and son witnessed many miracles. When Yu was 18 months old, something got stuck in his throat and he cried out in pain. His grandmother and Xiaozhen read the Dafa teachings aloud with him. "After a while, he spit out a two-centimeter (one-inch) piece of plastic. "Only then did we realize the plastic stuck in his throat caused the pain. We are very grateful to Master Li for saving him."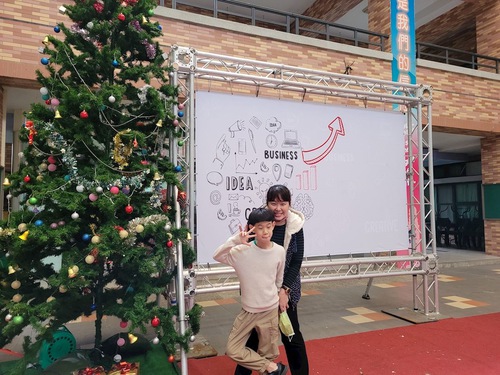 Xiaozhen and her son Yu
Both the mother and son said the camp helped them a lot. In the past, Xiaozhen suffered from migraine headaches, which disappeared after she joined the group practice. Yu also improved quickly at camp. "He even volunteered to speak on the stage. This could be trivial for other kids, but it was unimaginable for Yu. I am happy that the other children also encouraged him," she explained.
Yu said, "I am happy to do the exercises with my mother every day. Sometimes, after doing the sitting meditation, I was a little lazy and did not want to get up and do the other exercises. But as soon as I made up my mind to continue, my body was filled with energy and I was not tired at all," he said. "I think Master Li is helping me. I am so grateful."
Wisdom with a Calm Mind
Because nine-year-old Yiyou and his younger brother were premature, they had to see doctors almost every day. After their mother began practicing Falun Dafa when they were two, the brothers were no longer sick.
The boys are also thankful for the wisdom Dafa gave them. "When I was in kindergarten, Mother began to read Zhuan Falun to us. I learned so quickly that I was able to help the kindergarten teacher tell stories to the class," Yiyou recalled.
His brother was very good at drawing starting in kindergarten. The teachers praised his drawings and he won all sorts of prizes. "Nobody in this family is good at drawing. I can only thank Master Li for helping him with that," his mother said.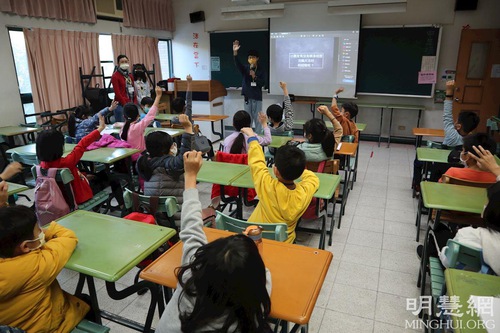 Children shared their stories.
Youkuan from Taichung currently studies drawing at Niao Song High School of Art in Yunlin. He used to do poorly in school and failed monthly exams twice in math and biology.
His father suggested he read Zhuan Falun. Remembering that practicing Falun Dafa helped him recover from fever several years before, Youkuan knew he could trust his dad. "My grades in school improved dramatically. On the third monthly exam, I earned the highest score in my class," he said.
Learning to draw requires patience, an attention to detail, and talent. "You have to have a calm mind to closely observe the light and shadows before drawing an object," he said. "One classmate suggested I study Hong Yin (a collection of Master Li's poems). After doing that, my mind was calmer and my drawing skills improved, too."
Peng Jie from Taipei also studies at Niao Song High School of Art. At first, he always had all kinds of thoughts running through his mind, making it hard for him to calm down and draw. His artworks were always terrible.
He later realized the importance of reading Zhuan Falun and complying with the principles of Truthfulness-Compassion-Forbearance. "Gradually, my mind became calmer and I was clear on what I am here for. My drawing skills also improved dramatically. Falun Dafa means so much to me," he said.
Views expressed in this article represent the author's own opinions or understandings. All content published on this website are copyrighted by Minghui.org. Minghui will produce compilations of its online content regularly and on special occasions.