Dunedin, New Zealand: Truthfulness-Compassion-Forbearance Is Extremely Important
(Minghui.org) Falun Gong practitioners in New Zealand held an event at the Octagon Plaza in downtown Dunedin on January 28, 2022, including a march, a rally, and group exercises, to introduce Falun Gong to the local residents. Many eventgoers identified with Falun Gong's principles of Truthfulness-Compassion-Forbearance and also applauded the practitioners' peaceful efforts in raising awareness about the persecution taking place in China.
Falun Gong, also known as Falun Dafa, is a meditation practice that has been targeted by the Chinese communist regime for the past 22 years.
An elderly woman followed the march on the sidewalk from the start to the end. She said, "This is a great team. You did a great job! The principles of Truthfulness, Compassion, and Forbearance are extremely important to us!"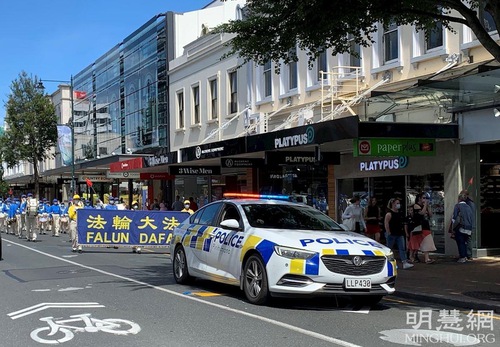 Falun Gong march in Dunedin on January 28, 2022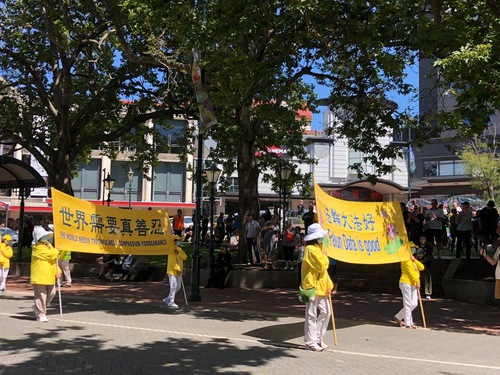 Falun Gong march in Dunedin on January 28, 2022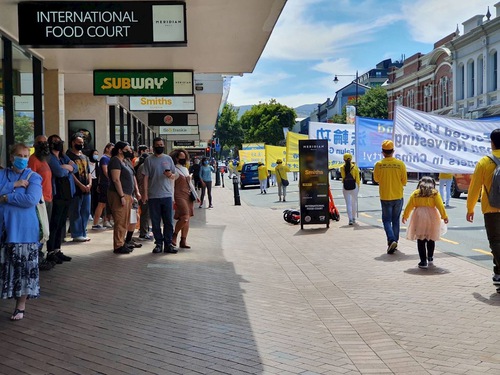 Falun Gong march in Dunedin on January 28, 2022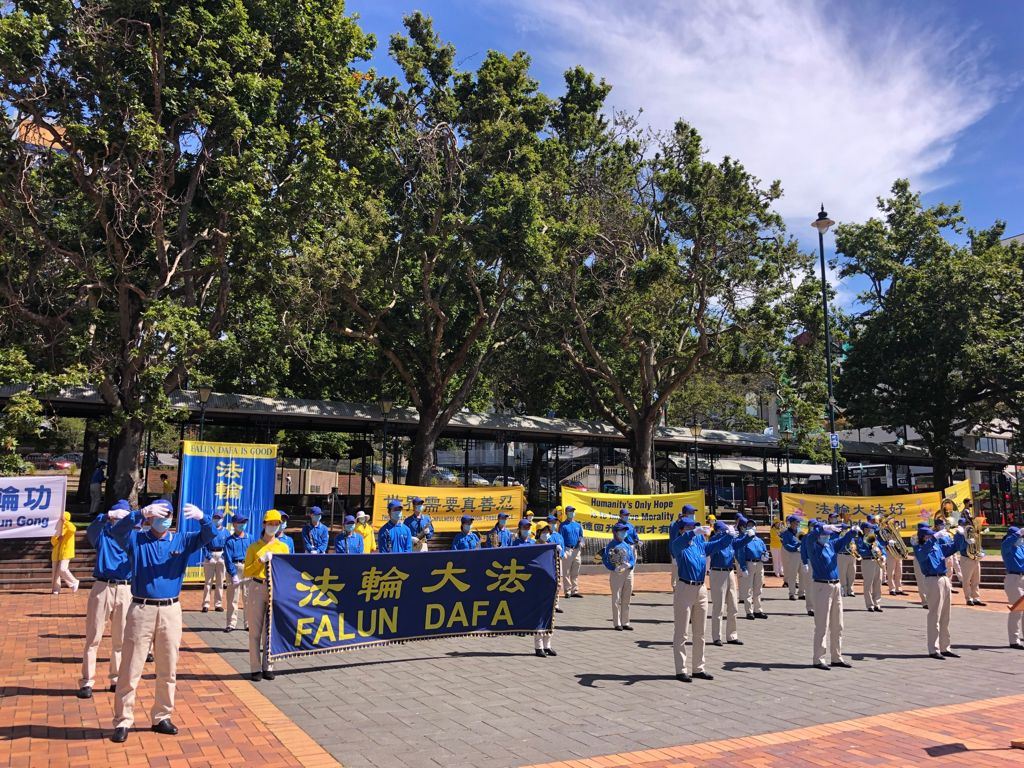 Exercise demonstration on Octagon Plaza
As the march began, an organization called "Freedoms & Rights Coalition NZ" was also holding an event nearby. They applauded the Falun Gong practitioners and expressed their support for the practitioners' perseverance in their faith and standing up to the persecution.
People from the Freedoms & Rights Coalition NZ applaud the Falun Gong practitioners.
Rally Speech: Pregnant Wife and Unborn Baby Killed
At the rally, Falun Gong practitioner Mr. Huang Guohua shared how his family was persecuted for upholding their shared faith.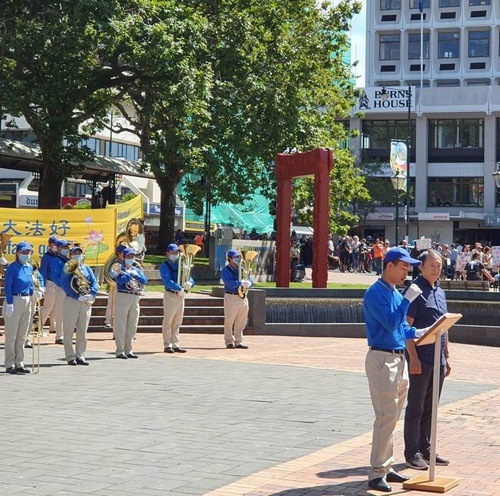 Mr. Huang Guohua giving his speech
After the persecution started, Mr. Huang's wife, Ms. Luo Zhixiang, an architect of an agricultural reclamation construction company in Guangdong Province, was brutally persecuted to death when she was pregnant. They also lost their unborn baby.
Mr. Huang himself was imprisoned for three years and was tortured mentally and physically. The authorities forcibly took samples of his blood three times, which he suspected was related to the organ harvesting crime.
After Mr. Huang fled China, the authorities denied his parents from applying for passports. This prevented him from reuniting with his parents for 18 years.
Members of the Freedoms & Rights Coalition NZ listened to Mr. Huang's speech and hugged him after the speech was over. They repeatedly thanked all the practitioners.
Maori Youth: Truthfulness-Compassion-Forbearance Is Good
Poutama Crossman-Nixson, a young man of Maori ethnicity, passed by Octagon Plaza while the practitioners were demonstrating the exercises. He liked what he saw and watched for a long time.
Poutama is impressed with Falun Gong's spiritual power
He said, "They were standing there doing the exercises. Everyone looked so calm and peaceful. I really liked it and want to learn it. I feel that it was the kind of exercise with spiritual power. I've always believed in the existence of higher wisdom and all we need is to calm down and listen to it.
"I strongly agree with their principles (Truthfulness-Compassion-Forbearance). The principles are important, especially during the difficult times of the pandemic. We Maoris have a similar philosophy. We are taught to be sincere and kind from the time we are little. A good heart allows us to see the world clearly. Even if someone goes against our philosophy, we still should treat them kindly and help them improve, but not by force. In our culture, it talks about fighting evil with good. We need to be tolerant when others bully, resent, or are hostile to us. Forbearance keeps us calm and peaceful and enables us to understand others.
"The persecution of Falun Gong is wrong. But I believe the persecution will stop with your sticking to your principles and the help of people from all over the world. Please let me know how I can help. When we help others, we are helping society move in the right direction."
Citizens Support Falun Gong Practitioners Against the Persecution
John is a middle school teacher. He already knew about Falun Gong and the persecution in China before coming to the event. He said the persecution is brutal and illegal. He thought Falun Gong practitioners were very brave.
Estella is a dental nurse. She said she took a lot of pictures and would share them with her friends. She believes the rally sends an important message to the public and to the communist regime to stop the persecution immediately.
Karen owns a pet store. She often saw Falun Gong practitioners sitting outside of the Chinese Consulate to protest the persecution when she lived in Wellington. She understood that the communist regime is a totalitarian government that uses economic trade to control other countries. It never tolerates different opinions. "We do not need such a government. This dictatorship must be put to an end," she said.
Views expressed in this article represent the author's own opinions or understandings. All content published on this website are copyrighted by Minghui.org. Minghui will produce compilations of its online content regularly and on special occasions.