Gansu Woman Dies After Two Decades of Being Persecuted for Her Faith
(Minghui.org)
Chinese Name: 曹强强Gender: FemaleAge: 66City: QingyangProvince: GansuOccupation: FarmerDate of Death: January 1, 2022Date of Most Recent Arrest: February 2003Most Recent Place of Detention: Xifeng Detention Center
A Qingyang City, Gansu Province resident died after suffering two decades of mental torment, since the Chinese communist regime began to persecute her spiritual belief of Falun Gong in 1999.
Ms. Cao Qiangqiang, a farmer, took up Falun Gong, an ancient spiritual discipline, in 1998, when she was 42. In the early years of the persecution, she overcame various difficulties and went to Beijing twice to appeal for the right to practice Falun Gong. Her plea for justice was instead met with arrest, incarceration, and torture. With on-going harassment after she was released, her health gradually declined and she became bedridden in 2018. After struggling with her health condition for three years, she died on January 1, 2022. She was 66.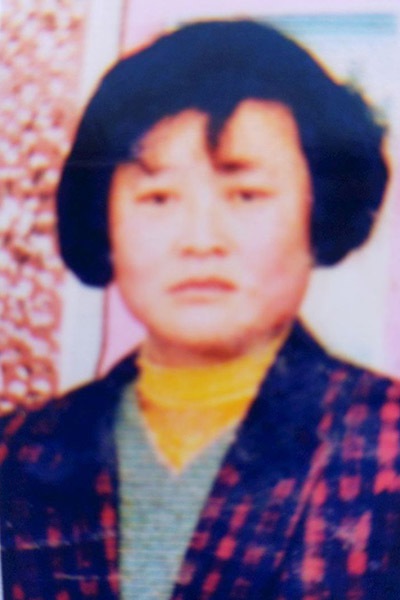 Ms. Cao Qiangqiang
Arrested for Appealing for the Right to Practice Falun Gong
Ms. Cao and five other practitioners planned a trip to Beijing to appeal for the right to practice Falun Gong on April 9, 2000. Her husband, under the influence of the defaming propaganda put out by the communist regime, rushed to the train station and threatened to divorce her if she insisted on going. He forcibly took her to the local village government and the official ordered him to monitor her at home. 
Two days later, Ms. Cao escaped and went to Beijing, only to be arrested and sent back home five days later. She was ordered to sit in a chair overnight at Xiaojin Police Station and taken to the Xifeng City Detention Center on the next day for 30 days, where she was subjected to constant beating and verbal abuse.
During her detention, the local officials dragged Ms. Cao and several other Falun Gong practitioners for a street parade to humiliate them, similar to a "struggle session" during the Cultural Revolution. Ms. Cao was also fined 1,000 yuan.
On the day she returned home, the local government officials came and ordered her to write a statement renouncing Falun Gong. She refused. The officials handcuffed her to her front door for five hours and took her back to the Xifeng Detention Center for another 15 days. The police forced her husband to guarantee that he wouldn't let her practice Falun Gong anymore before releasing her.
The police ransacked Ms. Cao's home and confiscated all her Falun Gong books. She was forced to report to the police station twice a day. An officer was also assigned to monitor her daily activties.
Ms. Cao was arrested again in June 2000 and taken to a brainwashing session in the Xiaojin Town Kindergarten for seven days. 
In November 2000, she and a few other practitioners went to Beijing again to appeal for Falun Gong. She was held in a basement for three days by the Beijing police, beaten and intimidated. Her 600 yuan in cash and other belongings were confiscated. She was held at the Xifeng Detention Center for a month after being sent back.
Two Labor Camp Terms
Only a month after she was released, Ms. Cao was taken back to the detention center again. With the temperatures far below freezing, the guards turned off the heat to freeze her. She was unable to fall asleep at night and had severe pain in her feet and legs. Seven days later, the police gave her one year of forced labor.
Ms. Cao and another practitioner Ms. Li Yu were brought to the Ping'antai Forced Labor Camp on January 18, 2001. Although Ms. Cao failed the physical requirement and was rejected admission by the labor camp, the police took her back to the detention center. She started a hunger strike after seven months of detention and was released four days later. The guards extorted 1,000 yuan from her family in the process.
The police arrested Ms. Cao one more time in June 2002 and held her at the detention center for 16 days. Her family was forced to pay 3,160 yuan for her food, which was very poor quality and cost nearly 200 yuan daily.
Ms. Cao was reported for distributing informational materials about Falun Gong in February 2003 and was held at the Zhenyuan County Police Station overnight. She was transferred to the Zhenyuan County Detention Center on the next day and held for 15 days. 
Only 12 days after she was released, the police deceived her into reporting to the Xiaojin Town Police Station, arrested her and took her to the Xifeng Detention Center. Forty days later, the police gave her another labor camp term of two years and three months.
Ms. Cao was again rejected admission by the labor camp and taken back to the detention center. She started another hunger strike to protest the persecution and was released 16 days later on the verge of death.
Ongoing Harassment
Ms. Cao was reading Falun Gong books at home when the police suddenly broke in in April 2004. They confiscated her books and questioned her neighbors whether she had gone out to distribute Falun Gong materials. Since then, the police constantly came back to harass her, causing her and her family to live in tremendous distress.
The police searched Ms. Cao's home again on June 26, 2011 without any warrant. As Ms. Cao rented a room to a person working at a restaurant and the room was locked when the person went to work, the police attempted to forcibly break in. After her family stopped them, the police stood on a chair and looked into the room through the window above the door. Before leaving, they took away Ms. Cao's two wall calendars with information about Falun Gong and threatened to arrest her, if they found her contacting other practitioners. 
Another group of officers broke into Ms. Cao's home on July 15, 2013 and searched the place. 
After Ms. Cao filed a criminal complaint against Jiang Zemin, the former head of the communist regime who ordered the persecution, the police ransacked her home on July 7, 2015 and confiscated her Falun Gong books and informational materials. The authorities harassed her again in October 2015 and attempted to deceive her into attending a brainwashing session. But she refused to comply.
In addition to the harassment, her husband also strongly opposed her practicing Falun Gong and threatened to divorce her if she persisted. He often verbally abused her, which also caused her tremendous mental distress. 
Becoming Paralyzed
Due to the non-stop harassment and the mental distress from the persecution, Ms. Cao often had headaches and was plagued with excessive fatigue. She often felt so tired that she had difficulty walking. As her condition progressed, she also lost her vision. 
Ms. Cao fainted on May 2, 2018 and remained unconscious for nearly a month. Although she later woke up, she remained bedridden since. 
Ms. Cao was unable to eat in December 2020 and was resuscitated at the hospital. Upon returning home, her family hired a caregiver for her. 
Her husband and daughter didn't allow local Falun Gong practitioners to visit her or for her to practice it herself. After struggling with poor health for another year, she passed away on the first day of 2022, at the age of 66.
Views expressed in this article represent the author's own opinions or understandings. All content published on this website are copyrighted by Minghui.org. Minghui will produce compilations of its online content regularly and on special occasions.