Dublin: Introducing Falun Dafa During the Festive Holiday Season
(Minghui.org) Grafton Street in downtown Dublin was filled with people shopping or simply enjoying the sights and sounds of the holidays on December 17, 2022. Practitioners set up display boards and tables with fliers and brochures to raise awareness about Falun Dafa and how it's persecuted in China.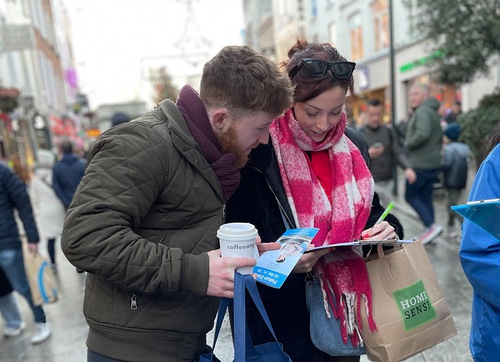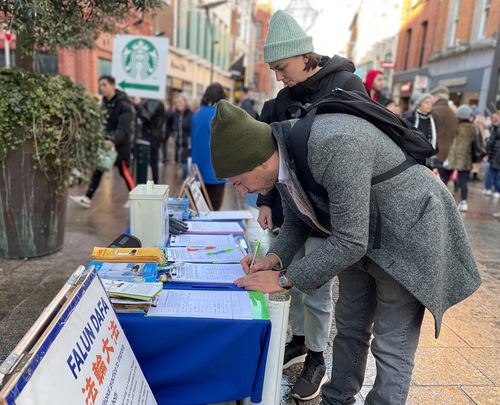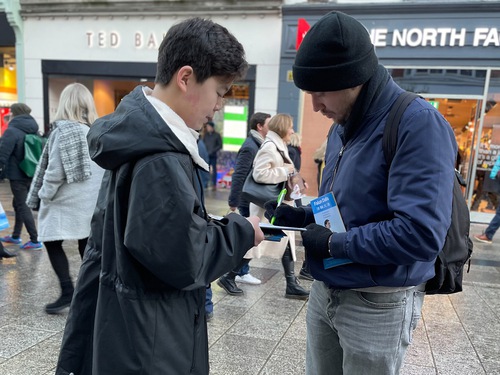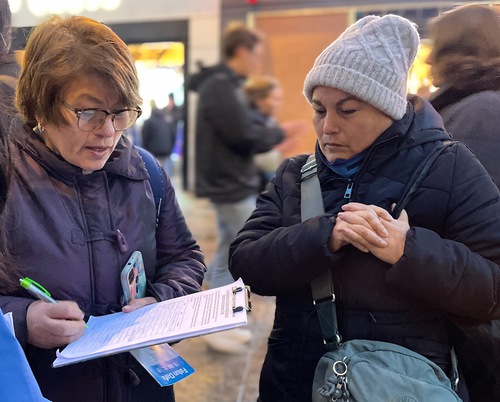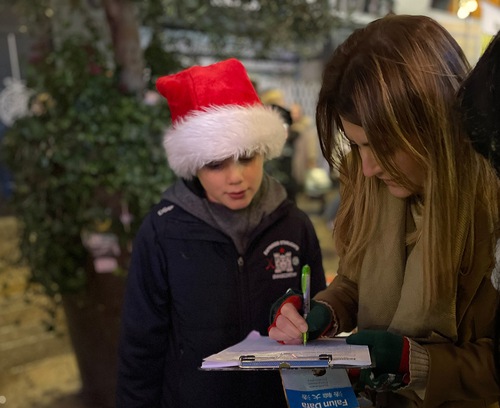 People sign a petition to end the persecution and organ harvesting from Falun Dafa practitioners in China.
Many people stopped and talked to practitioners, asking why such a peaceful group was brutally persecuted. Some came back after passing by in a hurry, and took a flier and asked practitioners about the persecution. Many people signed a petition requesting the Irish government to condemn the Chinese Communist Party's (CCP) for harvesting organs from practitioners while they are alive.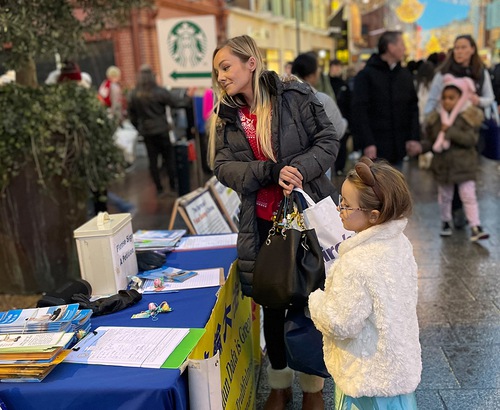 A mother and daughter read the information about Falun Dafa.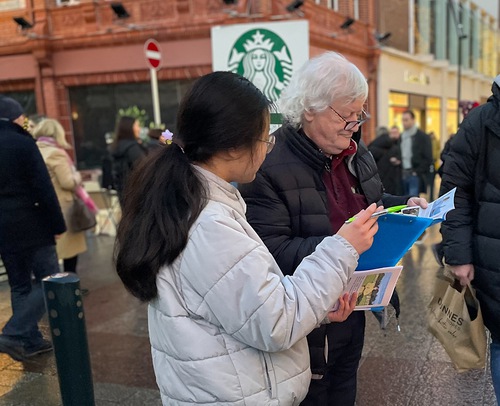 Passersby read leaflets and display boards to learn the facts of the persecution of Falun Dafa.
Mr. Huang, a young man from Taiwan, passed by the activity site and talked with practitioners for a long time. He said that he learned about the persecution through online videos, and felt very sad to learn it was still going on. He said that many people in Taiwan practice Falun Dafa. "Truthfulness, Compassion, Forbearance are the cornerstones of a society," he said while he signed the petition.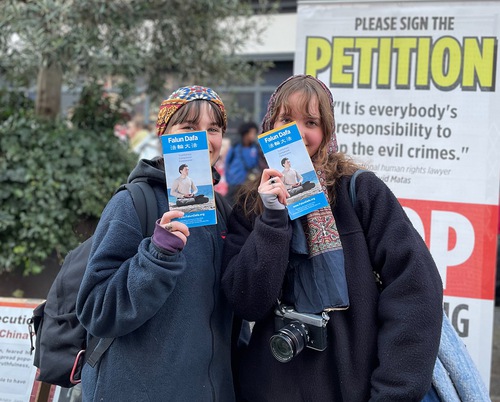 Ylva and Leni from Germany
Ylva and Leni, two international students from Germany who are studying English in Monaghan County, came to Dublin to purchase Christmas presents. They were surprised to see the display board with information calling for an end to live organ harvesting. They stopped and read it carefully. 
Irva said that it's wrong to influence people and force them to do things they don't want to do. Leni said the CCP's methods of persecuting Falun Dafa are exactly the same as the ones the Nazis used. "Both regimes are controlling people."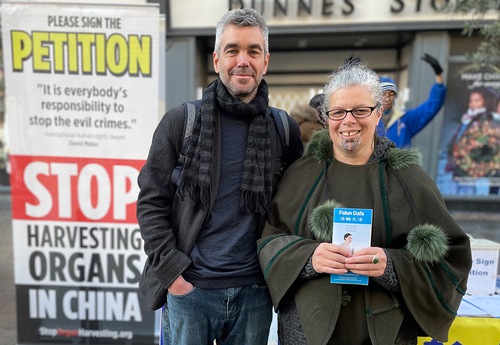 Brad and Kerri (who is Maori) from New Zealand support practitioners' efforts to end the persecution.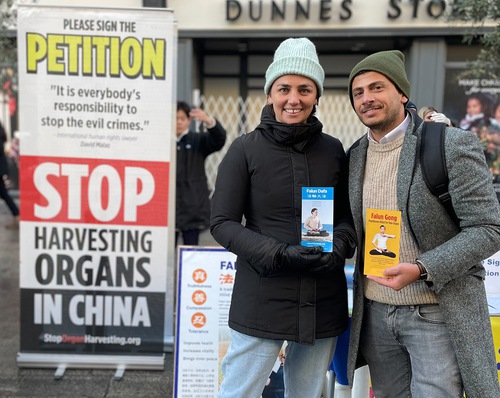 Hazel from Ireland and her friend Adrea from Italy support practitioners' efforts to expose the persecution. Hazel said she first heard about Falun Dafa when she was studying in London and had a practitioner roommate from Malaysia. The roommate told Hazel how wonderful Falun Dafa is and about the persecution taking place in China. Hazel said she likes the principle of Truthfulness-Compassion-Forbearance.
Droyl and his family, who live on the northern border of Ireland, came to Dublin to enjoy the festive atmosphere. As soon as he noticed practitioners, he immediately brought his family over to sign the petition. Droyl said that he learned about the persecution of this peaceful group last year. He told practitioners that it was, "The cruelty (of the persecution)" that made him decide to sign the petition. 
Droyl is optimistic and said he sensed a positive change was coming. "I believe that we may see changes within this generation," he said. 
Background: What Is Falun Dafa and Why Is the CCP Persecuting It?
Falun Dafa (also known as Falun Gong) was first introduced to the public by Mr. Li Hongzhi in Changchun, China, in 1992. The spiritual discipline is now practiced in over 100 countries and regions worldwide. Millions of people who have embraced the teachings, which are based on the principles of Truthfulness, Compassion, and Forbearance, and have learned the five exercises, have experienced improved health and well-being.
Jiang Zemin, former head of the Chinese Communist Party (CCP), perceived the spiritual discipline's growing popularity as a threat to the CCP's atheistic ideology and on July 20, 1999, he issued an order to eradicate the practice.
Under Jiang's personal direction, the CCP established the 610 Office, an extralegal security organization with the power to override the police and judicial systems and whose sole function is to carry out the persecution of Falun Dafa.
Minghui.org has confirmed the deaths of thousands of practitioners as a result of the persecution over the past 23 years. The actual number is believed to be much higher. Countless practitioners have been imprisoned and tortured for their faith.
There is concrete evidence that the CCP sanctions the harvesting of organs from detained practitioners, who are murdered to supply China's organ transplant industry.
All content published on this website are copyrighted by Minghui.org. Minghui will produce compilations of its online content regularly and on special occasions.