Taiwan: Practitioners Reflect on Their Cultivation Experiences and Wish Master Happy New Year
(Minghui.org) Falun Dafa practitioners gathered at Taoyuan Hakka Culture Park on December 11, 2022, to reflect on and discuss their cultivation experiences. They also wanted to wish their founder, Mr. Li Hongzhi, a Happy New Year.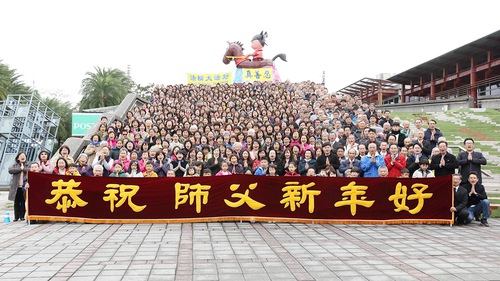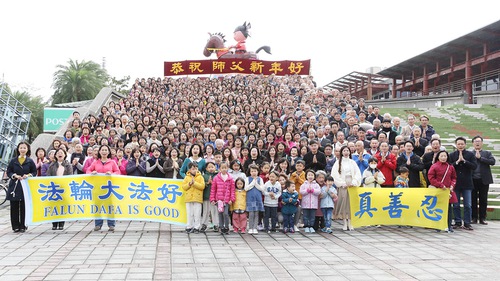 Practitioners gathered at Taoyuan Hakka Culture Park on December 11 to wish Mr. Li Hongzhi a Happy New Year.
Falun Dafa is a spiritual discipline that is practiced in over 100 countries. It has helped over 100 million people to improve their physical and mental health and moral values. Practitioners discuss their cultivation experiences in order to learn from one another and improve.
A Blessed Life Thanks to Falun Dafa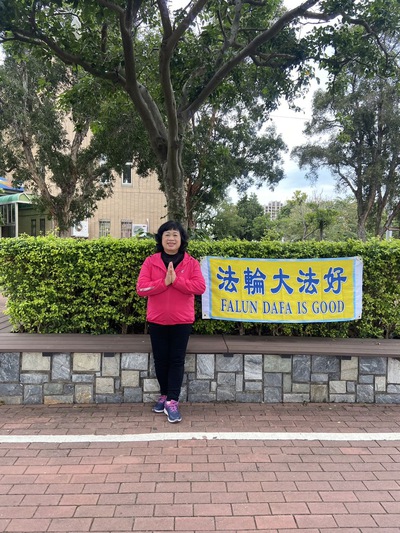 Ms. Chang Chiu-Yu
Ms. Chang Chiu-Yu began practicing in 2004. One night in 2004 a drunk driver hit her on her way home. She recovered from her injuries but was left with many side effects, such as hypothyroidism and gynecological problems. She had difficulty focusing and became depressed. She suffered from anxiety and could not go to sleep unless someone was in the room with her.
She went to many doctors but none could find a cure for her problems. She went to the hospital twice a week and had to take a handful of pills every day. On one of her morning walks she noticed a group of Falun Dafa practitioners doing the exercises. A practitioner told her that Falun Dafa can help resolve illnesses and invited her to try it. She began going to the practice site to do the exercises and she started to read the teachings.
Three days later she stopped taking her pills and hasn't needed them since. Having to work in her family's wholesale clothing business from 9 a.m. to 9 p.m., she enjoyed the feeling of being illness-free. She attributes her good health to practicing Falun Dafa.
She also thanked Master for helping her family avoid a disaster. Her son suffers from an intellectual disability. One night he played with a lighter and threw it on a pile of garbage. The fire spread, and three of their scooters which were parked outside of their home, caught on fire. Her husband woke up and quickly moved the burning scooters and put out the fire.
When they later watched the fire on a surveillance camera, they saw that the fire spread so fast that their house was about to catch fire. "I believe that Master protected us. We thanked Master!" she said.
Because she experienced the health benefits of Falun Dafa firsthand, she tells her customers about Dafa, and asks them to remember, "Falun Dafa is good, Truthfulness-Compassion-Forbearance is good" to stay safe. Her customers thank her for her kindness. Even though her other family members do not practice Falun Dafa, they encourage her to practice and provided space for the practitioners to gather.
During the COVID pandemic, the economy went down and prices went up. Many business suffered and some clothing stores went out of business. However her family business did not suffer much. She and her family believed that Master blessed them with good fortune.
From Lost to Finding the Light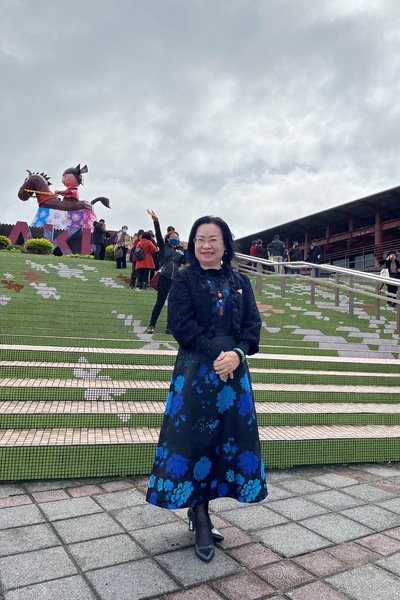 Ms. Lu Hsiu-Lan
A friend of Ms. Lu Hsiu-Lan told her about Falun Dafa in 2009. She attended the Nine-day Falun Dafa workshop and learned the five exercises. She decided to practice.
She said the most positive change she's experienced was doing everything based on the principles of Truthfulness, Compassion, and Forbearance. After she let go of her pursuits and worries, she's experienced the freedom of not being attached to results.
She used to worry about bad things that hadn't even taken place yet, such as her family's health and her children's future. She spent a lot of time consulting fortunetellers and spent hundreds of thousands dollars on spiritual consultants. "I was really silly back then," she said.
She was lost but not anymore. She now knows a righteous way that can truly guide her and help her. She understood that everything happens for a reason and learned how to let go. She now treats everything with a peaceful mindset, and the principles of Falun Dafa guide her.
She said she used to lack empathy for the people and things around her, except for her family. Through the practice and improving her character, she now puts herself in others' shoes when her friends complain. She tells others how Falun Dafa has helped her.
Cherishing This Unprecedented Opportunity
Ms. Wu Shu-Yun
"Falun Dafa is truly wonderful," said Ms. Wu Shu-Yun. She said that no words can express her gratitude to Master. She wanted more people to know about Falun Dafa and not miss this unprecedented opportunity.
One of her coworkers attended a forum and talked to the speaker afterward. The speaker gave the coworker a copy of Zhuan Falun and briefly told her about Falun Dafa. Since Ms. Wu missed the forum, so her coworker got an additional copy for her. However, her busy work schedule prevented her from reading the book. She kept it in her drawer.
Her father was diagnosed with Parkinson's disease. She knew that practicing Falun Dafa helped resolved some peoples' illnesses. She decided to learn the practice first and teach it to her father. She found a practitioner and asked to learn the exercises. The practitioner reminded her that Falun Dafa was about cultivating oneself, not just doing the exercises. She suddenly remembered that she had a copy of Zhuan Falun. She read it and realized that it was a treasure.
Since she was a child, she'd wondered, "Who am I and why am I here?" She believed that she came from heaven and that human nature is good. When she read Zhuan Falun, the teachings resonated with her. After reading it through several times, many of her life-long questions were answered. She became a steadfast practitioner.
Her health improved. Her stomachaches and migraine headaches that had bothered her for years disappeared. Her character improved as well. She used to be stubborn and judgmental. Now when she encounters conflicts, she looks for her own shortcomings. She treats everything that happens to her as an opportunity to improve her character. She wants to be a good, simple and wise person who follows the principles of Truthfulness, Compassion, and Forbearance.
No matter how many times Ms. Wu has read Zhuan Falun, she has new understandings, and she realized that Falun Dafa has boundless profound meanings.
Copyright © 1999-2022 Minghui.org. Content on this page may be reproduced with attribution.