London, U.K.: Officials and Citizens Condemn the CCP's Persecution of Falun Dafa During Rally on Human Rights Day
(Minghui.org) Falun Dafa practitioners held a rally in front of the Chinese Embassy in London on Human Rights Day, December 10, 2022, to call attention to the Chinese Communist Party's (CCP) 23 year-long persecution. Members of Parliament and the House of Lords sent letters and messages to support the practitioners' efforts to end the persecution.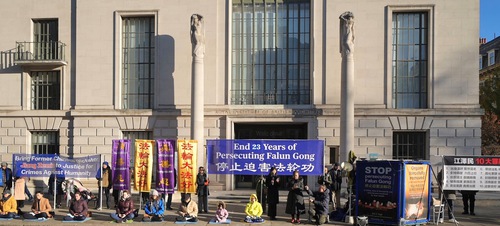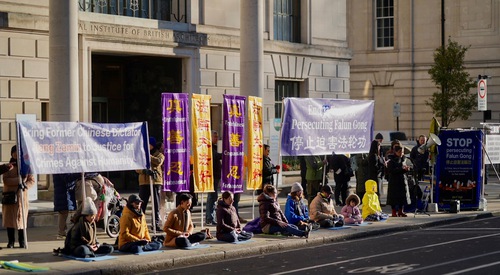 Practitioners peacefully rallied in front of the Chinese Embassy in London, on Human Rights Day.
Practitioners unfurled large banners with messages such as "Falun Dafa Is Good," "Truthfulness Compassion Forbearance," "End 23 Years of Persecuting Falun Gong," and "Bring Former Chinese Dictator Jiang Zemin to Justice for Crimes Against Humanity."
Support letters and messages from (left to right in the first row) Ellie Reeves MP, Ian Levy MP and Jonathan Cruddas MP, (left to right in second row) The Lord Alton of Liverpool, member of the House of Lords, and Caroline Nokes MP
Jonathan Cruddas MP had to leave London before December 10th, but he wrote in his email to practitioners that he very much agreed with the message they sent and would like to offer his support for the event.
Ian Levy MP wrote in his letter, "The UK remains deeply concerned about the ongoing persecution of Falun Gong practitioners and other groups in China. The testimonies of their experiences are incredibly distressing."
Ellie Reeves MP stated in her letter, "I remain deeply concerned about the persecution of people on the grounds of their religion or belief in China, be it Uighur Muslims in Xinjiang, Christians, Buddhists, or Falun Gong practitioners. The freedom to practise, change or share one's faith or belief without discrimination or violent opposition is a human right that all people should enjoy...
"I will continue to press the UK Government to send a clear message that we will not stand by and we will not tolerate such gross abuses of human rights."
Caroline Nokes MP stressed that Falun Gong practitioners "should keep emphasising the ongoing human rights abuses in China" and that she would raise their concerns with the Foreign, Commonwealth & Development Office.
Lord Alton sent a video recording to the rally. He said in the video, "They [the judges of the China Tribunal] said that these crimes against humanity may well be carried out also against Uyghur Muslims, Tibetan Buddhists and Christians. These are serious allegations, which is why we in the British parliament, in both the Commons and the Lords and across the political divide, came together to move amendments legislation which severely penalize anyone who stands with [those who] collaborated in these abhorrent crimes."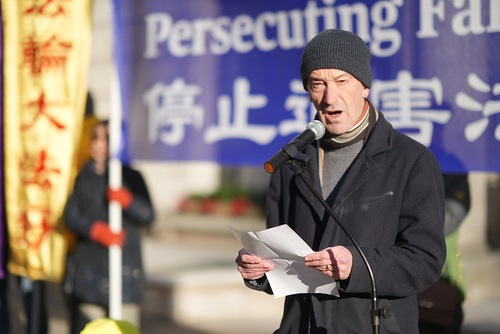 Chairman of Friends of Falun Gong in Europe John Dee gives a speech at the rally.
Mr. John Dee, Chairman of Friends of Falun Gong in Europe, pointed out during his speech that thousands of Falun Gong practitioners have been tortured to death since July 1999, and millions have been impacted by the persecution, including physical and mental torture, violent interrogation, deprivation of sleep and appalling organ harvesting for profits. Dee said that the CCP had failed to deter Falun Gong practitioners or reduce Falun Gong's positive influence in the world, and that ending the persecution was simply a matter of time.
Falun Gong practitioner Liu Hongbo shared her personal experience of being persecuted. She was sent to a forced labor camp for three years. She was drenched with freezing water in the cold winter, forced to stand under the scorching sun in the summer, deprived of sleep and tortured by various means in attempts to force her to give up her belief.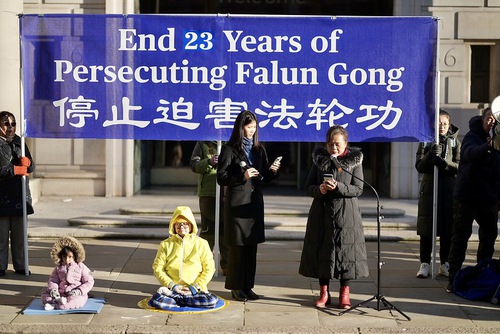 Ms. Liu Hongbo described how she was persecuted.
In 2015, Ms. Liu and her family filed a criminal complaint against Jiang Zemin, the former head of the CCP responsible for launching the persecution. Liu and her entire family were persecuted. Some practitioners she knew were killed. Liu called for all people to take action to stop the CCP's brutal persecution.
Mr. Pan Dongkai, who grew up in Hong Kong, attended the rally to support Falun Gong. He said that the CCP was the common enemy of mankind, and that he supported Falun Gong practitioners' peaceful efforts to stop the persecution.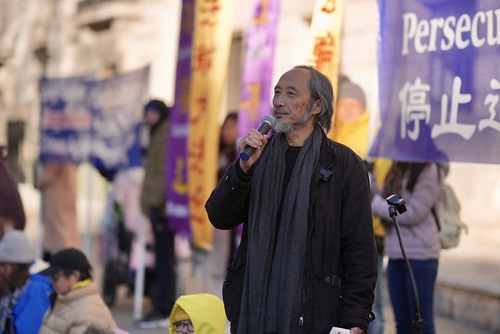 Writer Mr. Ma Jian gave a speech at the rally and praised practitioners for their efforts to safeguard their belief.
Writer Mr. Ma Jian said that he witnessed how the CCP trampled on human rights in Tibet and its massacre of students on Tiananmen Square during the democratic movement. Jian said that some of his Falun Gong practitioner friends were persecuted to death. One of them, Ai Xin, was still on his cell phone contacts.
"I'll never forget such a great person and friend. She was a talented artist and an amazing person. I have stayed in touch with her family," Jian said. He was certain that the CCP would face a despicable doom, just like all dictators who persecuted Christianity and Buddhism in history.
Background: What Is Falun Dafa and Why Is the CCP Persecuting It?

Falun Dafa (also known as Falun Gong) was first introduced to the public by Mr. Li Hongzhi in Changchun, China, in 1992. The spiritual discipline is now practiced in over 100 countries and regions worldwide. Millions of people who have embraced the teachings, which are based on the principles of Truthfulness, Compassion, and Forbearance, and have learned the five exercises have experienced improved health and well-being.

Jiang Zemin, former head of the Chinese Communist Party (CCP), perceived the spiritual discipline's growing popularity as a threat to the CCP's atheistic ideology, and on July 20, 1999, he issued an order to eradicate the practice.

Under Jiang's personal direction, the CCP established the 610 Office, an extralegal security organization with the power to override the police and judicial systems and whose sole function is to carry out the persecution of Falun Dafa.

Minghui.org has confirmed the deaths of thousands of practitioners as a result of the persecution over the past 23 years. The actual number is believed to be much higher. Countless practitioners have been imprisoned and tortured for their faith.

There is concrete evidence that the CCP sanctions the harvesting of organs from detained practitioners, who are murdered to supply China's organ transplant industry.
All content published on this website are copyrighted by Minghui.org. Minghui will produce compilations of its online content regularly and on special occasions.