U.S. State Department Sanctions Chinese Communist Party Officials Ahead of Human Rights Day
(Minghui.org) On December 9, the day before the United Nation's Human Rights Day, the U.S. Department of State (DOS) announced sanctions against 65 individuals and entities in 17 countries for engaging in corruption and human rights abuses. 
Among the sanctioned were three Chinese Communist Party (CCP) officials and two Chinese businessmen, including:
Tang Yong (former deputy director of the Chongqing Area Prisons): "Pursuant to Section 7031(c), the Department of State is designating Tang for his involvement in gross violations of human rights, namely arbitrary detention of Falun Gong practitioners, which also amount to particularly severe violations of religious freedom," announced the Department of State on its website.
Wu Yingjie (Party Secretary of Tibetan Autonomous Region): when Wu was Party Secretary of Tibet between 2016 and 2021, Falun Gong practitioners in the region were severely persecuted for their belief. Wu was listed as a key perpetrator in several cases published on Minghui. 
Zhang Hongbo (director of the Tibetan Public Security Bureau): Zhang was accused of engaging in serious human rights abuse, including arbitrary detention and physical abuse.
Li Zhenyu and Zhuo Xinrong: both are businessmen overseeing Dalian Ocean Fishing Co. and Pingtan Marine Enterprise, Ltd. They were accused of engaging in forced labor.
Holding Human Rights Violators Accountable 
According to U.S. Secretary of State Antony Blinken, the U.S. State Department is taking various actions to "promote accountability for corruption and human rights abuse around the world." Specific actions include Global Magnitsky sanctions and visa restrictions pursuant to the Department of State's Section 7031(c).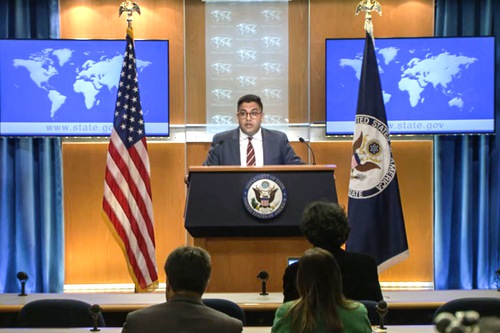 Spokesperson Vedant Patel at the December 9 press conference 
Vedant Patel, Principal Deputy Spokesperson for the DOS, explained at a December 9 press conference that officials of foreign governments would be designated for sanctions once credible information was obtained of their involvement in significant corruption or gross violations of human rights. "Those individuals and their immediate family members are generally ineligible for entry into the United States," he stated. 
The CCP's Track Record of Human Rights Abuses
The U.S. government has issued several sanctions against Chinese human rights violators in recent years. In May 2021, the DOS announced sanctions against Yu Hui, former director of the Central Leading Group on Preventing and Dealing with Heretical Religions in Chengdu City, Sichuan Province, for "gross violations of human rights, namely the arbitrary detention of Falun Gong practitioners for their spiritual beliefs." 
Before taking the position at the 610 Office, Yu was appointed deputy secretary for the Wenjiang District of Chengdu in May 2013. After heading the 610 Office for nearly a year between August 2016 and July 2017, he went on to become the deputy secretary of Gaoxing District.
During Yu's tenure as the director of the 610 Office between August 2016 and July 2017, 479 Falun Gong practitioners were harassed and had their homes ransacked, 117 were arrested, 27 were sentenced, and three died due to torture in police custody.
On Human Rights Day in 2020, the DOS designated 17 foreign officials and their immediate family members as human rights violators, including Huang Yuanxiong from the Wucun Police Station of the Xiamen Public Security Bureau, Fujian Province. 
"Huang is associated with particularly severe violations of religious freedom of Falun Gong practitioners, namely his involvement in the detention and interrogation of Falun Gong practitioners for practicing their beliefs," the DOS stated in 2020. The sanctions against Huang also applied to his spouse. 
"The world cannot stand idly by as the PRC government perpetrates horrific and systematic abuses against people in China, including violating the internationally recognized right to freedom of thought, conscience, and religion or belief," emphasized the DOS press release. 
Views expressed in this article represent the author's own opinions or understandings. All content published on this website are copyrighted by Minghui.org. Minghui will produce compilations of its online content regularly and on special occasions.