Belated News: 71-year-old Woman Dies After Two Decades of Persecution for Her Faith
(Minghui.org)
Name: Li Wenjuan
Chinese Name: 李文娟
Gender: Female
Age: 71
City: N/A
Province: Shanghai
Occupation: Vice president of the union for the No. 101 Factory under the Instrument and Meter Bureau
Date of Death: December 10, 2021
Date of Most Recent Arrest: June 5, 2009
Most Recent Place of Detention: Shanghai Women's Prison
For the past two decades, Ms. Li Wenjuan of Shanghai was held in a local brainwashing center many times and sentenced to 4.5 years in prison for refusing to renounce her faith in Falun Gong. She became incapacitated due to torture while in custody and passed away on December 10, 2021, five years after her husband's passing, after he succumbed to the mental distress from the persecution.
In addition to Ms. Li and her husband, their daughter and son-in-law were also targeted for their shared faith in Falun Gong. The daughter was repeatedly arrested, denied promotion at work, and had a miscarriage due to the persecution. Her husband was given two years of forced labor and tortured by the guards. He mysteriously died in 2020 while driving to visit another practitioner.
Falun Gong, also known as Falun Dafa, is a spiritual discipline that has been persecuted by the Chinese communist regime since 1999.
Turning Point in Life
Ms. Li was the vice president of the union for the No. 101 Factory under the Instrument and Meter Bureau. She suffered many ailments since childhood, including back and leg pain and rheumatism, which usually kept her bedridden for six months each year. The whole family lived in despair as her husband and daughter also fell sick very often. Ms. Li taught herself Western and Chinese medicine and practiced many types of qigong, but nothing helped.
Both Ms. Li and her daughter, Ms. Li Li, were introduced to Falun Gong in April 1997. They lived by the principles of Truthfulness-Compassion-Forbearance and put others' interests before their own. Both saw their illnesses disappear in a few days after beginning the practice. The mother and daughter's changes also prompted the father, Mr. Li Yuqin, to take up Falun Gong. He had struggled with poor health, especially a severe lung condition.
The daughter later married Mr. Hou Yagang, who also started practicing Falun Gong in 1997 and credited the practice for curing his many ailments and uplifted his character. The family of four lived in harmony, until their peaceful life was suddenly shattered by the persecution.
Entire Family Arrested
Ms. Li Wenjuan was frequently arrested for upholding her belief after the persecution of Falun Gong started in 1999. She was taken to the Qingpu Brainwashing Center multiple times from 2001 to 2002 and subjected to intensive brainwashing.
Ms. Li was arrested by officers from the Putuo District 610 Office and Domestic Security Division when she went to visit a fellow practitioner on June 5, 2009. She was held in the Zhabei Detention Center. When her husband went there to look for her, the police also arrested him. The police took their house keys and raided their place, taking away their printer, MP3 audio player, phone, Falun Gong books, materials, and many personal belongings.
The next morning, a dozen police officers arrested the couple's son-in-law Mr. Hou. They pried open his door and ransacked his home. His Falun Gong books, computer, phone, printer, and other personal belongings were confiscated. The officers also arrested his wife Ms. Li Li. Worried about her mother's arrest, Ms. Li had just suffered a miscarriage and was still bleeding badly. Despite her condition, the police nonetheless yanked her out of the bed.
Mr. Li was released the next day but his stomach bled due to the shock from the arrest. Mr. Hou was taken to Putou District Detention Center and held there for a month. Ms. Li Wenjuan was taken to Zhabei Detention Center. And Ms. Li Li, who wasn't arrested but struggled to care for herself, was constantly harassed by officers from the 610 Office.
Ms. Li Wenjuan Tortured During 4.5-year Prison Term
Ms. Li Wenjuan went on a hunger strike to protest her detention. A week later, she was taken to the Nanhui Prison Hospital and force-fed. After being discharged, she was transferred to the Putuo District Detention Center. In November 2009, she was sentenced to 4.5 years and was transferred to the Shanghai Women's Prison in 2010. After she was incarcerated, her husband was often in tears and could not sleep.
The prison tortured Ms. Li in an attempt to transform her, and she was forced to stand for long periods of time. The first time, she was made to stand for four days nonstop. A few days later, the guards extended the time to six days. Several days later, they made her stand for eight days in a row.
While standing, Ms. Li had to keep both legs completely straight, while facing a smelly rag. If she bent her legs just a little, the inmates kicked and punched her.
The guards only allowed her to wear a thin layer of clothes in the winter, and they left the window open to freeze her. When she dozed off, the inmates poured cold, filthy water over her head, soaking her clothes.
Such torture lasted over a year. Due to prolonged sleep deprivation, she developed high blood pressure. The guards ordered inmates to force-feed her unknown drugs, which also caused her much suffering.
Ms. Li was once forced to sit on a small stool for over 20 hours a day, and her buttocks festered with pus and blood. Inmate Chen Wen hit her hand with a bamboo stick until it was swollen and severely bruised. When Ms. Li fell asleep, inmate Zhang Wenhua removed her blanket and pinched her.
Ms. Li was forced to get up and clean the restroom in the middle of the night. The inmates slapped her in the face and kicked and punched her.
The guards incited the inmates to make Ms. Li jump repeatedly, bringing her knees up to a required height. She was severely beaten when she couldn't manage it.
Ms. Li once shouted loudly at a prison meeting, "Falun Dafa is good! Truthfulness-Compassion-Forbearance is good! It's wrong to persecute us!" The guards pinned her to the ground before dragging her out. She was hung up by handcuffs to a bunk-bed rail for three days.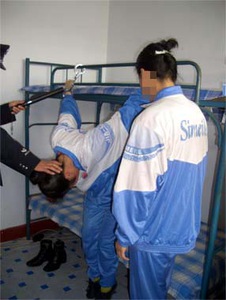 Torture re-enactment: Hung up by handcuffs
Ms. Li lost a significant amount of weight, going from 130 pounds to less than 80 pounds. She was taken to the "intensive unit," where she was held for six months and not allowed to go outside or have family visits. The guards there didn't even allow her to take a shower for long periods of time.
She slipped and fell while taking a shower and fractured her femur on June 16, 2011. The doctor said that, given her age, there was almost no chance for her to recover and that she might become paralyzed from the waist down and spend the rest of her life in a wheelchair.
When Ms. Li's family was finally allowed to visit her in the Nanhui Prison Hospital the next day, they were devastated to see her in bed, incapacitated. She was emaciated, with dry, gray hair, and was extremely weak.
Ms. Li was bedridden and chose not to have any treatment. On August 8, she suddenly felt warmth around the fractured area and then felt it moving throughout her body. The next morning, she sat up and walked slowly around the ward.
The medical staff and other patients were stunned. A doctor took an X-ray and discovered that the bone had completely healed, with no remaining evidence of a fracture.
Upon hearing that the doctor recommended that she receive physical therapy, the prison chief ordered Ms. Li to stay in bed instead. He also arranged for people to monitor her. Due to lack of movement, Ms. Li eventually suffered muscle atrophy and could not straighten her knees and back.
Years of torture and the subsequent deaths of her husband and son-in-law dealt Ms. Li a heavy blow. She passed away on December 10, 2021. She was 71 years old.
Husband's Death
On June 29, 2015, Ms. Li, her daughter, and son-in-law filed a criminal complaint against Jiang Zemin, the former head of the Chinese Communist Party who ordered the persecution.
A group of officers descended on Ms. Li's house at around 10 a.m. on January 19, 2016 and attempted to arrest her daughter and son-in-law. The elderly couple refused to open the door, and the police shut down their power and water supply when they could not pry open the door. They assigned a group of people to stay outside to monitor the family.
Mr. Li had taken a fall just days prior and was still bedridden when the police came to harass his family. Traumatized by what was happening, Mr. Li fainted in the afternoon. When medical personnel came, the police still refused to turn on the electricity for the doctor to perform resuscitation on him. Mr. Li passed away at around 3 a.m the next day. He was 68 years old. The police didn't retreat until the next morning.
To seek justice, the family filed a complaint against the police, requesting to hold the officers for trespassing private property and causing Mr. Li's death. However, the Procuratorate claimed that Falun Gong practitioners were not considered citizens, thus do not enjoy the rights of citizens. The prosecutor even said to the family that they didn't have the right to hear the response from the Procuratorate.
Persecution of the Younger Couple
Because she held firm in her faith, Ms. Li Li was denied promotion or going on business trips. Her daughter was also not allowed to study in a public kindergarten near their home.
Mr. Hou was given two years of forced labor in February 2002. He was shocked by electric batons and held in solitary confinement while being jailed at the Shanghai No. 3 Forced Labor Camp.
A day before the New Year in 2020, Mr. Hou drove to a practitioner's home. Hours later, Ms. Li received a call from the police, claiming that Mr. Hou had a sudden illness while driving and had been taken to the hospital for resuscitation. When the family arrived at the hospital, Mr. Hou had already passed away. He was 50 years old. The family was in anguish of his mysterious death.
Related reports:
Shanghai: Police Forcibly Collect Blood Samples from Falun Gong Practitioners
Man Dies 17 Hours after Police Surround His House and Shut Off Utilities
Ms. Li Wenjuan Tortured in Shanghai Women's Prison
Li Wenjuan Suffers Severe Thigh Bone Fracture, Songjiang Women's Prison in Shanghai Refuses to Release Her for Treatment
Ms. Li Wenjuan Subjected to Intense Persecution and Suffers a Bone Fracture
All content published on this website are copyrighted by Minghui.org. Minghui will produce compilations of its online content regularly and on special occasions.