Philadelphia: Falun Dafa Experience Sharing Conference Inspires Practitioners
(Minghui.org) Practitioners in the Greater Philadelphia area held an experience-sharing conference on November 13, 2022. Fifteen practitioners spoke of how they followed Falun Dafa's principles of Truthfulness, Compassion, and Forbearance in their daily activities and at work. They also shared how they looked within to improve their character and to do better in raising awareness of the ongoing persecution in China.
Practitioners from Pennsylvania, New Jersey, and Delaware who attended the conference said that they learned a lot from others' experiences and they felt inspired and encouraged to diligently move forward in their practice.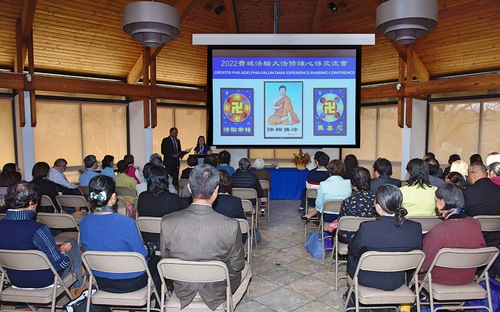 Practitioners in the Greater Philadelphia Region held an experience-sharing conference on November 13.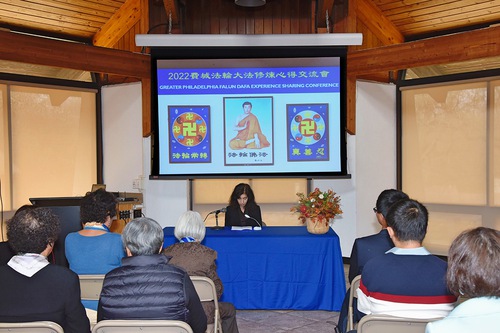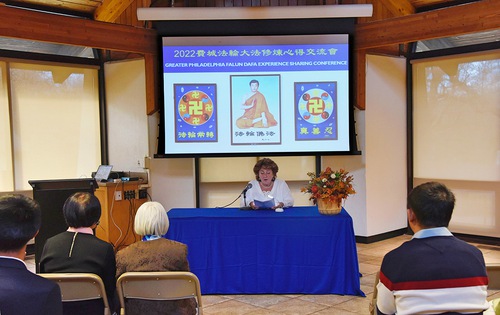 Practitioners talk about their cultivation experiences.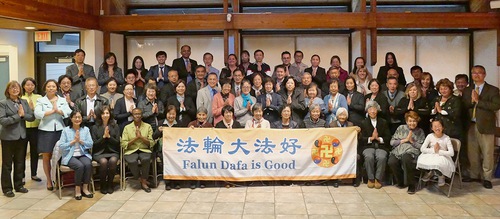 Practitioners thank Master Li (Dafa's founder) for his compassionate salvation and wish him a Happy Thanksgiving.
Continues to Help Others After Losing Daughter
Ms. Zhang called China to clarify the truth every day after she came to the U.S. in order to help rescue practitioners incarcerated for refusing to renounce their faith. Her daughter suddenly passed away. She had to take care of the two young grandchildren besides grieving for her daughter. The older child began to suffer from depression. To raise her grandchildren properly, Ms. Zhang decided to guide them with the principles of Falun Dafa. The children's lives gradually got back to normal.
Her son-in-law told her that his parents would soon come to the U.S. It meant that she no longer needed to shoulder the heavy burden of taking care of her grandchildren, but it also meant that she would forever exit her daughter's life and things would never be the same. The teachings of Falun Dafa helped her realize that she should not be attached to personal loss and should be considerate of her son-in-law's family. She got along with her relatives after they arrived in the U.S., and was able to move on and continue her journey in saving sentient beings.
Young Practitioner Becomes Diligent Again
Aaron joined the other practitioners to clarify the truth to visitors at a tourist site and later became the coordinator. At first, he was proud of being able to shoulder such an important task. He always smiled as he handed out fliers and talked to people.
"As time went by, the special feeling subsided, and I treated the responsibility as a job. I just needed to get the literature and equipment there on time, put on the music, and hand out fliers. Sometimes I just wanted to go home and rest or do my own things. It seemed that I couldn't remember why I was there," Aaron said, "I wasn't as eager to approach people as I used to be, and several practitioners reminded me that I needed to be more aggressive. I realized something wasn't right, and calmed down to think why I was doing this, why people came to this world, and what my true wish was when I came here. I came to my senses."
Recently he listened to a song from Shen Yun Creations and realized that people only came to this world for a short period of time. "It reminded me that my real home is in Heaven and that I must cultivate well to go back."
Never Forget That One Is a Practitioner
Mr. Cui sometimes helps other practitioners with their computer problems. A practitioner said that his computer was too slow and asked if Mr. Cui could fix it. He did some initial repairs, which did not help. He needed to install a new hard drive and upgrade the operating system. However, the computer wasn't compatible with the operating system and the upgrade failed many times. "I stayed by the computer, even when I studied the Fa and sent righteous thoughts. I occasionally checked the progress. A few times I wanted to give up but I did not want to throw it away and waste the time I already put in. In the end, I fixed it, but the process held up my time to study the Fa and do the exercises," he said.
He realized that the mindset of "finishing something before studying the Fa" was similar to "practice after retiring." "The incident reminded me to take the issue seriously, and that I needed to treat myself as a practitioner constantly, instead of practicing when I have time." The incident also exposed his attachment to money. "I did not want to throw away old things, and always wanted to fix them. Being frugal is a virtue, being overly frugal is not," he said.
Attendees: Improve in Small as Well as Difficult Things
Many participants said they learned a lot at the event. Ms. Guan thought the conference was a precious opportunity and helped her see her attachments. "The practitioners could always look within whenever something seemed trivial, or ordinary. When I heard their stories, I saw them shine and was moved," she said. She often thought about doing something big and did not see the importance of progressing little by little. She also realized that she needed to cultivate her speech.
Santhosh knew that every practitioner has to pass their own tests and they came a long way, step by step. "We continue to improve as we continue to look within," he said. He also realized the importance of reading the teachings every day.
Views expressed in this article represent the author's own opinions or understandings. All content published on this website are copyrighted by Minghui.org. Minghui will produce compilations of its online content regularly and on special occasions.