Montreal: Tian Guo Marching Band Participates in First Santa Claus Parade Held After the Pandemic
(Minghui.org) After a two-year hiatus, the Tian Guo Marching Band returned to the Montreal Santa Claus Parade held on November 19, 2022. They received a warm welcome from tens of thousands of spectators. Many people said that among the many groups in the parade, the marching band left the deepest impression on them. Many Chinese spectators praised the band and said that it was majestic.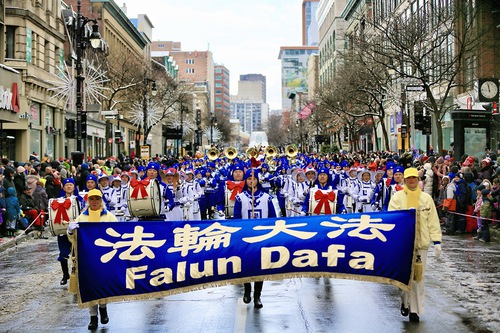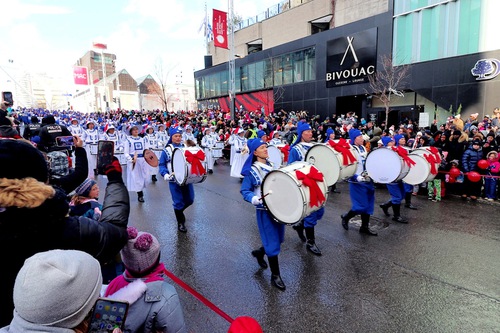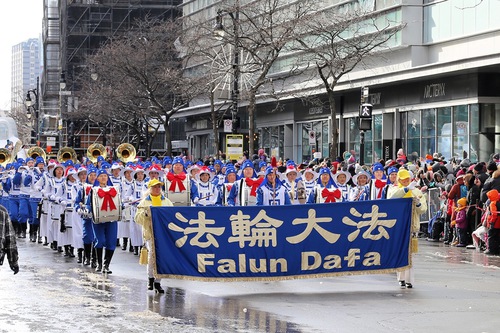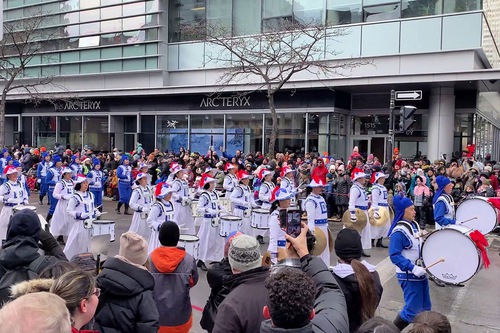 The Tian Guo Marching Band participated in the Montreal Santa Claus Parade held on November 19, 2022.
The Montreal Santa Claus Parade is an annual traditional event that began in 1925. It is also the largest celebratory event before winter arrives. Every year it attracts tens of thousands of spectators. This year the parade resumed after a two-year break due to COVID, and both sides of Rue Sainte-Catherine Ouest in downtown Montreal were lined with spectators.
Practitioners from Montreal, Ontario, and New York came together to participate, making it the largest group in this year's parade. Members of the band performed a variety of songs, including "Jingle Bells" and music composed by Falun Dafa practitioners. One could hear spectators shouting "Bravo" and clapping along the parade route.
Chinese Spectator: The Band Is Majestic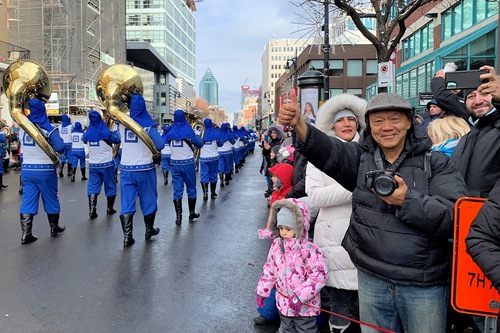 Mr. Liu, a retired professor living in Montreal, gave the band a big thumbs up.
Mr. Liu a retired professor living in Montreal, gave a big thumbs-up when the band marched by. He said, "Spectacular, very powerful and invigorating! I see them whenever there is a parade, they are always amazing!"
Mr. Zheng, who moved to Montreal from Beijing three months ago, took his children to see the parade. He was full of praise for the band and said, "Majestic! It lifts one's spirits! Spectacular!"
Ms. Wang, who came to see the parade with her daughter, moved to Montreal three years ago. She said after watching the band's performance, "Very unique and striking!" She also said that the music was powerful, everyone marched in line and it made Chinese people proud.
The Band Brings Positive Energy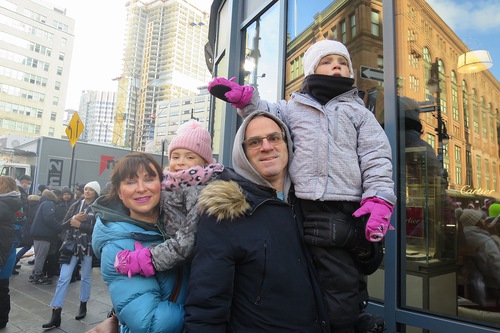 Larysa Lyubymova (left) from Ukraine said, "Thank you Tian Guo Marching Band for bringing positive energy to the parade."
Larysa Lyubymova from Ukraine works in an investment company. She and her husband and children aged four and five came to see the parade. When asked which group made the biggest impression, she immediately mentioned the Tian Guo Marching Band. She said that she recognized the band instantly when it appeared. She excitedly told her children, "I love this band. I always saw them in parades prior to the pandemic. I am delighted to see them continue this tradition.
"I am grateful to them, they always show an upward spirit no matter what circumstances they are in. It adds positive energy to the program. This group is inspiring! Thank you!" Larysa said.
When she learned that members of the band live by the principles of Truthfulness, Compassion, Forbearance, she said, "They have not only brought us music, but a deeper connection with people. Remarkable!"
All content published on this website are copyrighted by Minghui.org. Minghui will produce compilations of its online content regularly and on special occasions.