Woman Imprisoned for Her Faith Also Has Her Pension Suspended
(Minghui.org) A retired teacher in Fushun City, Liaoning Province was sentenced to 3.5 years for her faith in Falun Gong on November 3, 2021. Ms. Wang Jiemei's family was recently dealt another blow when the local social security bureau suspended her pension and demanded the return of pension payments issued to her since her arrest on February 21, 2021.
The social security bureau claimed that a new policy ruled that retirees serving time are not entitled to any pension. Ms. Wang's family argued that no Chinese labor law has such stipulation and that pension is lawfully hers, not something the government can arbitrarily suspend. The social security bureau threatened to file a lawsuit against Ms. Wang should she fail to pay her "debt" to them.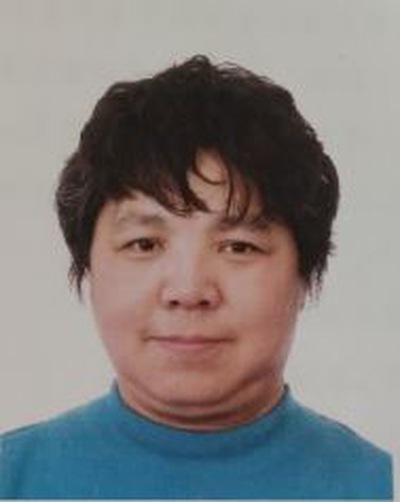 Ms. Wang Jiemei
Ms. Wang, 60, was arrested at a fair in nearby Shenyang City on February 21, 2021, for talking to fair-goers about how her various ailments were cured by practicing Falun Gong. She was tried by the Economic and Technological Development Zone Court at the Shenyang City First Detention Center on October 11.
The hearing took place in a 100-square-foot visitation room with two rows of seats. Except for court clerk Duan Kexin, who sat in a chair to type the court proceedings, the presiding judge, Yang Song, a juror and a bailiff all stood during the hearing. Another two judges could only stand in the hallway. The prosecutors, Hou Yu and Wei Xiaoxue, shared a chair and took turns sitting down. And the lawyer and Ms. Wang's family defender shared another chair. Ms. Wang remained seated behind a metal fence. Her family was barred from attending the hearing, as they were unable to obtain a letter of from the community Party office.
Ms. Wang's lawyer entered a not guilty plea for her. He said that it was unacceptable for the police to arrest her and detain her for over half a year only because she had said a few words to others. As the prosecutor charged her with the standard pretext of "undermining law enforcement," the lawyer asked how Ms. Wang allegedly undermined the enforcement of which law, and the prosecutor didn't respond.
The lawyer added that the police violated legal procedures while handling her case, including ransacking her home without a search warrant and putting down the wrong date of the arrest. The Gaokan Police Station in Shenyang had requested the Gaowan Police Station in Fushun to help search Ms. Wang's home, but such a request had to come from the local police department, instead of between local police stations themselves. This rendered the home-ransacking of Ms. Wang invalid, and the Falun Gong-related materials confiscated from her home should not have been admitted as prosecution evidence in the first place, the lawyer said.
The lawyer also asked the judge to summon the witness to appear in court and the prosecutor to exhibit the prosecution evidence for cross-examination.
The lawyer said in his closing statement, "For an elderly woman, she told strangers about Falun Gong and wished them to be safe, despite the cold weather and the pandemic. It completely came from her compassion and kindness. If you don't believe what she says, at least you need to respect her. Even if you don't respect her, you can just walk away. Why do you have to arrest her and detain her for such a long time?"
After the hearing, Ms. Wang's family also tried to urge the judges not to take part in persecuting Falun Gong practitioners. The judges didn't listen and sentenced Ms. Wang to 3.5 years with a 10,000-yuan fine on November 3.
Ms. Wang appealed with the Shenyang City Intermediate Court. When her family called judge Wang Bing in charge of her case on December 20, Wang repeated the smearing propaganda against Falun Gong and refused to talk to her family. "Of course as her family, you think she is innocent and speak for her." Then she hung up the phone.
Related report:
Retired Teacher Gets 3.5 Years for Sharing the Health Benefits of Falun Gong
All articles, graphics, and content published on Minghui.org are copyrighted. Non-commercial reproduction is allowed but requires attribution with the article title and a link to the original article.