Falun Dafa Practitioners from Various Professions Respectfully Wish Master Li a Happy New Year
(Minghui.org) As the 2022 New Year approaches, Falun Dafa practitioners from China are sending their warmest greetings to Master Li, the founder of the practice. The practitioners thanked Master Li for guiding them on a spiritual journey, purifying their bodies and protecting them along the way. They vowed to cultivate themselves better and fulfill their historic vows.
A practitioner from North China Oilfield wrote, "Greetings, Master. In order to save us, you have borne a lot of hardships. You protect each disciple, balance the debts we owe at different levels, help us eliminate the mountain-like karma, and lead us through great difficulties. You bestow us the ladder to heaven and guide us to walk steadily on the way home. We have nothing to repay. We can only do three things well to achieve what you want, understand your teachings from the perspective of a practitioner of Fa-rectification, and completely deny the old forces. Happy New Year!"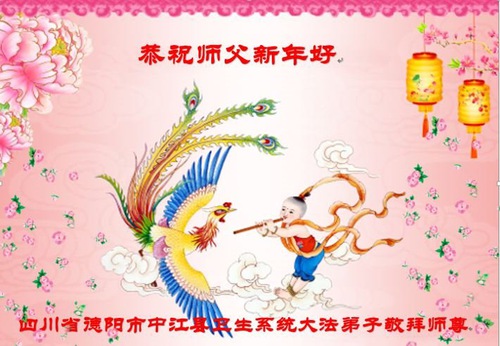 Other greetings hailed from practitioners in the following regions and professions:
An Oil & Gas Technology Company in Southwest ChinaHealthcare System in Chongjiang County, Deyang City, Sichuan ProvinceDaqing Oilfield, Heilongjiang ProvinceConstruction Industry, Daqing, Heilongjiang ProvinceCrystal Group in Guizhou ProvinceA Company in Xingtai City, Hebei ProvinceMedical system in Harbin City, Heilongjiang ProvinceHealthcare System in ChongqingSupply and Marketing Cooperative in Kaijiang County, Sichuan ProvinceA company in Shenyang City, Liaoning ProvinceChangchun City, Jilin ProvinceShandong Branch of China Agricultural BankConstruction Industry in Guangdong ProvinceTianjinFarming System in Mudanjiang City, Heilongjiang ProvinceHealthcare System, Jinan City, Shandong ProvincePost Group Corporation in ChinaTangshan City, Hebei ProvinceAuto Industry in ShanghaiShengli Oilfield, Dongying City, Shandong ProvinceTax System in Harbin City, Heilongjiang ProvincePower Supply System in Shijiazhuang City, Hebei Province
All articles, graphics, and content published on Minghui.org are copyrighted. Non-commercial reproduction is allowed but requires attribution with the article title and a link to the original article.