Liaoning Woman Dies Two Years after Release from Second Prison Term
(Minghui.org)
Chinese Name: 吴乃英Gender: FemaleAge: 66City: ShenyangProvince: LiaoningOccupation: N/ADate of Death: December 16, 2021Date of Most Recent Arrest: November 14, 2016Most Recent Place of Detention: Liaoning Province Women's Prison
After serving two prison terms and a forced labor camp term for refusing to give up her faith in Falun Gong, Ms. Wu Naiying passed away on December 16, 2021, two years after she was released from serving a three-year term. She was 66.
Ms. Wu Naiying
After the Chinese communist regime began to persecute Falun Gong in 1999, Ms. Wu was arrested five times. She was given two years in a labor camp and twice sentenced to prison for a total of seven years.
Ms. Wu was first arrested in 2000 and detained for 15 days. She was arrested again in 2001 and held in the Shenhe District Brainwashing Center.
She was given two years at the Longshan Forced Labor Camp in August 2003 following her other arrest. The guards beat her and once shocked her with three electric batons.
Torture illustration: Shocking with multiple electric batons
Ms. Wu was arrested again on August 10, 2008. The police covered her head with a black hood and handcuffed her behind her back. The Dadong District Court sentenced her to four years on October 29, 2008. She suffered verbal abuse, forced labor, and other torture after being taken to the Liaoning Province Women's Prison on January 13, 2009.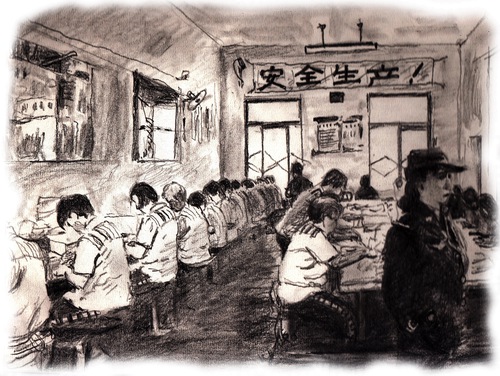 Torture illustration: Forced labor
Ms. Wu filed a criminal complaint on June 15, 2015, against Jiang Zemin, the former head of the Chinese Communist Party who ordered the persecution. She was arrested again on November 14, 2016, while studying Falun Gong books at home with three other practitioners. Many of her personal belongings were confiscated. The authorities also accused her of putting up an informational poster about Falun Gong, after recording them with surveillance cameras.
The police first held her in Shenyang City Detention Center. She soon suffered dangerously high blood pressure and was hospitalized for two weeks before being taken back to the detention center.
Ms. Wu was sentenced to three years and fined 20,000 yuan by the Shenhe District Court on September 29, 2017. She was taken to the Liaoning Province Women's Prison on January 9, 2018.
When she was released in November 2019, she was unable to speak coherently and she lost much of her memory. She once recalled that she had difficulty breathing from being tortured in prison. She also had pain in her feet and legs as well as severe constipation.
After struggling with poor health, she passed away at around 1 a.m. on December 16, 2021.
Related report:
Liaoning Woman Jailed for Suing Former Chinese Dictator for Her Past Imprisonment
All articles, graphics, and content published on Minghui.org are copyrighted. Non-commercial reproduction is allowed but requires attribution with the article title and a link to the original article.