Schoolteacher with Covid-19 Contacts a Falun Gong Practitioner for Help
(Minghui.org) Blanca Rivera, a teacher in Houston, Texas, tested positive for Covid-19 on February 22, 2021. Remembering a Falun Dafa workshop she had attended at a community center, she contacted a practitioner who once taught her the Falun Dafa exercises. 
The practitioner encouraged Ms. Rivera to do the Falun Dafa exercises and recite the phrases "Falun Dafa is good, Truthfulness-Compassion-Forbearance is good." Ms. Rivera recovered in a short time. Below is her story. 
Attending a Workshop
Since August 2018, practitioners in Houston have been holding a free weekly workshop at the Tracy Gee Community Center every Wednesday evening to introduce Falun Dafa to local residents. 
One Wednesday evening, Ms. Rivera happened to stop by and saw the event. A practitioner invited her to join. They watched a video lecture given by Mr. Li Hongzhi, the founder of Falun Dafa, for half an hour. She came back the next few Wednesdays to watch more of Mr. Li's lectures and learned the Falun Dafa exercises. 
She was a quick learner and one of the practitioners, Ms. Chen, told her, "Your sitting meditation is very good for a beginner."
Ms. Rivera felt encouraged and was happy to find something that could improve her physical health and character.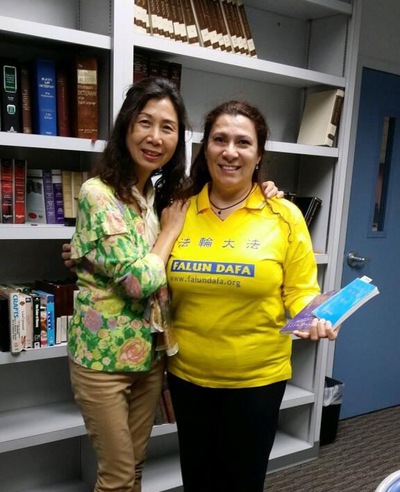 Ms. Chen (left) and Ms. Rivera (right) at the workshop
A Text Message Seeking Help
Ms. Chen and Ms. Rivera kept in touch after the workshop ended. Because Ms. Chen writes in Chinese and Ms. Rivera writes in English, they rely on the translation function on their phones to read each other's text messages. 
On the morning of February 23, 2021, Ms. Rivera sent Ms. Chen a message: "I felt cold and had a terrible headache last Sunday. I tested positive for Covid-19 on Monday and the doctor told me to quarantine at home for two weeks before returning for another test, What should I do? Any suggestions?" 
"No worries," Ms. Chen replied. "Remember we discussed reciting the phrases 'Falun Dafa is good, Truthfulness-Compassion-Forbearance is good?' Please give it a try."
Ms. Chen also texted Ms. Rivera an article from Minghui, "Jewelry Business Owner Recovers from a Lung Infection after Reciting Falun Dafa Is Good." 
"Sure, I will do that. Thanks!" Ms. Rivera answered.
The Most Delicious Food
The next morning (February 24), Ms. Chen drove to Ms. Rivera's to visit her. With masks on, the two women stood at a distance and communicated with their cell phones. Ms. Chen gave Ms. Rivera a copy of the Minghui International magazine and several Falun Gong brochures, plus a box of dumplings. Ms. Rivera was very touched. 
After returning home at noon, Ms. Chen texted Ms. Rivera another article, "A Blessing in Disguise," about how a Vietnamese Chinese physician in Houston recovered from Covid-19 by reciting the two phrases. 
In the afternoon, Ms. Rivera texted back: "Thank you for the magazine, other information, and your smile. Although I have no sense of taste now, I could tell this is the most delicious (spiritual) food for me. Thanks!"
On March 1, Ms. Chen recorded a voice file of the two special phrases in Chinese, fa lun da fa hao for "Falun Dafa is good" and zhen shan ren hao for "Truthfulness-Compassion-Forbearance is good." She texted the audio file to Ms. Rivera. 
"I Am Back"
"How are you doing now?" Ms. Chen asked in a message on March 14.
"Much better now," Ms. Rivera replied. "Actually, I was thinking about you yesterday." She said that, although she was still coughing and had a little chest pain, she felt much better than before. The headache had also improved. 
"My blood oxygen level also increased from 88% to 96% (95-100% is considered normal)," she continued. She said she had been reciting the two phrases.
'Falun Dafa is good,' she wrote in both Chinese and English. 
Another message from Ms. Rivera arrived on March 20: "I had an antigen test on March 15 and a PCR test on March 17. Both of them were negative! My family doctor also examined me yesterday and gave me an electrocardiograph (ECG)."
When Ms. Chen texted her again on March 27, Ms. Rivera said she was in recovery.
Ms. Chen reminded her not to worry and everything would be fine. "If you could find some time to study the Falun Dafa teachings and do the exercises, that might help, too. Can I visit you next Wednesday?"
"Sure! I believe what you said," Ms. Rivera replied. 
When Ms. Chen visited her on March 31, Ms. Rivera said she had been reading Zhuan Falun. "I am back!" 
The two of them then did all five exercises in the backyard. Ms. Rivera's hands were a bit shaky, but she was able to complete them. She said, "I am so happy to be back to normal. I pulled through this one-month ordeal thanks to my faith [in Falun Dafa] and divine intervention."
Views expressed in this article represent the author's own opinions or understandings. All content published on this website are copyrighted by Minghui.org. Minghui will produce compilations of its online content regularly and on special occasions.