France: Practitioners Express Their Gratitude and Wish Master Li a Happy New Year
(Minghui.org) To celebrate the arrival of 2022, Falun Dafa practitioners in France gathered near the Arc de Triomphe in Paris on December 29, 2021, to wish the founder of the practice, Master Li Hongzhi, a Happy New Year. They expressed their gratitude to Master Li, saying, "Thank you, Master!"
They said they would honor their responsibilities by following Master in the Fa-rectification period. Many said that their New Year's resolution would be to practice cultivation more solidly, fulfill their vows, and save even more sentient beings.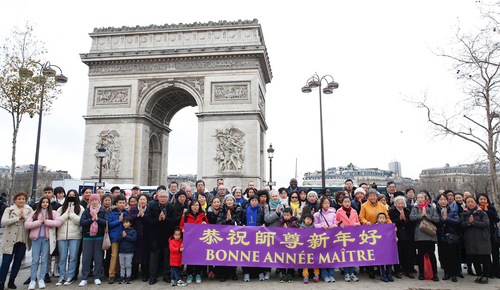 Practitioners in France wish Master Li Happy New Year!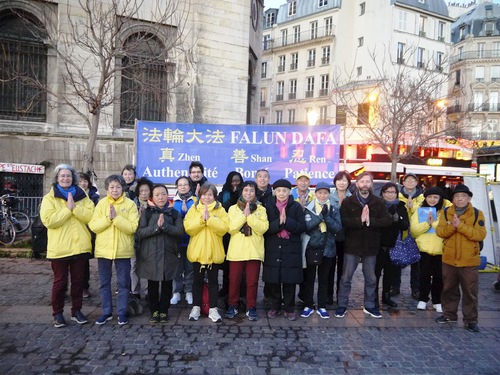 Practitioners who participate in truth-clarification sites in the center of Paris wish Master Li Happy New Year!
Biochemical Engineer: "I Am No Longer Lost."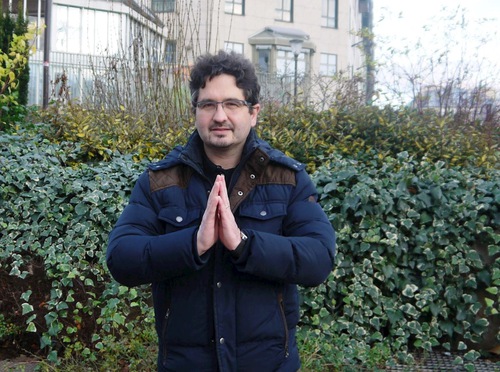 Cedric, a biochemical engineer said, "My life became meaningful after practicing Falun Dafa.
Cedric Amiral is a biochemical engineer and works in the pharmaceutical industry. He was interested in spiritual practices and was attracted to Buddhism as a teenager. He wanted to find a scientific explanation for life and believed there was a connection between the human mind and the universe. He also believed that one could resolve conflicts with others by looking inward.
In 2006, he met someone interested in cultivation practice, and they traveled in Spain together. During their trip, his friend told Cedric about Falun Dafa and suggested he read the main book of its teachings, Zhuan Falun.
Cedric found the book was simple and clear. The author, Master Li Hongzhi, explained profound principles in straightforward language, which was exactly what Cedric was looking for. He said that Falun Dafa answered all his questions about life and the universe. It explained many complicated issues in Buddhism in three simple words, Truthfulness-Compassion-Forbearance.
Cedric said that, before, life seemed to have no purpose, and he always felt like a boat without a rudder drifting at sea. After practicing Dafa, Cedric found the purpose of his life. He said, "Falun Dafa gave me the strength to face my life with a new perspective."
As an introverted person, Cedric was too shy to reach out to people before. After he began practicing Falun Dafa, he often said to himself, "Do you know why you felt uneasy? That's what you have to get through! This is cultivation." He's learned to be open with people and has better relationships.
By practicing Falun Dafa, Cedric no longer worries about health issues, because his previous ailments have disappeared. Cedric said, "Cultivation is not just about doing the exercises. More importantly, Dafa's principles give us guidance and wisdom, enabling us to overcome hurdle after hurdle."
The feeling of having a Master was different from what he'd imagined—having an elder with a whip beside you or a presiding monk with a wooden stick to yell at you. Cedric said, "Master is the best mentor. I feel that he is by my side at all times, guiding me and protecting me."
Cedric said it is hard to express his gratitude to Master, "I thank Master for taking me as his disciple."
From a Martial Arts Teacher to a Practitioner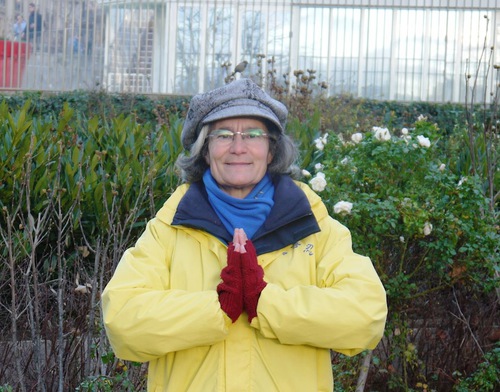 Béatrice Poujois wishes Master a Happy New Year.
Before she began practicing Falun Dafa, Béatrice was a martial arts teacher and taught Tai Chi. She said that Falun Dafa has changed her in many ways. Every word and sentence in Zhuan Falun touched her heart deeply. Every time she reads Zhuan Falun, she feels that she has a new opportunity to understand more Fa principles, find where she falls short, and improve herself.
She said that, although she has read Zhuan Falun many times, it is like reading a new book every time she opens it. "I thank Master from the bottom of my heart for teaching us this Fa and allowing us to purify our hearts," Béatrice said. "I had lost my faith in Gods." She said that only Master can guide people back to the righteous path. She wants to apply the Fa principles to her daily life and truly assimilate to Truthfulness-Compassion-Forbearance.
Béatrice said, "Thank you, Master, for all that you have given us, for helping us become better people."
Only Dafa Can Change Me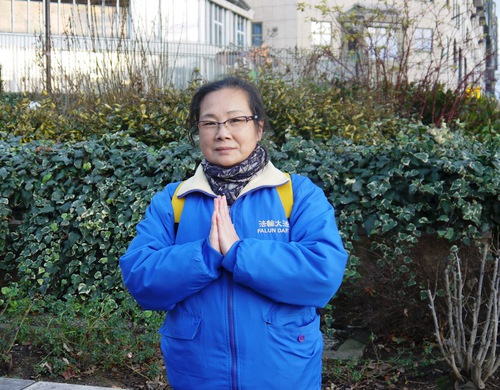 Zhang Huimin wishes Master a Happy New Year.
Zhang Huimin used to be a blunt and reckless person. In her own words, she was like a wild horse that no one could control. As a fast-paced person, she always lost her temper when her coworkers could not keep up with her. She always got angry with other people, and after years she developed liver and heart problems.
She wanted to change and looked into Buddhism and Christianity, but nothing could change her.
In 2005, Huimin got a copy of Zhuan Falun. She was staying at a friend's home at the time, so she read the book under the blanket at night so she wouldn't keep her roommate from sleeping. It was a small copy of the book, but, miraculously, there was always a light on the words she was reading. She has never stopped reading the book since then.
After she began to cultivate herself and look inward, she calmed down. She became gentle and no longer hurts other people.
A few years ago she got a job working in a hotel. At first, she was not familiar with the procedures and the essential things she had to do to clean the rooms. Her coworkers finished at 3:30 p.m., but she couldn't leave until 7:00 p.m. because she couldn't finish her work on time.
Within three months, she became nimble and quick. It only took her a few steps to make up the bed and make the rooms clean and neat.
Her coworkers noticed Huimin was efficient and wanted to learn from her. Later, when the supervisor inspected their work, whenever something was not done well, he told the staff to look at a room Huimin had cleaned and use that as the standard.
Huimin said that Dafa gave her the wisdom. She often finished her work early she was so efficient. When she did, she helped her colleagues clean their rooms. She also volunteered to clean the stairs and backyard. She thanked Master and Dafa. "Only Dafa could change me," Huimin concluded.
All articles, graphics, and content published on Minghui.org are copyrighted. Non-commercial reproduction is allowed but requires attribution with the article title and a link to the original article.