Crimes of Cheng Chuanshui, Former Director-General of the Anhui Province Prison System (Graphic Photos)
Sept. 9, 2021 | By a Minghui correspondent
(Minghui.org) Sanctioning human rights abusers has become a consensus among democratic countries. After the U.S. passed the Magnitsky Act in 2016, Canada, the United Kingdom, and most of the 27-member-country EU enacted similar laws. Australia and Japan are working on the same.
In accordance with these laws, Falun Gong practitioners have compiled lists of perpetrators involved in the persecution of Falun Gong these few years. Every year, they submit several lists to democratic governments, urging them to sanction the named perpetrators.
Starting on July 14, 2021, Falun Gong practitioners in more than 30 countries have been submitting the latest list of perpetrators involved in the persecution of Falun Gong to their respective governments, calling for sanctions on these human rights abusers, including denying entry into their countries and freezing their assets overseas.
One name on this list is Cheng Chuanshui.
Perpetrator Information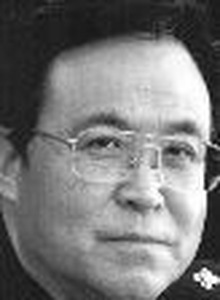 Full Name of Perpetrator: Cheng (last name) Chuanshui (first name) (Chinese: 程传水)Gender: MaleCountry: ChinaDate/Year of Birth: October 1950Place of Birth: Unknown
Title or Position
2000 – Early 2011: Assistant Director-General, Director-General Administrator of the Anhui Province prison
2011 to present: Director of China Prison Society, Vice-Chairman of the Criminal Rehabilitation Special Committee of Chinese Criminal Society, Deputy Director of the Prison Law Special Committee of the Chinese Law Society, Standing Director of Anhui Law Society, President of Anhui Prison Society, Vice Chairman of Anhui Prose Writers Association
Main Crimes
From 2000 until December 2010, Cheng Chuanshui was assistant director-general and director general of the Anhui province prison system, when he actively participated in persecuting Falun Gong. Falun Gong practitioners detained in the Anhui province prison system were systematically abused and forced to "transform" (renounce their belief). Practitioners that resisted transformation or withdrew the renunciation statements they were forced to sign against their will were subject to physical abuse. Under Cheng's administration, the prisons in Anhui province brutally tortured Falun Gong practitioners, resulting in the disability and deaths of many. Those who were persecuted to death during Cheng's term include Wang Hongrong, Fei Zhangjin, Ji Guangjie, Xiao Xianfu, Feng Qi, and Zhu Guangzhen.
Deaths Caused by Persecution
Case 1:
Mr. Wang Hongrong was arrested on September 24th, 2004 and sentenced to eight years in Suzhou prison in Anhui. In February 2007, as a direct result of the persecution he suffered, Mr. Wang lost all feeling in his body from the waist down and became incontinent. In early April 2007, prison guards ordered an inmate to forcibly submerge his feet in a basin of boiling water. Both of his feet began to swell, and half a day later they began to blister and fester. After Mr. Wang was sent to the hospital, his medical examination revealed a thoracic spine tumor (bone cancer). When the Suzhou prison released Mr. Wang in late April 2007, he was on the verge of death. He also had two large bedsores near his buttocks (see image). He passed away on June 22, 2007. He was 59.
Case 2:
Mr. Fei Zhangjin was sentenced to three years in prison for practicing Falun Gong and was sent to Suzhou Prison in September 2005. In prison, Mr. Fei refused to recant his faith. For 20 consecutive days, he was beaten with wooden poles over three feet long and prison guards tortured him with electric batons. He was tortured so severely that the sounds of him being beaten with poles could be heard from far away. In October 2005, prison guard Tang Chuanyou and others tortured him with high voltage electric batons for several consecutive days. The prison guards also instructed inmates to force-feed him with scalding food and used metal needles to pierce his lips. On September 23, 2007, Mr. Fei was persecuted to death in the prison.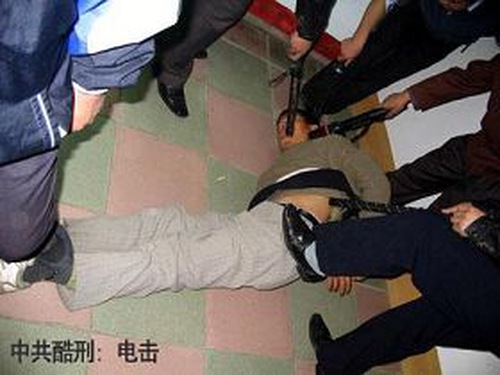 Torture illustration: Shocked with electric batons
Case Three:
Mr. Ji Guangjie was arrested in 2003 and sentenced to seven years on July 30, 2004.After he was taken to the Suzhou prison in November 2004, prison guards often forcibly drew his blood and forced him to consume a variety of unknown drugs. By June 2008, as a result of the persecution, Ji suffered a cerebral hemorrhage, was in a coma and incontinent, and lost sight in his left eye. Fearing that he would die in custody, the authorities ordered his family to take him home.
During the three years after his release, Mr. Ji's health was consistently poor as he frequently experienced headaches and dizziness, as well as joint pain and discomfort all over his body. He required constant care from his family. Despite his condition, the authorities at the Suzhou Prison continued to harass his family over the phone. He died on June 3, 2012. He was 65.
Case Four:
Mr. Xiao Xianfu was arrested in September 2006 for talking to individuals and distributing materials with information about Falun Gong and the persecution. He was detained in the Jinzhai County Detention Center. Sun Jun, the assistant captain of Domestic Security Office in Jinzhai County, fabricated evidence to frame him. A month later, Mr. Xiao was sentenced to three years in prison. In Anhui Province Men's Prison, Mr. Xiao was severely persecuted and suffered cerebral thrombosis. The authorities feared being held accountable for his death and sent him to his son's home. He passed away two months later. He was 73.
Case Five:
Mr. Feng Qi was arrested during the night of March 1, 2008 and subsequently sentenced to a three-year prison term. He was sent to the Third Prison in Suzhou City. Due to long-term persecution, Mr. Feng developed liver ascites, cirrhosis, and severe edema. After his release, Mr. Feng was no longer able to take care of himself. He passed away on July 31, 2011. He was 48.
Torture and Disability Cases
Case One:
Mr. Kong Dewen, a 53-year-old engineer, was sent to a labor camp once, sentenced to a prison term once, detained three times, and subjected to intense brainwashing multiple times after Jiang Zemin initiated the persecution against Falun Gong. He barely survived the persecution inflicted upon him. He was blinded in both eyes, incurred permanent physical damage, and was left unable to do any physical labor. In 2005, Kong was again sentenced to a three-year prison term in the Third Prison in Suzhou. Because he refused to give up his faith, he was held in solitary confinement, subjected to brainwashing, hung up by the wrists, forced to stand for extended periods of time, punched and kicked, and subjected to sleep deprivation and unpaid labor. He was released in March 2007, but the persecution left Kong permanently disabled. His family members consulted many specialists to identify the cause of his disability, and the consensus was that it was caused by the ingestion of unknown drugs that damaged his central nervous system.
Case Two:
Mr. Xu Chun was sentenced to a nine-year prison term in Suzhou prison in late 2003. In 2005, under the program of "physical abuse and forced transformation" implemented by the courts and the prison, Mr. Xu was shocked with electric batons, hung up by the wrists for long periods of time, held in solitary confinement, and deprived of sleep.
The prison guards handcuffed both of his hands on a metal door, and shackled both of his feet, with his toes barely touching the ground. With the exception of meals, during which one of his hands was freed, and a limited number of bathroom breaks, this torture continued around the clock for three to four months. During this period of time, to force him to give up Falun Gong, every night after 6:00 p.m., the prison guards ordered the inmates to to shock him with several electric batons. The torture left Mr. Xu so emaciated that his bones were clearly visible through his skin. On multiple occasions, he was taken to the hospital for emergency treatment after he fainted and collapsed on the concrete floor.
Case Three:
Mr. Hu Enkui was severely beaten and tortured by Lu Yang, the sub-supervisor, and Yu Weizhou, the sub-supervisor of the first sub-division from 6 p.m. on January 5, 2005, until 4 p.m. on the next day. This was done in temperatures of -10 degrees Celsius, with the window open and a fan on. Lu Yang and Yu Weizhou handcuffed one of Mr. Hu's hands to the window and tied the other such that when several people pulled on the rope, his entire body would be suspended in the air. They alternated hitting his chest and back.
They also had several inmates hold his back against the wall, while he sat on the ground with his legs pulled apart and they punched his genitals. This resulted in both of Hu's legs being unable to move his legs for several months. After his genitals and other areas of his body were electrocuted for more than half an hour, most of his body had burn blisters.
Lu would also repeatedly stomp on Hu's feet using leather shoes until his feet were so swollen that he could not put on shoes. Then they scalded his left foot with hot water, which inflicted a third-degree burn that burned off his periosteum and left him permanently disabled. His right foot suffered a second degree burn that permanently damaged the blood supply in his foot. Even after an entire year, his right foot had not recovered, was permanently disfigured, and could not have even light pressure applied to the sole.
Case Four:
Mr. Dai Zhifeng was arrested on March 2, 2006 and sentenced to a six-year prison term on October 24. While being imprisoned in the Third Prison in Anhui province, he went on a hunger strike and was subsequently tortured. The director of the prison's hospital ordered inmates to mix feces with food and use screwdrivers to pry his mouth open and force-feed him. When another practitioner, Mr. Fang Yingdan, also went on hunger strike to protest the persecution, the prison guards ordered inmates to stab Mr. Fang's fingertips with syringe needles while other inmates force-fed him. When the syringe needle broke and stuck in his fingers, the guards used a scalpel to cut open his finger and retrieve the needle.
All articles, graphics, and content published on Minghui.org are copyrighted. Non-commercial reproduction is allowed but requires attribution with the article title and a link to the original article.
Category: Perpetrators Involved in Persecution of Falun Gong