(Minghui.org) During the recent 76th United Nations General Assembly in New York on September 21 - 27, 2021, Falun Dafa practitioners held events on September 26 to raise awareness of the ongoing suppression in China and to urge U.N. delegates to help stop the brutality. 
Practitioners gathered at Dag Hammarskjöld Plaza in front of the United Nations Headquarters, from 8 a.m. to 7 p.m. They did the Falun Dafa exercises, held banners with messages about the persecution, distributed informational materials, and talked with passersby about the 22-year-long series of atrocities in China.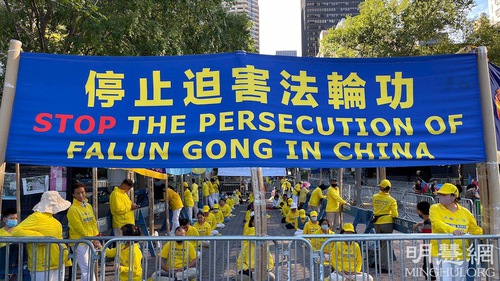 Practitioners peacefully raised awareness of the persecution in China near the United Nations during the 76th U.N. General Assembly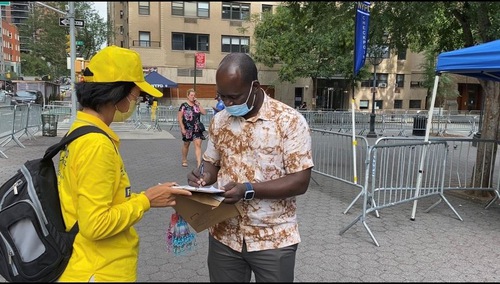 A passerby signs a petition to support practitioners in their efforts to end the persecution. 
Mr. Michael Yu, one of the practitioners attending the event, said that people in China are still mistreated for their belief in Truthfulness-Compassion-Forbearance. He hopes that delegates from all countries will pay attention to this important issue, as it threatens society in general.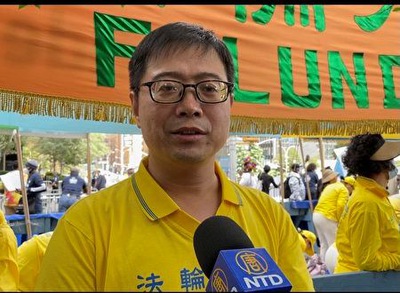 Practitioner Michael Yu calls for help from U.N. delegates and the general public.
Rescuing Relatives
Although the persecution is taking place in China, practitioners around the world feel the pain. Ms. Wang Jing said that her husband Mr. Ren Haifei was arrested on June 26, 2020. "The mistreatment during his detention caused him various health problems including heart disease and kidney failure. He ended up being sent to a hospital for 19 days," she said. "I am very worried about his condition."
According to a report from Minghui, police in Dalian City, Liaoning Province, arrested Mr. Ren at his home. Officials confiscated more than 500,000 yuan in cash and took away personal property valued at over 200,000 yuan. The Ganjingzi Court held a hearing against him on September 23, 2021. 
Another practitioner at the event, Ms. Gao Hongmei, also shared her family tragedy. Because she distributed Falun Gong materials, her mother Ms. Hu Yulan was sentenced last year to a five-year prison term. She is currently incarcerated in the Changchun Women's Prison. 
"My mother is 75 years old and she is innocent [of any crime]. She should be enjoying a peaceful time in her life instead of being jailed," explained Ms. Gao. "There are many other detained practitioners who are even older than my mother. I really hope that the international society will pay attention to this."
U.N. Refugee: What We See Is the Tip of the Iceberg
Ms. Yu Zhenjie, 70, is also a victim of the persecution. Because of her belief she was forced to flee to Thailand in 2007 where she applied to become a U.N. refugee. In 2009, the U.N. arranged for her to come to New York. Every year she appeals to the General Assembly seeking help for practitioners in China.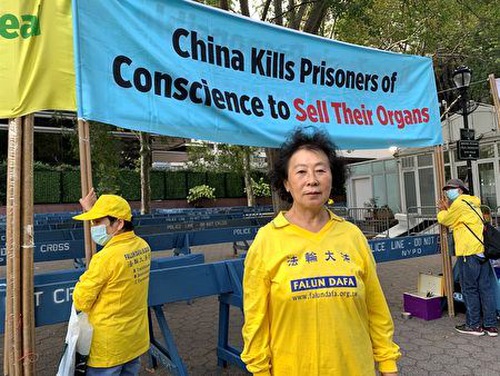 Ms. Yu Zhenjie fled China and became a U.N. refugee. Many other practitioners, including her family members, are still being persecuted in China. 
For example, her sister-in-law Ms. Wang Meihong was incarcerated in Harbin Women's Prison for eleven years for practicing Falun Dafa. Several years after being released, however, she was sent to the same prison again in early March this year. Ms. Wang's brother was also detained for 15 years. Although he was released, his family has not heard from him and he is now missing. 
Ms. Yu said that her family's plight is only the tip of the iceberg. "I hope the persecution will end soon, so that key perpetrators such as former Communist Party leader Jiang Zemin will be held accountable," she explained. "This is one of the largest human rights violations in the world and we cannot ignore it. We must restore the conscience and confidence in our society."
Ms. Yi Rong from the New York Falun Dafa Association said that the persecution has gone on for 22 years. "It is time for Western countries and their leaders to recognize what the Chinese Communist Party (CCP) is really like," she said. "Only by breaking away from the CCP will we have a safe future."
Support from the Public
Practitioners stood near the U.N. Headquarters, holding banners with the messages, "Falun Dafa is good" and "Stop Persecuting Falun Gong." 
Many government officials and delegates to the U.N. General Assembly noticed the event. The practitioners' peaceful demeanor was praised by pedestrians and security guards, and some had their photos taken with practitioners. 
Practitioner Ms. Wang Lirong said that when she talked with a U.N. delegate he told her that he had already signed a petition to support practitioners. He accepted a paper lotus flower and commended practitioners for their efforts. "As he walked away, he gave a thumbs up encouraging us to keep it up," Ms. Wang added. 
Another practitioner, Ms. Jiao Yurong, also had a similar experience. "A man was riding a bike and carried a camera," she recalled. "While stopping to take a picture of our banners, he waved to us and gave us the thumbs up."
A Falun Dafa car caravan also traveled through the nearby streets. Mounted on the cars were signs reading "Falun Dafa Is Good," "Truthfulness-Compassion-Forbearance Is Good," and "The CCP Lies, People Die." One of the organizers of the event, Mr. Yu, said that the caravan was also well received, with even the police giving them a thumbs up to show their support.
Ms. Yi said that this awareness-raising event relays an important message: people who have been suppressed by the CCP are calling for support for religious freedom. "Because we love China, we want to reject the CCP – a regime that harms people," she explained. 
Background: What Is Falun Dafa?
Falun Dafa (also known as Falun Gong) was first introduced to the public by Mr. Li Hongzhi in Changchun, China in 1992. The spiritual discipline is now practiced in over 100 countries and regions worldwide. Millions of people have embraced the teachings—which are based on the principles of Truthfulness, Compassion, Forbearance— as well as five gentle exercises and have experienced uplifted health and well-being.
Former Communist Party head Jiang Zemin perceived the spiritual discipline's growing popularity as a threat to the CCP's atheistic ideology and on July 20, 1999, issued an order to ban the practice.
Under Jiang's personal direction, the CCP established the 610 Office, an extralegal security organization with the power to override the police and judicial systems and whose sole function is to carry out the persecution of Falun Dafa.
Minghui.org has confirmed the deaths of thousands of practitioners as a result of the persecution over the past 22 years, though due to the difficulty in getting information out of China, the actual number is believed to be much higher. More have been imprisoned and tortured for their faith.
There is concrete evidence that the CCP sanctions the harvesting of organs from detained practitioners, who are murdered to supply the organ transplant industry.