Four Jilin Residents Detained for Two Months and Counting
Sept. 23, 2021 | By a Minghui correspondent in Jilin Province, China
(Minghui.org) Four residents of Jilin City, Jilin Province were arrested on June 6, 2021 for their faith in Falun Gong, a spiritual discipline also known as Falun Dafa that has been persecuted by the Chinese communist regime since 1999. They have been detained in Jilin City Detention Center since.
On June 6, 2021, Ms. Zhang Yuhua, 67, and her younger sister, Ms. Zhang Yufeng, 65, went out to tell people the facts about Falun Gong at Fengjiatun Market in Chuanying District. Ms. Zhang Yuhua was arrested at the market and all of the Falun Gong materials she had were confiscated.
After returning from the market, Ms. Zhang Yufeng was arrested at home by several officers from Beishan Police Station. Her home was ransacked. The police didn't leave immediately, but stayed outside of her apartment building, in an attempt to arrest more practitioners who may come to visit her.
At around 6:30 p.m., a third practitioner, Ms. Zhang Hongjie (no relation with the sisters), was arrested while visiting Ms. Zhang Yufeng. As Ms. Zhang Hongjie hadn't returned home after 8 p.m., her aunt, Ms. Liu Xiuying, also a Falun Gong practitioner, went to find her, only to be arrested herself.
Ms. Liu's son, who is not a practitioner, was also arrested while out looking for his mother. The police ransacked Ms. Liu's home and released her son at around 10:30 p.m. Half an hour later, the police searched the home of Ms. Liu's mother and confiscated many Falun Gong keepsakes.
When the families of Ms. Zhang Hongjie and Ms. Liu Xiuying went to the Beishan Police Station on the next day to demand their release, they were told that both of them were no longer there. They later confirmed that the practitioners had been taken to Jilin City Detention Center.
Past Persecution of Ms. Zhang Yuhua
Before taking up Falun Gong, Ms. Zhang Yuhua suffered from multiple diseases. The physical torment and high cost of medical treatment had brought tremendous financial and mental pressure to her and her family.
After she began to practice Falun Gong in 1996, all of her diseases quickly disappeared. Her view on life and the world changed. She strove to live by Falun Gong's principles of Truthfulness, Compassion, Forbearance, and become more considerate.
With the onset of the persecution, Ms. Zhang went to Beijing on January 16, 2002, to speak out for Falun Gong. As the National Appeals Office refused to accept her, she went to Tiananmen Square to demonstrate.
She was taken to Shijingshan Detention Center after being arrested at Tiananmen Square. She went on a hunger strike to protest the arrest and was force fed. The police grabbed her hair and pulled her into an isolation room. They then pushed her down on the floor and inserted a feeding tube into her nose. She vomited and almost suffocated.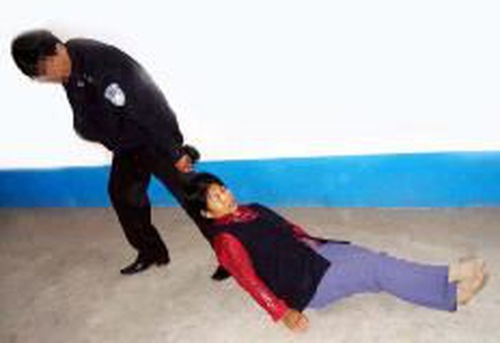 Torture reenactment: dragging on the ground
Two officers from Shijingshan District Police Department came to interrogate Ms. Zhang. They knocked her down to the ground and pulled her into their room by her hair. When Ms. Zhang refused to reveal her home address, the two officers threatened to kill her and treat her body as a nameless corpse. They spat on her face and kicked her in the head and legs with their leather shoes.
Finally, the police tied her to a tiger bench and slapped her in the face. Her face became swollen and her legs black and purple. The police also verbally abused her.
On November 6, 2019, Ms. Zhang was arrested again when she was distributing calendars with information about Falun Gong at a farmers' market. She was detained for 13 days.
Perpetrators' contact information:
Zhu Baolin (朱宝林), director of Jilin City Detention Center: +86-13804417779Zhu Huaxuan (朱化轩), deputy chief of Chuanying District Branch Police Station: +86-432-64826903Liu Jianhua (刘建华), instructor of Chuanying District National Security Brigade: +86-13844614822Wang Hongjia (王宏家), director of Chuanying District 610 Office: +86-13944677270
All articles, graphics, and content published on Minghui.org are copyrighted. Non-commercial reproduction is allowed but requires attribution with the article title and a link to the original article.
Category: Accounts of Persecution