Medical Experts Call Out CCP's Crimes at World Summit on Combating and Preventing Forced Organ Harvesting
Sept. 23, 2021 | By a Minghui correspondent
(Minghui.org) During the first day of the World Summit on Combating and Preventing Forced Organ Harvesting on September 17, eight medical experts from Europe, Asia, and North America discussed the state-sanctioned forced organ harvesting in China.
These professionals highlighted the involuntary nature and the extreme brutality of the forced organ harvesting. They also discussed the tremendous damage to the victims from the perspective of medical ethics and made recommendations on how to curb and prevent forced organ harvesting. The speakers repeatedly mentioned Falun Gong practitioners as the primary victims of the crime.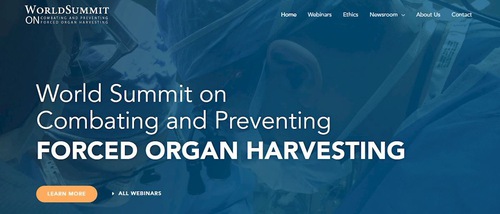 Organized by five non-governmental organizations, the World Summit on Combating and Preventing Forced Organ Harvesting is scheduled to host six webinars between September 17 and 26.
Six webinars were scheduled to be held on two weekends, September 17 – 19, and September 24 – 26, during which 38 guests from 19 countries will give presentations. They include European Parliament members, a former French minister, parliament members, physicians, scholars, professors, judges, lawyers, and human rights advocates.
Learning Facts Helps End Atrocities
Torsten Trey, Executive Director of Doctors Against Forced Organ Harvesting (DAFOH), said in the opening remarks that "this horrific practice is beyond our imagination and thinking as human beings."
"It is impossible to speak about the Holocaust without mentioning the Jewish people, and in the same sense, it is also impossible to speak about forced organ harvesting in China without mentioning the Falun Gong," he explained.
Trey warned the medical community that the Chinese Communist Party (CCP) has been pursuing an eradication campaign against Falun Gong since July 1999. By delegating the execution of innocent Falun Gong practitioners from the courts to the hospitals, the CCP has thereby weaponized the transplant profession in China and turned it into the executioner under the name of transplantation. "However, killing a living person for the purpose of providing a cure for another person, turns medicine into an absurd practice and violates the medical oath," he continued.
"I hold that by objectively speaking about the practice of Falun Gong in public, the incentives for the Chinese government to use forced organ harvesting as a means to eradicate the practice and deprive the international community from learning about Falun Gong will be defeated, and the stealth weaponization of the medical profession will be disarmed," Trey added, "The earlier the world learns about Falun Gong, the earlier the forced organ harvesting of Falun Gong practitioners will end."
In fact, Falun Gong is based on the universal principles of Truthfulness, Compassion and Forbearance. He said,"Talking about the victim's practice serves two purposes. It not only gives a voice to the voiceless, but it also provides the most powerful and most peaceful approach to combat forced organ harvesting."
Not Brain Death or Cardiac Death, But Killing
Professor Li Huige, professor of pharmacology from University Medical Centre Mainz in Germany, described four types of organ harvesting in China based on witnesses' testimonies and publications. The first two types concern prisoners sentenced to death, and last two types involve prisoners of conscience and political prisoners. Although the term brain death was often cited by Chinese doctors as having occurred prior to the harvesting of organs, numerous publications from Chinese medical professionals showed otherwise. Professor Li said that "[it is] neither brain death nor cardiac death. It was a living patient who was killed by the doctors by removing the heart."
Professor Li cited one paper from Henan Medical Research that described heart transplantations performed at the Chinese People's Armed Police Forces Hospital in 2001. He pointed out that at that time, there was no concept of brain-death or related legislation yet. For heart removal, systemic heparinization was performed. But systemic heparinization can work only when the heart and the circulation is working. "So, the person is also not a cardiac dead patient, either," he said.
"Detailed description showed cold cardioplegia solution was delivered to the heart through the aortic root until the heart stopped beating. This means the heart was beating and a cold cardioplegia solution caused cardiac arrest," Li explained, "So this person, this so-called donor, was not a brain dead patient, was not a cardiac patient, was a living person who was killed by medical professionals. This very likely is a situation of organ harvesting from prisoners of conscience."
David Beyda, Chair and Professor for the Department of Bioethics and Medical Humanism at the University of Arizona, said people were put in prison as goods to supply organs, instead of being treated as human beings. In other words, the surgeons that conducted transplants were actually killing them.
Falun Gong Practitioners Are the Main Victims of the Black Box Operation
Huang Shi-wei, Director of Urology for National Taiwan Hospital's Yunlin branch, said the CCP had been harvesting organs in the past 20 plus years.
Due to the lucrative profits generated from organ transplants, hospitals and physicians in China have been seeking organs from all channels. Between 2000 and 2006, the majority of the victims were Falun Gong practitioners. Since 2007, however, the CCP has also started to target Uyghurs, other minorities, and prisoners. In addition, the organ trade and stealing have also become a norm.
Huang said that there has been a continued expansion in organ transplant hospitals and the number of beds. In contrast, the number of transplants reported by the CCP has been decreasing after organ harvesting was exposed in 2006. This shows that organ transplant in China is a black box operation that lacks transparency.
He pointed out that evidence indicates that the number of organ transplants far exceeds that announced by Chinese officials. Many large organ transplant centers have also participated in underground organ transplantation.
Violating Medical Ethics
Declan Lyons, Clinical Associate Professor of Psychiatry from School of Medicine Trinity College Dublin in Ireland, said it is unacceptable for medical professionals to remain silent when facing such severe actions that undermine basic ethics. He said the moral decay at any place would endanger the medical ethics in that region.
He said that such a large scale of immoral behavior in China is an insult to the medical profession – one cannot be an executor of a regime's persecution policy and a guardian of people's life at the same time. These two roles are mutually exclusive.
Lyons said that unfortunately, most medical professionals around the world are unaware of the forced organ harvesting or refuse to believe its existence. The medical professionals' attitude towards forced organ harvesting will erode people's confidence in them. For example, if another pandemic were to break out, will people listen to doctors again? After all, if doctors could tolerate forced organ harvesting and choose to do nothing, why should people still believe in them?
He commented that the persecution of innocent citizens in China has damaged moral values and that people's lives have become part of the CCP's assets. Prisoners are detained and tortured, and they could lose their lives at any time.
Although not a Falun Gong practitioner himself, Lyons said he feels obliged to speak for them. The persecution of Falun Gong has lasted 22 years and is too long, he said. Moreover, the principles of Truthfulness-Compassion-Forbearance are universal values for all of us.
Stopping Being Accomplices of the CCP
During the webinar, medical experts also provided recommendations to stop the forced organ harvesting. G. Weldon Gilcrease, MD, an Associate Professor in the Oncology Division at the University of Utah School of Medicine, said his institution conducts a modest amount of organ transplants each year. He and his coworkers have taken actions against live organ harvesting. For example, they have tried to exclude Chinese trainees because the latter would likely participate in organ harvesting upon returning to China.
Raymond Scalettar, former Chair of the American Medical Association Board of Trustees, said that a form of promise should be put in place going forward, so that only those who agree to sign the form and follow medical ethics could be enlisted for organ transplant training.
Background
According to its press release, the World Summit on Combating and Preventing Forced Organ Harvesting is the "first in the field of medical ethics and human rights in both breadth and scope." Open to experts and the public, the Summit addresses the forced harvesting of organs from living people not only as a violation of medical ethics and basic human rights, but also as an atrocity against humankind in nature. "The systematic killing of people to harvest their organs on an industrial scope is a crime that is unprecedented and should not have a place in the 21st century," wrote the release.
The five co-hosting organizations include Doctors Against Forced Organ Harvesting (DAFOH) in the USA, CAP Freedom of Conscience in France, Taiwan Association for International Care of Organ Transplants (TAICOT) in Taiwan, Korea Association for Ethical Organ Transplants (KAEOT) in South Korea; and the Transplant Tourism Research Association (TTRA) in Japan.
About 38 international experts will discuss the abusive practice from medical, legal, political, news media, civil society, and policy-making perspectives and elaborate on the impact of the atrocity of forced organ harvesting on humankind. The event organizers also announced the launch of a declaration that will be presented to the public at the end of the World Summit.
According to the website, the World Summit on Combating and Preventing Forced Organ Harvesting is a series of six webinars that demonstrate how forced organ harvesting affects all aspects of human society. "The medical profession's oath to do no harm has been sacrificed for profit, career, and political goals. Politicians and policymakers are torn between the well-being of their constituents and special interests. Many members of the news media have failed to report truthfully on this atrocity but bowed to CCP pressure and published paid propaganda instead. Societies around the world are kept ignorant of the dangers of becoming complicit with forced organ harvesting crimes," wrote the announcement, "The legal profession is called upon to enact an end to this unacceptable crime against humanity."
Manfred Nowak, former United Nations Special Rapporteur on Torture, had requested the CCP over 10 years ago to investigate the malpractice of organ harvesting but did not receive any response. Since 2013, over two million petitions have been collected urging the United Nation to investigate this atrocity along with many resolutions from parliaments across the continents. In June 2021, 12 United Nations Special Rapporteurs raised the issue of forced organ harvesting with the Chinese government, based on credible information that Falun Gong practitioners, Uyghurs, Tibetans, Muslims, and Christians are killed for their organs in China. But the crime still continues.
Trey, the event host and representative from DAFOH, said forced organ harvesting from living people is an "unfathomable, unspeakable disgrace to humankind."
"Never before in history has an authoritarian regime persecuted living people by killing them with the goal to eradicate them through the installation of a self-propelling, profit-driven organ harvesting infrastructure, potentially turning organ recipients into accomplices as their demand for a transplant surgery might have fueled the transplant abuse," he explained, "This should be of concern to all humankind."
Six webinars are scheduled over two weekends, September 17 – 19, and September 24 – 26. Please refer to the website for detailed information: https://worldsummitcpfoh.info/
All articles, graphics, and content published on Minghui.org are copyrighted. Non-commercial reproduction is allowed but requires attribution with the article title and a link to the original article.
Category: Organ Harvesting