Heilongjiang Woman Beaten During Interrogation, Faces Prosecution for Her Faith
Sept. 22, 2021 | By a Minghui correspondent in Heilongjiang Province, China
(Minghui.org) A Jiamusi City, Heilongjiang Province resident who was arrested for studying the teaching of her faith – Falun Gong, is facing prosecution.
Falun Gong, also known as Falun Dafa, is a mind-body practice that has been persecuted by the Chinese communist regime since 1999.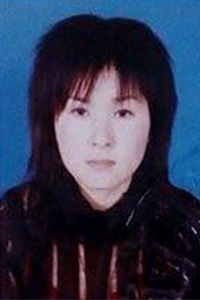 Ms. Liu Jinping
Ms. Liu Jinping was studying Falun Gong teachings with Ms. Jin Shurong, Mr. Jiang Guosheng and Ms. Ren Yulan at her home on May 14, 2021. As Mr. Jiang was about to leave around noon, 16 police officers suddenly broke in. Four officers took pictures, while the remaining officers searched Ms. Liu's place. None of the police showed their IDs or a search warrant. They placed Ms. Liu's Falun Gong books, printer, and a photo of Falun Gong's founder on the floor, took pictures and then took them away.
The four practitioners were brought to the Changqing Police Station for interrogation. While the other three practitioners were released the same day, Ms. Liu was taken to the Jiamusi City Detention Center.
When Ms. Liu's lawyer later visited her, she told the lawyer that the police interrogated her at the police station. An officer named Gu Songhai savagely beat her and ordered her to admit that she distributed Falun Gong materials, that the broken printer at her home was still working, and that 70 Falun Gong booklets were found at her home. Gu threatened that they could ask for a ten-year prison term against her.
As Ms. Liu refused to sign the interrogation record, the police twisted her arms and hit her head against the wall. She almost became incontinent and she felt she almost died.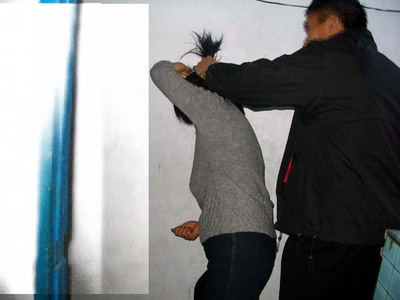 Torture reenactment: hitting victim's head against the wall
When Ms. Liu's lawyer told her family about the interrogation, her mother and step-father were outraged and condemned the police. Her mother told the lawyer that Ms. Liu became much more considerate after taking up Falun Gong. When her mother-in-law fell ill, she was the only one among the four daughters-in-law to help pay for the medical costs. 
The police later submitted Ms. Liu's case to the Jiaoqu Procuratorate, with the charge of "undermining law enforcement with a cult organization," the standard pretext used to criminalize Falun Gong. 
Ms. Liu's mother repeatedly went to the Jiaoqu Domestic Security Office and urged the director, Wu Bin, to release her. Wu threatened to arrest Ms. Liu's mother as well. He also rejected requests from Ms. Liu's family to visit her. 
On August 13, 2021, Ms. Liu's family filed a complaint with the Jiaoqu Court for the police's violation of legal procedure in handling her case. They urged the court to hold the relevant police officers accountable for illegally ransacking her home and physically abusing her.
Perpetrators' contact information:
Gu Songhai (顾松海), head of Heilongjiang Province 610 Office: +86-13339300100, +86-13804536212Yang Bo (杨波), deputy head of Heilongjiang Province Domestic Security Office: +86-15945183001Yan Qiang (闫强), head of Jiaoqu Police Department: +86-18145402660Wu Bin (吴彬), director of Jiaoqu Domestic Security Office: +86-13946472555
(More perpetrators' contact information is available in the original Chinese article.)
All articles, graphics, and content published on Minghui.org are copyrighted. Non-commercial reproduction is allowed but requires attribution with the article title and a link to the original article.
Category: Accounts of Persecution