Practitioners from 50 Professions in China Wish Master Li a Happy Mid-Autumn Festival
(Minghui.org) Mr. Li Hongzhi, the founder of Falun Dafa, introduced Falun Dafa to the public 29 years ago along with its principles of Truthfulness-Compassion-Forbearance. Since then, about 100 million people in every corner of society have benefited from it.
As the Mid-Autumn Festival (also known as Moon Festival) arrives on September 21, representing family reunion and happiness, we present greetings from practitioners from 50 professions in China. Although the persecution of Falun Dafa in China has lasted 22 years, practitioners say they miss Master Li and wish him a happy Mid-Autumn Festival!
Looking at the moon at this special season,we are thinking of Master from across the ocean.Helping us cultivating and offering salvation to people,Master you have suffered and sacrificed for us tremendously.Twenty-two years of wind and storm,we continue with our faith with Master's protection.Unable to return Master's boundless compassion,we will remain diligent and fulfill our vows with determination.
These 50 professions are: shipping, aerospace, electric power, judges, justice, police, government, public institutions, oil fields, medical care, banks, automobile manufacturing, textiles, water conservancy, communications, gold, insurance, music, finance, transportation, auditing, accounting, commerce, taxation, economists, building materials industry, forestry, education, health, postal service, trade, literature and art, publishing and distribution, mineral development and manufacturing, decoration, IT, agriculture, agricultural reclamation, petrochemical, construction, pharmaceutical, e-commerce, environmental art design, foreign trade, real estate, geological prospecting, supply and marketing, property management, service industry, and others.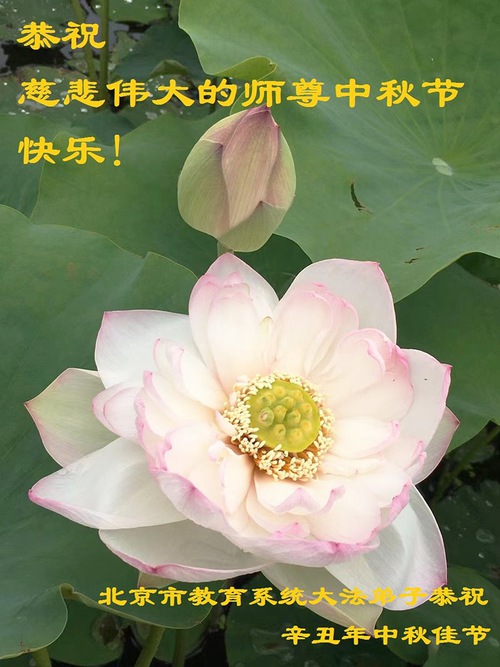 Practitioners working in the education system in Beijing wrote, "With the guidance of Truthfulness-Compassion-Forbearance, we have regained hope for life. Walking on the path of improving ourselves and saving people, we cherish every day and make the best use of time," wrote the greetings. "We sincerely wish Master Li a happy Mid-Autumn Festival and hope more people will benefit from Dafa."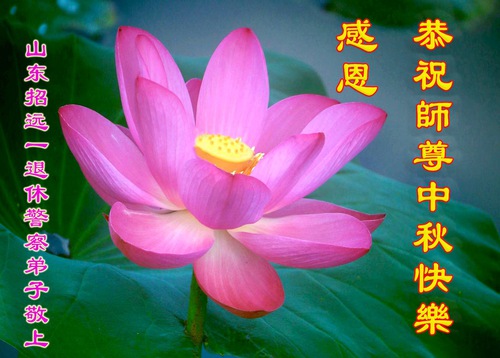 A retired police officer in Zhaoyuan City, Shandong Province, contributed a poem:
Another Mid-Autumn Festival arriving,we practitioners wish Master going back to China.With many uncertainties in this chaotic world,we tell people facts and help them break away from lies.By supporting the innocent and principles of Truthfulness-Compassion-Forbearance,people will head to a brighter future.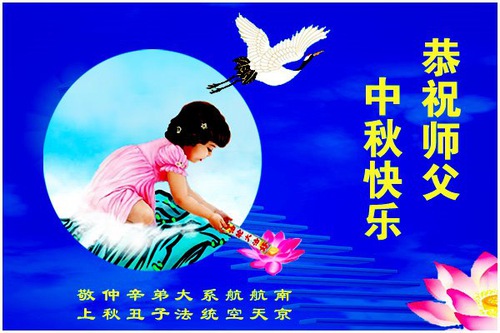 Practitioners working in aerospace from Nanjing City, Jiangsu Province, said they have learned a lot from Falun Dafa teachings on improving oneself and letting go of human notions. "We will remain diligent in cultivation practice so that we can help save more people and fulfill our prehistoric vows," they wrote.
One poem was received from practitioners working at the Industrial and Commercial Bank of China (ICBC):
Fulfilling Our Vows
Cycle after cycle of reincarnation,we finally obtained Dafa beginning to cultivate;Enduring hardship and tempering our will,we are fulfilling our mission of saving people.
Divine beings waving their long sleeves,materials distributed to thousands of families;Validating Dafa amid harsh persecution,lotus flowers blossom in all directions painting a new scene.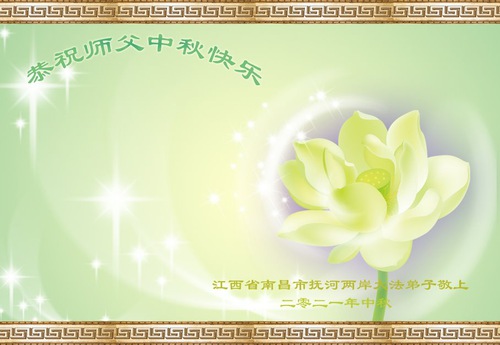 A group of practitioners in Nanchang City, Jiangxi Province, sent over their sincere greetings: "In our Fa study group, we have business owners, teachers, accountants, housewives, and others. We range from young practitioners just past 10 to elderly practitioners in their 70s," they wrote, "We will help each other and remind each other to do better. By aligning with the principles of Truthfulness-Compassion-Forbearance, we will cultivate ourselves well and help others get to know Dafa. Happy Mid-Autumn Festival, Master Li!"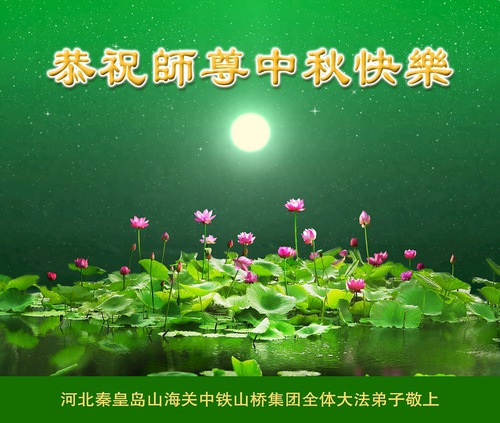 Practitioners from China Railway Group in Qinhuangdao City, Hebei Province sent their greetings through a poem:
Bright moonlight decorates the flower bed,as stars in the sky form countless lotus seedpods;We practitioners assist Master doing three things,while the Fa rectifies the cosmos.Materials distributed in ten directions,people keep in mind "Falun Dafa is good";We are unable to return Master's boundless compassion,but to save people wherever we go.
Additional greetings were received from:
Environmental design professionals in Shenyang City, Liaoning ProvinceShip-building industry in Qinhuangdao City, Hebei ProvinceEducation system and health system in Anqing City, Anhui ProvinceE-commerce professionals in ChinaPostal service staff in Qingdao City, Shandong ProvinceMedical staff in Dalian City, Liaoning ProvincePractitioners working in trade in Shijiazhuang City, Hebei ProvinceLiterature and art system in Jinan City, Shandong ProvinceAgricultural reclamation system in Guangzhou City, Guangdong ProvincePublishing industrySinosteel Group in Hunan ProvinceDecoration businesses in ChinaIT professionals in Sichuan ProvinceProperty management firms in Hubei ProvinceEconomists in Hubei ProvinceInsurance businesses in BeijingEducation system in Shandong ProvinceElectric power system in Shanxi ProvinceHealthcare industry in Shandong ProvinceJianghan Oilfield in Qianjiang City, Hubei ProvinceMedical care and health professionals in ChinaForestry industry in Liaoning ProvinceEducation system in Heilongjiang ProvinceBus factory in Changchun City, Jilin ProvinceEducation system in Yantai City, Shandong ProvinceUnicom in Dalian City, Liaoning ProvinceGold system in Shandong ProvinceTaxation systemPractitioners working in traffic and transportation industryAuditing system in ChinaConstruction businessesService industry in Liaoning ProvinceRailroad system in Nanchang City, Jiangxi ProvinceAccountants in Cangzhou City, Hebei ProvincePetrochemical professionals in Cangzhou City, Hebei ProvinceConstruction businesses in Shenyang City, Liaoning ProvincePharmaceutical companiesChina Railway System in Hubei ProvinceCultural and healthcare system in Jiangsu ProvinceForeign trade firms in Nanjing City, Jiangsu ProvinceElectric power system in Hebei ProvinceTrade systems in Shijiazhuang City, Hebei ProvinceChina Railway System in Wuhan City, Hubei ProvinceReal estate firms in Qinhuangdao City, Hebei ProvinceFood supply system in Changchun City, Jilin ProvincePetrochemical professionals in Gansu ProvinceTextile system in Gansu ProvinceHealthcare systems in Huangshan City, Anhui ProvinceConstruction material industryEducation system in Hanzhong City, Shaanxi ProvinceForestry in Qitaihe City, Shandong ProvinceWater conservancy system in Weihai City, Shandong ProvinceMusic professionalsSupply and marketing staff in ChinaGeological prospecting industry in Heilongjiang ProvinceNational defense system in Shanxi ProvincePolice system in ChinaRetired judgesJustice system in Nanjing City, Jiangsu ProvinceGovernment officials in Yanbian City, Jilin ProvinceGovernment officials in Hubei Province
All articles, graphics, and content published on Minghui.org are copyrighted. Non-commercial reproduction is allowed but requires attribution with the article title and a link to the original article.
Category: Greetings