Paris: Parade and Rally Held to Condemn Ongoing Persecution in China, Former Minister of Defense Voices Support
Sept. 16, 2021 | By a Minghui correspondent in Paris, France
(Minghui.org) The Falun Dafa Association of France organized a parade and rally in Paris on Saturday, September 11, 2021. Falun Dafa Association president Tang Hanlong spoke at the rally held at Place d'Italie. Located in the 13th arrondissement of Paris, it is home to the city's largest Chinatown. In his speech, he demanded that the Chinese Communist Party (CCP) immediately end its 22-year-long persecution of Falun Dafa, also known as Falun Gong.
Hervé Morin, former Minister of Defense and current President of Normandy, wrote a letter expressing his support for Falun Dafa practitioners' efforts to end the persecution. Mr. Cheng Jui-An, secretary of the Parliament Committee of the Taipei Representative Office in France, attended the rally.
Falun Dafa practitioners from other European countries and elsewhere also participated in the events. They came from Germany, Switzerland, Belgium, the Netherlands, Finland, Spain, Czechia, Poland as well as the U.S.
The parade route began at Place d'Italie, passed through the main streets in the 13th arrondissement of Paris–Italie, Tolbiac, Choisy, and Massena–before returning to the Place d'Italie through Ivry and Choisy streets. Many people came out of shops and passersby stopped to watch the parade.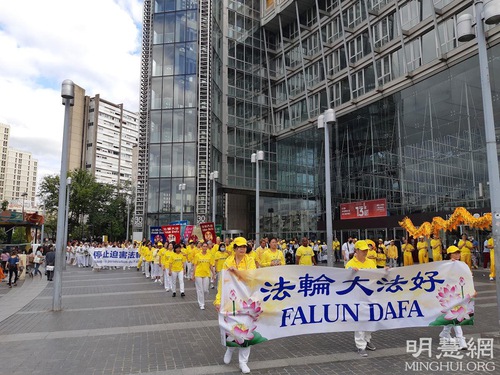 Falun Dafa practitioners from France and other parts of Europe participate in a parade on September 11, 2021.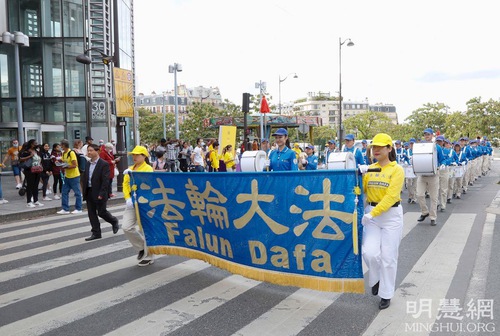 The Tian Guo Marching Band led the parade, which began at Place d'Italie.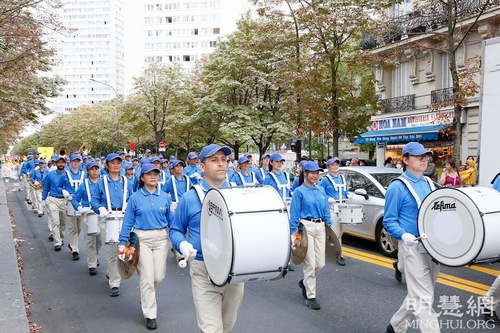 The Tian Guo Marching Band marches past commercial districts in Chinatown.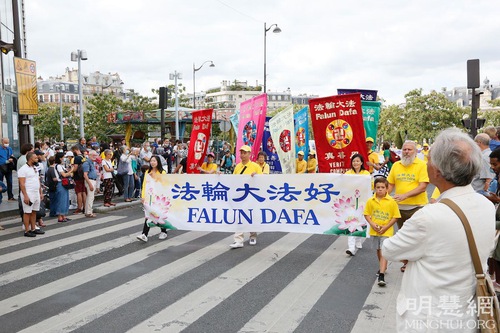 The parade set off from Place d'Italie.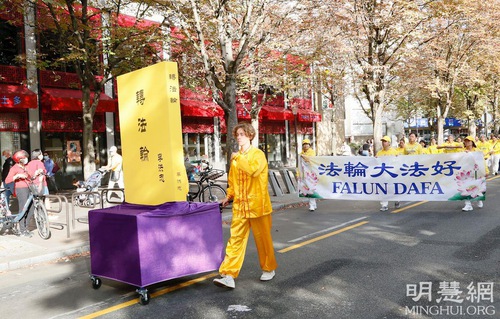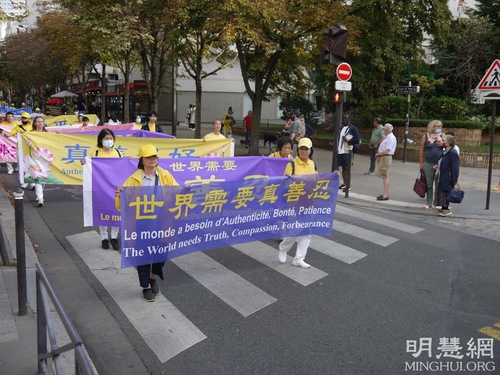 The parade passed through commercial areas in Chinatown.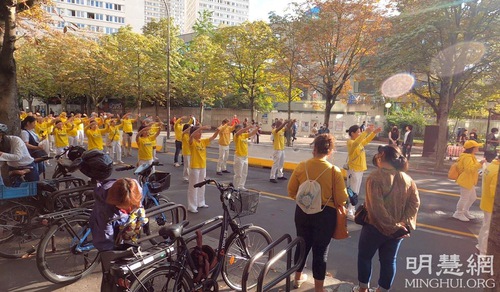 Practitioners demonstrated the Falun Dafa exercise movements during the parade.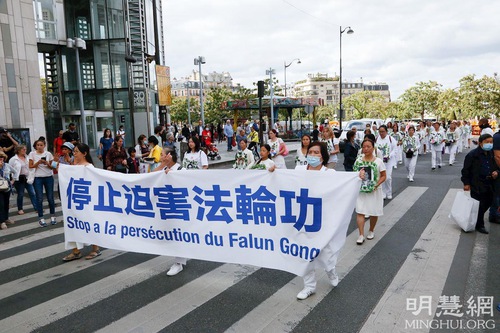 Falun Dafa practitioners solemnly commemorating fellow practitioners who were persecuted to death in China.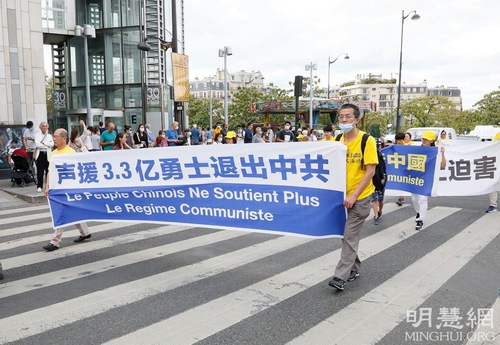 The message on the banner calls on Chinese people to quit the CCP.
Officials Voice Support
Hervé Morin, former Minister of Defense and current President of Normandy, wrote in a letter of support, "Falun Gong practitioners have endured over 22 years of hardship. The rallies held in July this year to call attention to the brutalities have had a huge impact globally. Many government officials have joined Falun Gong practitioners in getting the public [to be] aware of your stories."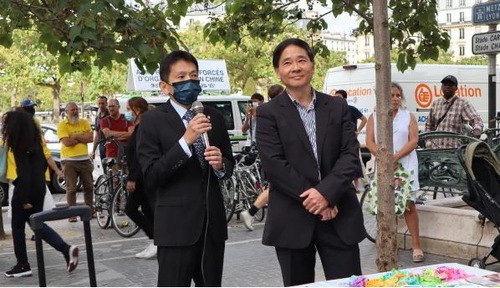 Mr. Cheng Jui-An (left), secretary of the Parliament committee of the Taipei Representative Office in France, spoke at the rally.
Mr. Cheng Jui-An, secretary of the Parliament Committee of the Taipei Representative Office in France, attended the day's rally. He said Taiwan started to move towards democracy in the 1980s and is passionate about upholding basic rights, such as freedom of thought, freedom of conscience, freedom of belief, freedom to assemble and so on. "This is why today you can see tens of thousands of Falun Gong practitioners practicing freely and safely in Taiwan," he said. "As Taiwan citizens, we are delighted to attend your activities today."
Practitioners Will Continue to Expose the Persecution
Mr. Tang Hanlong, President of the Falun Dafa Association of France addressed the rally. According to Mr. Tang, the CCP is responsible for the deaths of 80 million Chinese through unnatural causes since it usurped power in 1949. This number is higher than the total death toll of both world wars, and it continues to increase.
"To date, 4,686 Falun Gong practitioners are known to have been tortured to death by the CCP. However, due to the Party's cover up of information about the persecution, this figure may only be just the tip of the iceberg," he said.
Mr. Tang also said, "For 22 years, the Chinese regime used its military to terrorize Falun Gong practitioners, threatening to remove practitioners who work in government departments, incarcerating practitioners in labor camps, prisons and systematically murdering them for their organs."
In his closing remarks, he said practitioners will continue to expose the CCP's crimes, demand that all detained practitioners be released, and call for an end to the atrocities.
"The World Must Wake Up"
Some spectators joined practitioners and walked the entire parade route.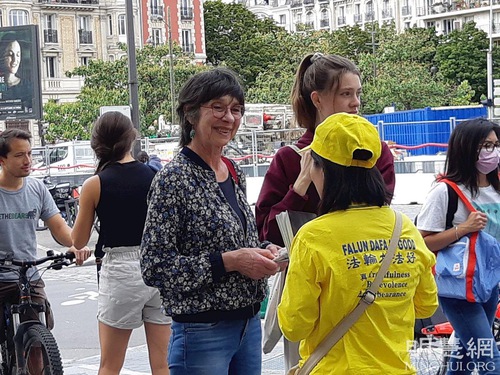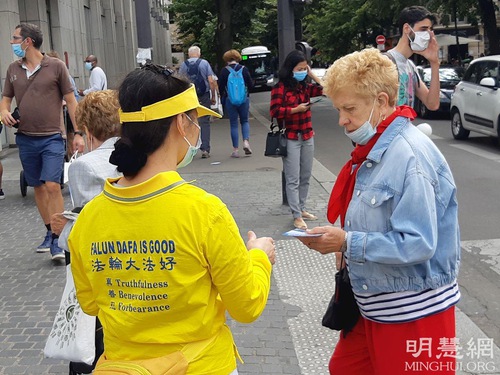 Parisians listen as Falun Dafa practitioners describe the persecution in China.
"You are amazing!" Mr. Zhang said while giving practitioners a thumbs up. Originally from China, Mr. Zhang has lived in France for several decades and often watches NTD television programs. "I know about the persecution," he said. He praised practitioners for their peaceful resistance and said, "I know similar parades are held around the world."
Mr. Li from China stood holding a newsletter he got from a practitioner. He intently watched the Tian Guo Marching Band's performance and said, "It's great!" He explained that this was his first time seeing such a parade and he very much admired the performance.
Jean-Louis first heard about the persecution when he talked with practitioners at Place D'Italie. He said, "There are so many persecutions going on in China. I didn't know about this before. This is terrible, but I am not surprised since it is the CCP."
About the persecution of Falun Gong, he said, "This is another form of terrorism. I think the Chinese government [engages in] state terrorism."
Jean-Louis also said the CCP is a threat to the entire world. He is ashamed that France trades with China and said, "Economic gains surpass everything. If we allow the CCP to act as they wish, they continue to harm the world—just for money! It is shameful, truly a disgrace!"
Bahis Mael is a security guard at a Chinese supermarket. When the parade passed through Chinatown, he learned about the torture practitioners have been subjected to in China, as well as having their organs removed while they were alive. Saddened and shocked, he said, "I don't understand what is happening in China. This is severe but it is not mentioned in Europe or France. This persecution is not acceptable."
He also said, "Communist ideology has never been a good thing. We see the things done by the CCP since it took over power in China. I think, in fact, China is now worse off.
"Forced removal of organs is carried out in hospitals—it is controlled by the military government. This is very serious. That something like this exists in the 21st century—the world must wake up, everyone must wake up!" he said.
Background: What is Falun Dafa?
Falun Dafa (also known as Falun Gong) was first introduced to the public by Mr. Li Hongzhi in Changchun, China in 1992. The spiritual discipline is now practiced in over 100 countries and regions worldwide. Millions of people have embraced the teachings—which are based on the principles of Truthfulness, Compassion, Forbearance as well as five gentle exercises—and experienced uplifted health and well-being.
Jiang Zemin, former head of the Chinese Communist Party (CCP), perceived the spiritual discipline's growing popularity as a threat to the CCP's atheistic ideology and on July 20, 1999, issued an order to ban the practice.
Minghui.org has confirmed the deaths of thousands of practitioners as a result of the persecution over the past 22 years. The actual number is believed to be much higher. More have been imprisoned and tortured for their faith.
There is concrete evidence that the CCP sanctions the harvesting of organs from detained practitioners, who are murdered to supply the organ transplant industry.
Under Jiang's personal direction, the CCP established the 610 Office, an extralegal security organization with the power to override the police and judicial systems and whose sole function is to carry out the persecution of Falun Dafa.
All articles, graphics, and content published on Minghui.org are copyrighted. Non-commercial reproduction is allowed but requires attribution with the article title and a link to the original article.
Category: Parades & Other Community Events