With Arm Disabled from Torture during 12-Year Imprisonment, Liaoning Woman Secretly Sentenced for Her Faith Again
Sept. 1, 2021 | By a Minghui correspondent in Liaoning Province, China
(Minghui.org) Over the past 22 years of the persecution of Falun Gong by the Chinese communist regime, Ms. Liu Xia has been imprisoned for 12 years, during which time one of her arms became disabled from torture in custody. She was arrested again in 2019 and secretly sentenced for her faith.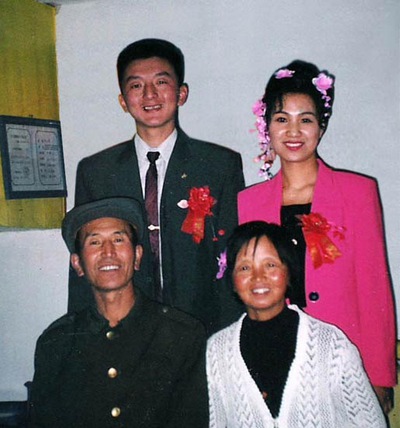 Ms. Liu Xia at her wedding in 1998
Ms. Liu, formerly called Ms. Liu Junlu, began to practice Falun Gong in 1996. She credits the practice for giving her better health and broadening her heart.
For upholding her faith in the face of the persecution, she was arrested in 2001 and sentenced to 12 years in the Liaoning Women's Prison. In addition to the intensive forced labor, the guards often tied her up, beat her, shocked her with electric batons and deprived her of sleep. 
On one occasion, the guards twisted her left arm up behind her back and handcuffed it to her right arm, which had been pulled down over her shoulder. They then hung her up by the handcuffs, pulled her legs apart, stripped off her clothes and wrote messages slandering Falun Gong all over her body. By the time she was let down, her left arm had become disabled.
After surviving 12 years of incarceration and horrific torture, Ms. Liu was released on July 28, 2013, only to be arrested again on June 28, 2016 at her clothing store by officers from the Xigang Police Station. She was taken to the Dalian Brainwashing Center and held there until July 29. During the one-month detention, she was forced to watch propaganda videos slandering Falun Gong every day and ordered to write statements to renounce Falun Gong. After she returned home, the police put her under house arrest for six months.
The police later submitted Ms. Liu's case to the local procuratorate. She was indicted on December 12, 2016. When the prosecutor summoned her to answer some questions on January 5, 2017, she decided to live away from home to avoid the persecution.
Ms. Liu was arrested again in Shenyang, about 250 miles from Dalian, on June 14, 2019, after the police tracked her location through her cellphone. 
Officers from the Xigang Police Station took her to the Dalian Detention Center. The Xigang District Court held a hearing on February 13, 2020 and issued the verdict on August 4. Ms. Liu appealed with the Dalian City Intermediate Court, which ruled to uphold her sentence on September 26. 
As Ms. Liu has been denied family visits since her arrest in 2019, her family still doesn't know how long her sentence is. Neither have they received any notice from the court. 
When Ms. Liu's family called the Dalian Detention Center in March 2021 to make a cash deposit for her, the guard on duty said she was no longer there. They suspect that she has already been taken to the Liaoning Women's Prison.
Related reports:
A Family's Suffering in Nenjiang County, Heilongjiang Province
Ms. Liu Junlu Tortured and Disabled During 12 Years in Prison
After Eight Years of Persecution, Mr. Wang and His Wife Hope Their Children Are Still Alive
Practitioner Ms. Liu Junlu's Arm Is Disabled Due to Torture in the Women's Prison of Liaoning Province
All articles, graphics, and content published on Minghui.org are copyrighted. Non-commercial reproduction is allowed but requires attribution with the article title and a link to the original article.
Category: Accounts of Persecution