(Minghui.org) According to Minghui.org, among the 9,470 Falun Gong practitioners arrested or harassed for their faith in the first half of 2021, at least 129 among them had blood and DNA samples collected. Shanghai reported the most cases (55), followed by 20 cases in Hubei Province, 14 cases in Shandong Province, 10 cases in Hunan Province and 6 cases in Sichuan Province. Thirteen other provinces and municipalities had between 1 and 3 cases each.
Falun Gong, also known as Falun Dafa, is a traditional spiritual discipline that has been persecuted by the Chinese communist regime since 1999.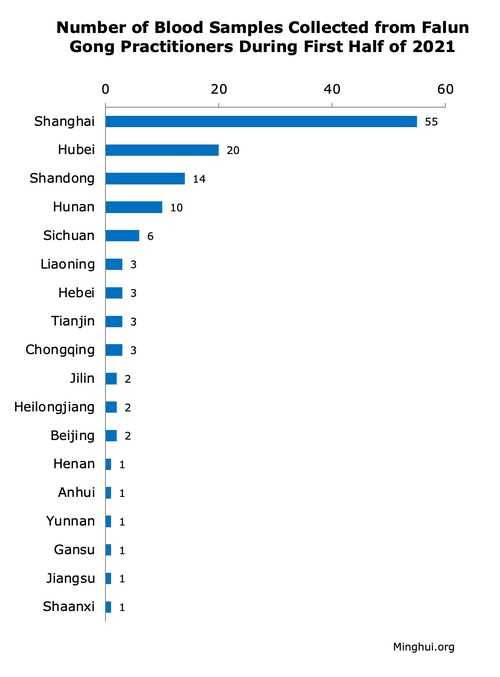 Since July 2020, dozens of Falun Gong practitioners in Shanghai have had their blood drawn by the authorities. Besides blood samples, other personal information has also been collected by the police, including practitioners' handwriting, their fingerprints, height, photos, and phone numbers.
The recent uptick in collection of biometrics and blood samples from the practitioners is part of the "Zero Out" campaign, which aims to force every Falun Gong practitioner on the government's blacklist to renounce their faith. Those who refused to comply have had their personal information collected against their will, so as to enhance the surveillance of practitioners through China's extensive monitoring network.
Some practitioners also suspect that, given that forced organ harvesting is still continuing in China, the authorities are using the practitioners' biometric information for a massive DNA and organ matching database.
Snapshot of Persecution Cases
Shanghai: Ten Some Falun Gong Practitioners Have Had Blood Samples Forcibly Collected at One Police Station
The police from the Ganquan Police Station in Putuo District forcibly collected blood samples from ten some practitioners between April and May 2021. Below are several cases.
Ms. Wu Yuqin was the first to be targeted, on April 26, 2021. The police dragged her downstairs from her home without allowing her to put on her shoes. After taking her to the police station, four male officers held her still and drew her blood. The violence caused large bruises on her hands and feet. At around 8 p.m., Ms. Wu was released.
The next day, another four officers knocked on the door of Ms. Wu Xiaojie. Having become paralyzed a year ago, she was unable to open the door for the police. As a result, the police ordered a locksmith to open her door. The police forcibly collected a blood sample and threatened to do the same to her son.
Officers broke into 84-year-old Ms. Qu Mujie's home on April 28. The police first asked if she still practiced Falun Gong. After she confirmed that she did, they threatened to collect a sample of her blood. Ms. Qu strongly resisted and asked for the officers' ID numbers. The incident drew the attention of Ms. Qu's neighbors and they gathered outside Ms. Qu's apartment, trying to figure out what was happening. The police gave up trying to draw her blood and left.
A day later, the police broke into the home of a female practitioner in her 90s. Despite her strong protest, the police pricked her finger and collected a blood sample. Before leaving, they said to the practitioner, "You are not allowed to have the portrait [of Falun Gong's founder] in your home."
Changsha City, Hunan Province: Woman Falls Into Deep Coma Following Second Arrest Within Two Months, Blood Samples Collected Multiple Times
Only two months after a former nurse was released from detention on the verge of death after holding a five-day hunger strike, she was arrested again and is now in a coma after one month of detention.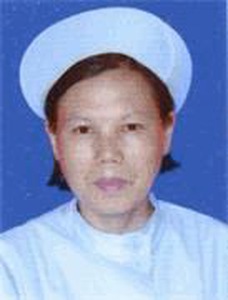 Ms. He Xianggu
Ms. He Xianggu, 60, was arrested on March 15, 2021, after being noticed by police for distributing informational materials about Falun Gong in a mall. Officers from the Sifangping Police Station interrogated her until midnight before taking her home to ransack her place. They broke into the metal cabinet she used to store her Falun Gong books and confiscated all of her books.
The police forcibly collected Ms. He's blood sample, fingerprints, and footprint the following day. She was given ten days of administrative detention and taken to the Changsha City Lockup at around 8:00 p.m.
Ms. He started a hunger strike a few days later to protest the arbitrary detention. Five days later, she began to have difficulty breathing. Her face was pale and she was very weak. While squeezing her lower jaw while force-feeding her with water, a male officer broke one of her teeth and injured her lip. Her mouth was full of blood.
On the verge of death, Ms. He was released on March 28. When a friend saw her shortly after, she was shocked to see how quickly Ms. He had aged during her short detention––her once-rosy and radiant face was covered with wrinkles and her hair had turned gray.
As soon as Ms. He recovered, she was arrested again by officers from the Jiucaiyuan Police Station on May 15. She was held at the Changsha City No. 1 Detention Center, where she fell into a coma a month later. It's not clear what happened to her in the detention center that caused her to lose consciousness.
The detention center didn't immediately take Ms. He to the hospital, but waited a few days to do so and to inform her family. When her family went to the intensive care unit to see her on July 12, they were devastated to see her in a deep coma. They cried and called her name, but she made no response.
Ms. He has been repeatedly arrested for her faith over the past 22 years of persecution. She served four labor camp terms and was held in brainwashing centers three times. For refusing to renounce her faith, she was also fired by the hospital she worked at and denied retirement benefits.
Wuhan City, Hubei Province: Six Falun Gong Practitioners, Including an 83-Year-Old Woman, Have Their Blood Drawn
Ms. Yin Guixiang and Ms. Huang Yongmei, 83, were arrested by two plainclothes police officers from the Zhongshan Park Exhibition Police Station on April 17, 2021. Later that day, four more Falun Gong practitioners were also arrested and taken to same police station.
The six practitioners were interrogated and not given any food or water. The police took their pictures, recorded their height and weight, took their fingerprints, and drew blood samples.
Ms. Yin, Ms. Huang and two other practitioners were taken to the Qiaokou District Ertouwan Brainwashing Center the next day. The whereabouts of the other two practitioners are unknown.
Ms. Yin was released on April 28, 2021, but was forced to leave her home to avoid further persecution.
Suining City, Sichuan Province: Three of Five Practitioners Arrested Have Their Blood Drawn
Five Falun Gong practitioners, Ms. Pu Zexiu, Ms. Chen Weixing, Ms. Yang Shengzhen, Ms. Li Yulian, and Ms. Chen Xiurong were followed and arrested by police officers from the Nanjinqiao Police Station on March 31, 2021. There homes were raided.
Ms. Pu and Ms. Chen Weixing were released at 7 p.m. Ms. Yang and Ms. Li were released at around 9 p.m., after having their blood drawn. Ms. Chen Xiurong also had her blood drawn and she is now detained at the Yongxing Detention Center.
Dongying City, Shandong Province: Blood Samples of Two Practitioners Taken
The police from the Binbei Police Department of Dongying City, Shandong Province arrested and raided the homes of Ms. Tian Yuping, Ms. Li Xuerong, and Ms. Li Aifang on April 24, 2021. They confiscated their Falun Gong books, and other Falun Gong-related belongings. Ms. Li Xuerong and Ms. Li Aifang were released shortly afterward due to health issues.
Ms. Tian was taken to the Binbei Police Department for interrogation, and her fingerprints, photos, blood sample, DNA and other information were taken.
Three police officers from the Ducun Police Station of Jiaozhou City, Shandong Province broke into the home of Mr. Lu Guoyao, 70, on June 26, 2021. Mr. Lu was resting on his bed at that time. Before he could react, the police quickly used a needle to prick his middle finger to collect a blood sample.
Tianjin: Woman Forcibly Had Blood Drawn Along with Her Non-practitioner Husband, Then Tortured at Brainwashing Center
Ms. Guo Yonghong was apprehended by residential committee staff and police from the Banchang Police Station at the entrance of her apartment building on the early morning of May 29, 2021, along with her husband who doesn't practice Falun Gong. They were taken to the residential committee office and ordered to sign a statement renouncing her faith. Ms. Guo refused to sign. Four burly police officers violently grabbed her arms and hands, and pressed her fingerprints on the statement.
The couple was taken to the police station in the late afternoon, where their blood was forcibly drawn.
Ms. Guo's husband was released at around 1:00 a.m. M. Guo was taken to a brainwashing center at around 2:00 a.m. The officers deprived her of sleep by pulling on her hands and arms. As a result, both of her hands became swollen and her arms were bruised all over.
Ningxiang City, Hunan Province: Many Practitioners Harassed and Forced to Give Their Fingerprints and Blood Samples
Many Falun Gong practitioners in Ningxiang City, Hunan Province have been harassed recently by members of local residential committees and the police. The officials went door to door to harass and take pictures of practitioners. Some practitioners were forcibly taken to the police station to have their fingerprints, blood samples, and signatures collected.
Two of the victims were Ms. Li Wei, 74, and Ms. Zhang Yulan, 84, who were forcibly taken to the Yutan Police Station, where they had their personal information collected.
Related report:
Reported in First Half of 2021: 9,470 Falun Gong Practitioners Arrested or Harassed for Their Faith