Humanity Is Never Part of the Chinese Communist Party's Fight Against COVID-19
Aug. 31, 2021 | By Zhang Cheng
(Minghui.org) China has been hit by a new wave of COVID-19 infections since a ground crew member at the Nanjing International Airport in Jiangsu Province caught the virus while cleaning an aircraft from Russia to Nanjing on July 10. The Chinese Communist Party (CCP) immediately resorted to nucleic acid amplification tests of everyone in the regions affected and even sealed off certain residential areas like it did in Wuhan in 2020 when the virus first broke out there.
During the CCP's fight against this new wave of infections, it has again shown that it has never cared about people's lives, even in the COVID era.
It is well known that the CCP has withheld COVID infection information from the public since the very beginning. Nevertheless, scattered information could allow us to get a sense of the widespread impact of this wave of the delta variant in China.
According to Beijing's reports, the aforementioned crew member was the first confirmed case infected with the delta variant. The virus first spread in Nanjing, Jiangsu Province, before striking Zhangjiajie, a popular tourist destination in Hunan Province. Tourists brought the virus back to their own cities afterward, and soon more than half of the provinces in China were reporting COVID cases. Yangzhou, another city in Jiangsu, was also hit hard.
Three hours away from Yangzhou, Shanghai also reported cases and shut down its Ningbo-Zhoushan port, the world's third-busiest port, for two weeks, causing chaos in international shipping.
Mass Gatherings for COVID Tests
Nanjing City, with a population of 8.5 million, officially announced new COVID infections in the city on July 20. Starting the next day, it conducted three rounds of citywide COVID tests (with every resident tested three times) and another three rounds of tests with smaller groups (with select residents tested). The six rounds of tests amounted to a total of 40 million tests given. If each test cost 20 yuan, the total testing cost in Nanjing would have been about 800 million yuan, which could have been better used to prevent the spread of the virus.
The CCP could carry out this massive testing effort due to its close surveillance of citizens. It has established a "grid management system" in its cities, dividing each city into many grids and assigning "grid managers"–staff of local residential neighborhood committees, in conjunction with officers from the local police station – to manage each grid.
The "grid managers" were required to mobilize all residents within their grid to take the COVID test. Throughout the day, residents were bombarded with loudspeakers repeating the announcement that everyone was required to go take the COVID test. The announcement has been repeated so many times that even when kids played outside, they mimicked the announcement as part of their games.
Conducting COVID tests for a whole city may not be wrong, but the CCP's approach to conducting the test was questionable. People were forced to line up at nearby testing sites, many of which were temporary mobile testing booths or just tables and chairs. Due to the large population, people may stay there for hours to wait for their turn. Even worse was that there was no social distancing, which would have been impractical with so many people. So throughout the city, hundreds or thousands of people were packed in clusters for hours to take the test.
"I was really worried to see so many people packed to do the test," a citizen in Nanjing wrote. "In case a highly-contagious person was among them, who knows how many would be infected?!"
Unfortunately, this concern became reality in Yangzhou, a city 60 miles away from Nanjing. A virus-carrying person working at a testing site infected at least 61 testers and residents during the testing process. Those people, in turn, spread the virus to others.
But this kind of packed mass testing continues. People who shared their concerns are either ignored or muffled.
Disregard for People Suffering from Side Effects
Many people have posted online about how they suffered from the vaccine's side effects. They included doctors who had seizures after getting the vaccines, as well as young people who were rushed to hospitals and kept in ICUs. One family protested outside the hospital that gave them the vaccine. However, all these sufferers were unable to get a note from the hospital saying the vaccine had resulted in side effects. Without a doctor's note, these patients have no way to receive compensation from the government.
With more and more breakthrough cases, the CCP is now considering booster shots since the first two shots were ineffective in preventing people from catching the delta variant. For instance, in this new wave, many infected people had been fully vaccinated. Ninety percent of the crew members at Nanjing International Airport had received two shots, but many were still infected.
Moreover, those high-risk populations who received jabs last year have seen the half-year vaccine protection period expire. The development of vaccines, however, is often behind mutations of a virus. Even with a booster shot, people may not be that well protected. Would they need a fourth or a fifth shot?
The uncertainty about the efficacy of the vaccines has worried many people, including parents whose children older than 12 are now being pushed by the government to receive the vaccine. The authorities claim that teenagers are also prone to getting infected and thus should get vaccinated. But parents are apprehensive about the possible side effects to children. In a Shanghai Health Commission survey of parents, many expressed strong objections to vaccinating children. The authorities soon disabled the poll.
But public opinion cannot stop the CCP from imposing vaccine mandates on children. Some parents said their local schools required the vaccine as a precondition for enrollment.
While many other countries around the world have also been vaccinating their children, they at least allow parents to question the efficacy of the vaccine using different channels. They also offer medical and religious exemptions to those who qualify. Even though the CCP also claimed to allow medical exemption, there have been cases of people who were allergic to other types of vaccines in the past or had other medical conditions still being forced to get the jab in the campaign to get everyone vaccinated.
Leaving People Stranded with No Help
The CCP's way to fight COVID is completely "isolating" infected people. Once an infected person is detected, the authorities lock down the whole building or even the whole neighborhood community; many communities in China are gated so it is easier to enforce the lockdown. In certain places, the authorities even use boards to secure residents' doors to their door frames so people inside cannot open the door at all.
Though the government promised to provide food and services to the people being locked down, there have been many complaints about being given inadequate food, including vegetables. The authorities "resolved" the issues by deleting posts on the internet and social media.
The CCP pushes everyone to take vaccinations, and local authorities come up with various punishments if people don't do so. Meanwhile, it silences voices that report problems after receiving the vaccination.
A person described the CCP as follows:
"When you have no place to live, it ignores you;when kids have no school to go to, it ignores you;when you can't afford to see a doctor, it ignores you;when the food is adulterated and not healthy to eat, it ignores you.But, when you do not take the vaccine, it forces you [to do so]!When you have any side effects after taking the vaccine, it ignores you, saying: having side effects is a problem with your own body; why would I, the CCP, care about it?"
In addition, the CCP refused to allow infected sailors to be docked or offered help. Sailors on the "Hong Jin" ship owned by a Panama company had people with fevers on July 31. The ship was near Shanghai's Zhoushan port and asked Zhoushan for emergency medical aid. But no company in China wanted to help them, though all 20 crew members were Chinese. The port authority even ordered all shipping companies not to approach or offer help to this troubled boat.
Another foreign-owned ship ran into a similar situation a few days later. The crew on the ship, Chinese workers, pulled out a banner saying "We Want to Go Home" (in Chinese) in protest.
Not Allowed to Discuss COVID Policy
The CCP also does not allow people to discuss its COVID policy, especially comments that deviate from the Party's propaganda.
A teacher suggested using Yangzhou City, where COVID was spreading, as a pilot site to see if people could co-live with the virus. He was arrested and put in detention for 15 days, under the crime of spreading improper speech. The CCP's COVID policy was to completely eliminate the virus in China.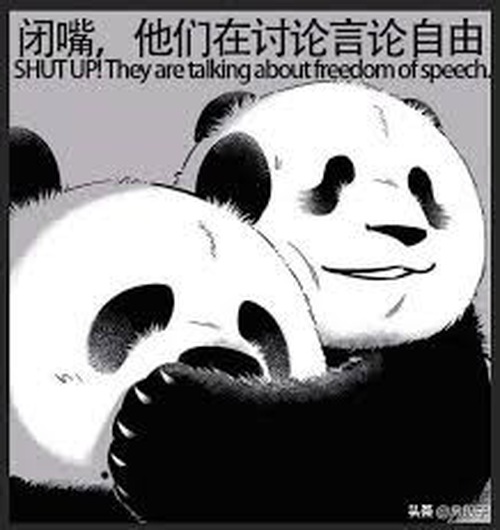 People are not allowed to comment on the CCP's coronavirus policies.
Zhang Wenhong, the lead doctor fighting against COVID in Shanghai, also mentioned the idea of "co-living with the virus." Official media outlets criticized him, too.
Ending
Since its establishment, the CCP has always labeled itself as the "supreme god" and declared that it can win over the heavens and nature. When it comes to COVID, it believes that it can eliminate the virus.
However, the CCP's COVID strategy is to "sacrifice" a smaller group for the bigger one. It isolates the infected people and those who might be infected to keep the rest safe. As for how the isolated people do, it does not care.
This prescription is like cutting out a big chunk of flesh when stung by a mosquito. The chunk has to be big enough to include all the infections, but it also contains many more innocent parties. Everyone in the chunk becomes a victim and will be discarded, since the CCP never treats a human being as a human being.
Related Article in Chinese:抵制邪恶要自救-从拒绝"全民核酸"开始
All articles, graphics, and content published on Minghui.org are copyrighted. Non-commercial reproduction is allowed but requires attribution with the article title and a link to the original article.
Category: Perspective