Japan: First Cultivation Experience Sharing Conference Held in Hokkaido
Aug. 3, 2021 | By a Falun Dafa practitioner in Japan
(Minghui.org) Practitioners in Japan held a Falun Dafa Cultivation Experience Sharing Conference on July 31, 2021, in Hokkaido's capital city of Sapporo. Six new and veteran practitioners talked about their cultivation experiences.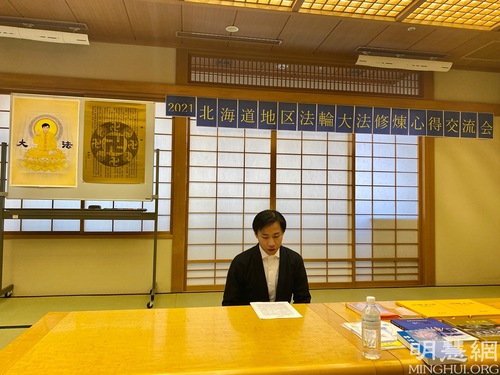 A practitioner reads his experience sharing paper during the conference.
Since the outbreak of the CCP virus pandemic in 2020, many people have begun to search for ways to avoid getting ill and to improve their overall health. In the second half of 2020, more than 10 Japanese and Vietnamese participated in the local Falun Dafa free seminars to learn the practice. To let the new practitioners know more about how good Dafa is and strengthen their confidence to cultivate, practitioners in the Hokkaido region held their first cultivation experience sharing conference.
Hoshino Buho has practiced Falun Dafa for more than 20 years. He talked about helping to organize parades and the "Truthfulness, Compassion and Forbearance International Art Exhibition" and about clarifying the truth to high level officials in the Chinese Communist Party (CCP) and mainstream people in the course of his work. His public speeches exposed the evil nature of the CCP and called for the persecution of Falun Dafa to end.
Phuc Nguyen from Vietnam talked about how he used to suffer from severe headaches, insomnia, frequent urination, and so on, and doctors could never figure out why. While searching for folk remedies, he chanced upon Falun Dafa online and started to learn the practice by himself. Much to his surprise, all his conditions started to improve in three weeks. He felt the Falun turning, and his celestial eye opened. While he practiced the exercises, in another dimension, an old Taoist wanted to teach him his martial arts and a beautiful lady came to lure him, but he maintained his xinxing and was not moved. During the two months he was out of job, he happened to find many expensive items but he handed them all in to the police station. He told the police, "I do not need any rewards, because I am a Falun Dafa practitioner."
After the conference, the new practitioners, both Japanese and Vietnamese, all said they benefited greatly from listening to everyone's cultivation experiences and they felt very fortunate to practice Falun Dafa. A Japanese practitioner said that, while he listened, he sat up very straight and respectfully. Even though he is Japanese he has difficulty sitting upright for prolonged periods of time. Usually when his legs grow numb, he has to relax. Today, however, he sat straight, very formally, while listening to the practitioners speak. He said that his body did not feel strained, instead he felt especially light and relaxed.
In the afternoon, the practitioners went to the park in the city center to practice the exercises together. Sapporo is one of the venues for this summer's Olympic Games, and many vehicles and pedestrians passed by the park. The practitioners' graceful movements as they did the exercises attracted many passersby to stop and watch.
All articles, graphics, and content published on Minghui.org are copyrighted. Non-commercial reproduction is allowed but requires attribution with the article title and a link to the original article.
Category: Experience Sharing Conferences