Heilongjiang Woman Dies after a Year and a Half of House Arrest and Harassment
Aug. 20, 2021 | By a Minghui correspondent in Heilongjiang Province, China
(Minghui.org) Ms. Chang Xiuhua's health deteriorated after she was arrested and put under house arrest for her faith in Falun Gong. The 53-year-old woman from Huanan County, Heilongjiang Province, passed away on June 16, 2021.
Falun Gong, also known as Falun Dafa, is a spiritual discipline that has been persecuted by the Chinese communist regime since 1999.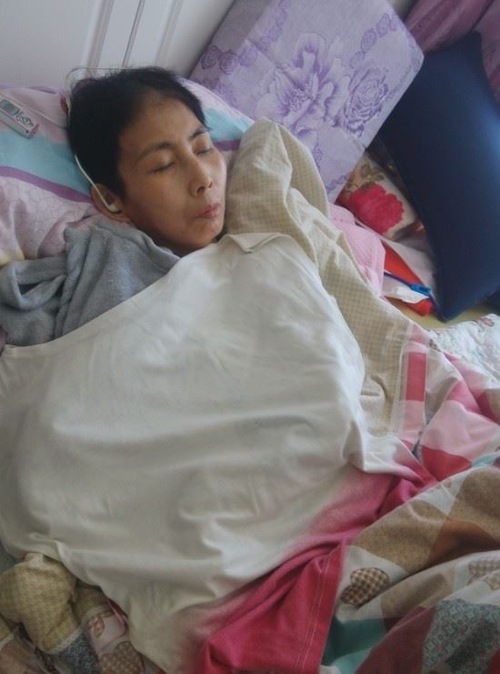 Ms. Chang Xiuhua
Two men approached Ms. Chang from behind and grabbed her arms when she went out on the morning of February 20, 2020, to get something to eat. One of them who identified himself as a police officer began to search her backpack.
They took Ms. Chang to the basement of the Huanan County Police Department. She asked the man who said he was an officer his name. He replied, "My last name is Li." She later confirmed that he was Li Xiaolin, the director of Huanan County Domestic Security Office.
The police forced Ms. Chang to sit in a metal chair and handcuffed her to it. A female officer came in and searched her. Her house key, ID, cellphone, and several hundred yuan in cash were taken away. Several officers then took turns interrogating her.
After the interrogation, Li and six other officers escorted Ms. Chang to her home to search it. Her Falun Gong books and driver's license were confiscated. Li then asked for the key to her garage. Another officer, with a crowbar in hand, threatened to smash her garage if she didn't tell them where the key was. Ms. Chang was forced to lead the officers to her garage and many of her personal items were taken away.
After the raid, the police took her back to the basement in the police department. None of them showed their IDs or a search warrant during the entire process.
The next day, Ms. Chang was taken to the Jiamusi Detention Center, which, however, refused to admit her due to the coronavirus pandemic. The police had to take her home and put her under six-month house arrest. She wasn't allowed to leave her subdivision. They also left a surveillance device at her home, which Li controlled on his cellphone.
When the house arrest expired six months later, Li put Ms. Chang on one-year bail release on August 20. She was forced to pay a 5,000-yuan bail bond and she wasn't allowed to leave Huanan County.
Li and three other officers went to Ms. Chang's home to harass her on December 7, 2020. Because she wasn't home when they got there, they returned at 7 a.m. the next morning and arrested her. They announced that she had violated a condition of her bail and put her in criminal detention.
Ms. Chang was taken to the Lixin Police Station, where the police asked her again where she got the Falun Gong materials they found at her home. Ms. Chang refused to answer them.
Before her initial arrest in February 2020, Ms. Chang had a lump on the right side of her chest. When the two officers arrested her, they pulled her arms and accidentally hit the lump, which got larger after she returned home. The mental pressure from the harassment and house arrest contributed to a worsening of her condition. Her breast turned dark and oozed pus. She also had vaginal bleeding beginning in September 2020 and had a persistent cough.
Due to her poor health, the Jiamusi Detention Center refused to accept her following her arrest on December 7, so the police had to take her home again. On December 10, Li delivered another "bail release" notice to her.
Li returned to Ms. Chang's home on January 21, 2021, and took her to the procuratorate. He gave her case document to someone and left. Shortly after, Yu Yang, the prosecutor in charge of Ms. Chang's case, showed up. Because Ms. Chang was very weak and her face was pale due to excessive bleeding, Yu told her to go home and he would find her later on.
To seek justice, Ms. Chang mailed letters to the Huanan County Political and Legal Affairs Committee (an extra-judiciary agency tasked with overseeing the persecution), Huanan County Women's Federation, and over ten residential committees about how she had been persecuted.
In February 2021, she filed a complaint with the Discipline Commission of Huanan County Public Security Bureau, demanding that Li be investigated for violating the law in persecuting her and that her case be dismissed and her freedom restored.
Although the Domestic Security Office dispatched deputy director Zhang Chi to harass Ms. Chang at home after she filed the complaint, claiming that Li was recusing himself from her case, Ms. Chang later discovered that Li was still the mastermind behind what was being done to her.
Ms. Chang's condition deteriorated, and she went to a hospital. After she was discharged, she stayed with her older sister, who cared for her. When Li didn't find Ms. Chang when he and others went to her home to harass her, they often called her mother to ask where she was.
Not wanting her sister to be implicated, Ms. Chang returned home and the police came to harass her and took her pictures.
Distressed over the prolonged harassment, Ms. Chang passed away on June 16, 2021.
A Kind Reminder
Ms. Chang's fellow practitioners would like to remind Li of the principle that good is rewarded and evil incurs retribution and urge him again to stop persecuting Falun Gong. The fate of his three predecessors serves as a grave warning.
After the persecution of Falun Gong started in 1999, the first three directors of the Huanan County Domestic Security Office—Li Jun, Chen Honghui, and Chen Yujun—actively participated to advance in their careers.
When a Falun Gong practitioner tried to persuade Chen Honghui to stop doing evil, he responded, "I've been doing this for so many years and I've been fine. You all talk about karmic retribution. I'd like to give it a try. I will just follow the Chinese Communist Party to the end." Seven days later, his car crashed into a large tree and he died immediately. He was in his 40s.
Li Jun died in 2012 at the age of 57 while doing his morning exercises. Chen Yujun was riding a bike when he fell into a ditch. He was taken to an emergency room and pronounced dead. He was 43.
All articles, graphics, and content published on Minghui.org are copyrighted. Non-commercial reproduction is allowed but requires attribution with the article title and a link to the original article.
Category: Reports of Death Cases