Two Sisters in Hunan Arrested for Practicing Falun Gong
Aug. 17, 2021 | By a Minghui correspondent in Hunan Province, China
(Minghui.org) Two sisters in Yueyang City, Hunan Province were surrounded by over ten officers at around 7 p.m. on July 23, 2021, at a public plaza. The officers held them against the ground and snatched their keys and cell phones.
The officers, including agents of the 610 Office, police officers, and staff members of the residential committee, next ransacked Ms. Xu Jinfeng and Ms. Xu Genyuan's homes and confiscated their Falun Gong books and related materials.
Falun Gong, also known as Falun Dafa, is a spiritual discipline that has been persecuted by the Chinese communist regime since 1999. 
The home of Ms. Xu Genyuan's daughter, who doesn't practice Falun Gong, was ransacked as well. 
The police refused to reveal where the sisters were detained following their arrests. Their families went around town to look for them at the police station, police department and lockup, but still couldn't find them. Only after they threatened to go to Beijing to file complaints against the police for arbitrarily arresting the sisters, did the police reveal that the sisters are now held at the Yueyang City No.2 Detention Center. The police also indicated that they are planning to submit the sisters' cases to the procuratorate and pursue prison sentences against them.
Prior to the arrests, Ms. Xu Genyuan, 57, has been repeatedly arrested and jailed. She was sentenced twice to a total of ten years. She developed a heart condition as a result of the relentless torture and was once forced to sign a statement to renounce Falun Gong against her will.
Since 2000, the authorities began to monitor Ms. Xu and her husband Mr. Liu Zuwang, also a Falun Gong practitioner. Later in the year, both of them were arrested. Mr. Liu was held at the Yueyang City Detention Center for four months and Ms. Xu was sentenced to one year at the Hunan Women's Prison. As the authorities continued to harass her after she was released, she was forced to live away from home for eight years.
Ms. Xu was arrested again on June 7, 2009, after Su Wenjian, the deputy director of Yueyang City Domestic Security Office, ordered the local police to stay on four major highways for five days on the lookout for her. For the next three days, she was interrogated non-stop. The police didn't allow her to sleep, but verbally abused and tortured her, when she refused to answer their questions.
Fu Wei, Tang Jianmin, Chen Xingguo and Zeng Zhefu of the Lou District Domestic Security Office slapped her in the face and hit her on the chest and head. Several of them pushed her to sit on the ground and stepped on her feet. Then they handcuffed her behind her back and pulled her arms all the way up. To keep her arms up without falling down, they found a high-back chair, inserted the back of the chair into the cavity formed by her arms, and then placed some hard objects on the chair (see illustration below). In the meantime, they continued to step on her feet, prick her waist with needles and burn her body with cigarette butts.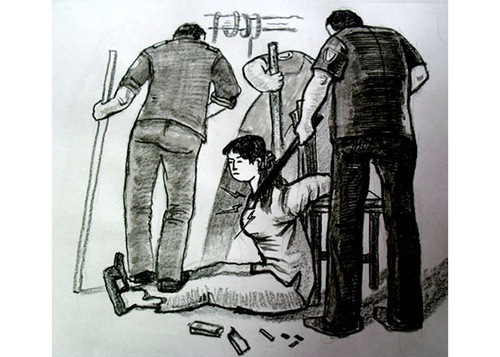 Torture illustration: cuffed behind her back and feet stomped
When Ms. Xu couldn't bear the pain and fell on the ground, the police grabbed her hair and pulled her up to continue the torture. After the officers became tired themselves, they forced Ms. Xu to kneel on a broomstick facing a wall and then pulled her legs apart. When she couldn't continue holding the posture due to physical exhaustion, the police kicked her.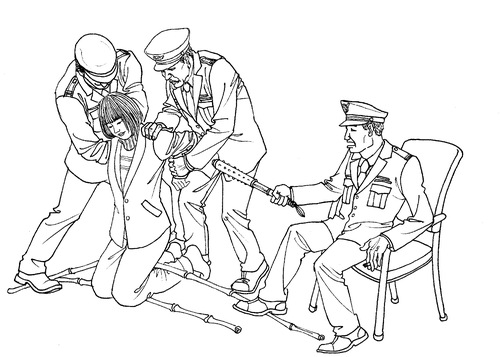 Torture illustration: kneel on a stick
The torture caused excruciating pain to Ms. Xu. Her clothes were soaked with sweat. She didn't have the strength to keep her eyes open. Even years after the torture, she still suffers from constant headaches, dizziness, vomiting, hair loss, memory loss, and lack of concentration.
When Ms. Xu stood trial five months later on October 15, 2009, at the Lou District Court, she showed the judge the scars left by burning cigarettes, marks from being handcuffed and needle-sticks on her legs, arms and hands, and her head with most of her hair torn out by prison guards. The judge didn't say a word about her injuries, but sentenced her to nine years at the Hunan Province Women's Prison.
Ms. Xu's father in his 80s, her husband, and sister went to the prison to visit her, only to be rejected by the guards, who claimed that as long as she didn't renounce Falun Gong, she wouldn't be granted any visitation.
Ms. Xu's son and other family members made another attempt to visit her on August 19, 2011, but still weren't allowed. The guards repeated that there was no way for them to see Ms. Xu if she didn't renounce Falun Gong. They also blamed the family for sending clothes to her that looked like the sets for her to do the Falun Gong exercises.
After Ms. Xu was released in 2017, the local police and residential committee staff members kept harassing her and ordered her not to go out to distribute information about Falun Gong. 
The chief of Luowang Police Station and another officer harassed Ms. Xu at home on October 13, 2018, and videotaped her with a cellphone.
Perpetrators' contact information:
Fang Yu (方宇), of Yueyanglou District Political and Legal Affairs Committee: +86-13908405838, +86-730-8245348Liu Xuenong (刘学农), of Yueyanglou Domestic Security Division: +86-13975020007Ren Bing (任兵), of Luowang Police Station: +86-15200313000
(More perpetrators' contact information is available in the original Chinese article.)
Related reports:
"Our Society Benefits from Falun Gong" - Attorneys Defend Practitioners in China
Practitioners Xu Genyuan, Huang Youjun, and Xue Li from Yueyang Illegally Sentenced
All articles, graphics, and content published on Minghui.org are copyrighted. Non-commercial reproduction is allowed but requires attribution with the article title and a link to the original article.
Category: Accounts of Persecution