Frankfurt, Germany: Parade Protests the Chinese Communist Regime's Persecution of Falun Gong
Aug. 12, 2021 | By Minghui correspondents in Germany
(Minghui.org) European Falun Gong practitioners gathered in Frankfurt, Germany, on August 7 to hold a parade to condemn the Chinese Communist Party's (CCP) 22-year-long persecution.
The Tian Guo Marching Band led the parade, followed by practitioners holding banners with information about Falun Gong and the CCP's persecution. Women practitioners dressed in white held portraits of fellow practitioners who were tortured to death by the CCP in the persecution. The waist drum team was at the end of the procession.
The practitioners also set up a stand in the center of town to introduce Falun Gong and raise awareness of the persecution. The band and waist drum team performed at the venue, and elected officials sent letters of support.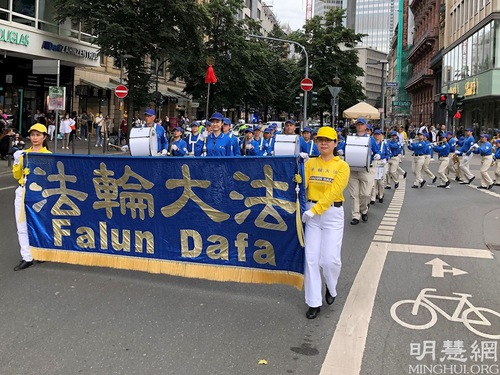 The Tian Guo Marching Band plays in downtown Frankfurt.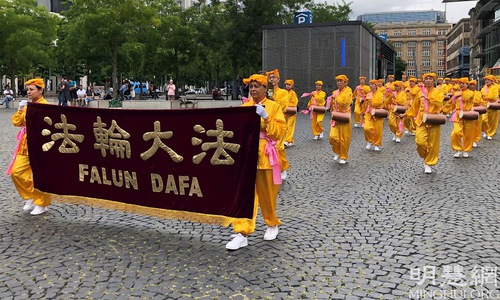 The waist drum team in the parade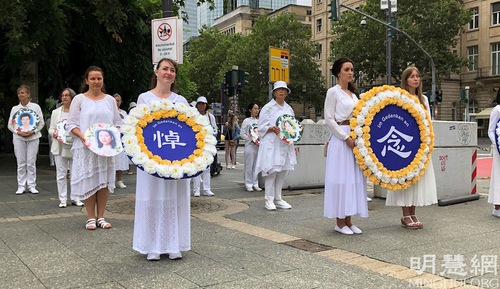 Practitioners in white hold portraits of fellow practitioners who were tortured to death.
A practitioner representative speaks.
There were many people in town as the weather was nice, and most of the shops had reopened. Many people took photos of the parade. A local resident said to a practitioner, "I did not know that you had such a big band. Wonderful!"
Some people read the information on the banners, while others asked for more information and signed the petition to protest the persecution. A tourist from Italy said, "Well done. I believe you will succeed."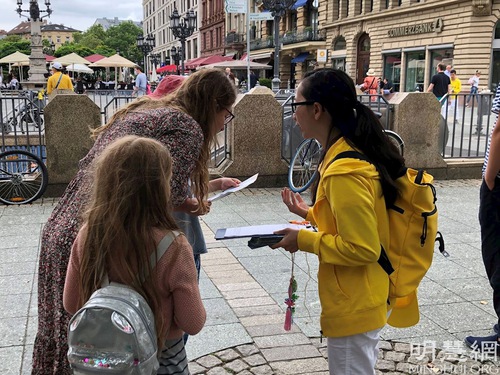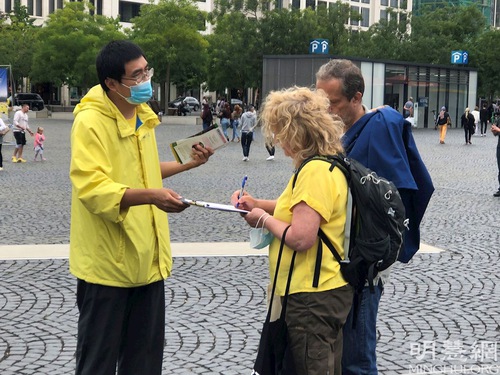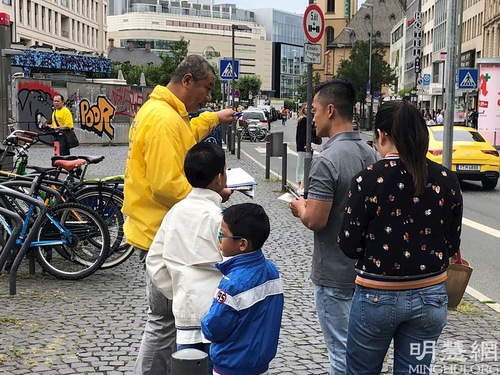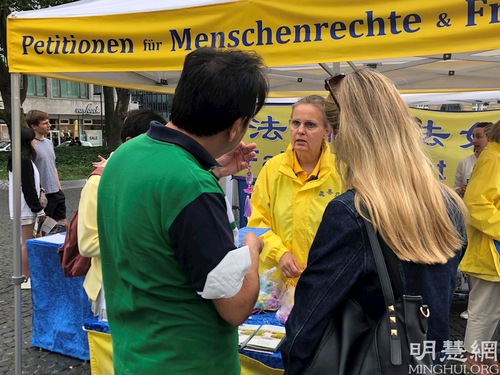 People listen to practitioners explain and then sign the petition calling for an end to the persecution.
Member of the Federal Parliament: Stop the 22-Year-Long Persecution
Ulli Nissen, Member of the Federal Parliament, and Oliver Stirboeck, Member of the Hessen State Parliament, sent letters to express their support for the event.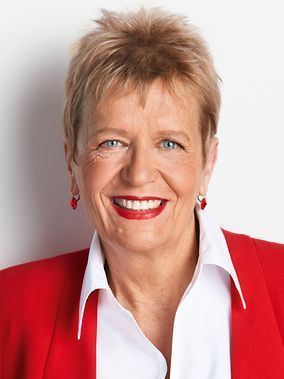 Ulli Nissen, Member of the Federal Parliament
Nissen commended the practitioners for persevering for 22 years despite the persecution, "I deeply admire your courage and have insisted on keeping people concerned about China's human rights conditions and serious human rights violations (crimes) for so many years. Political persecution is inhumane and must end. Therefore, I am happy that many people gathered in Frankfurt today to let people pay attention, denounce this persecution, and clarify the truth about Falun Gong."
She believed that the persecution of Falun Gong practitioners should be stopped: "Falun Gong is based on Truthfulness, Compassion, and Forbearance. I can't understand how the Chinese authorities can stubbornly persecute and suppress this group of practitioners. This (persecution) ) should not appear in a modern and progressive world—22 years of persecution should end!
"As always, I will work with you to fight the persecution." Nissen wrote that, although she regretted that she could not participate in the event in person, she expressed "her solidarity with and appreciation for Falun Gong practitioners and wished the event success."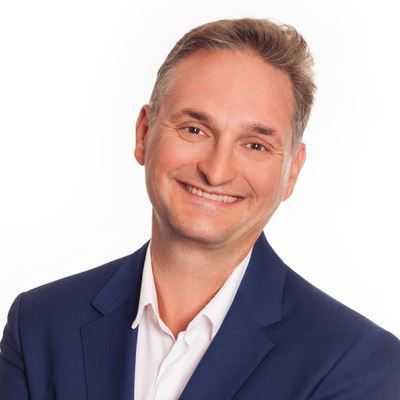 Oliver Stirboeck, Member of the Hessen State Parliament
Oliver Stirboeck, Member of the Hessen State Parliament, wrote that to remain silent on China's (CCP) repressive machinery, ignore torture and kidnapping, and continue to provide economic development assistance to China (CPC), "is not only shameful, it ultimately endangers our own freedom."
He wrote: "Under the framework of the European Magnitsky Act, the European Commission and the German government must finally take action to confront the CCP and hold its members personally responsible." He also wished the practitioners' activity success.
Chinese Student: I Feel Proud When I See the Tian Guo Marching Band
A girl not yet 20 surnamed Huang was originally from China. She was drawn to the event and stayed for nearly two hours. When she left China seven or eight years ago, she was still very young and had never heard of Falun Gong. She and a friend just happened to be visiting Frankfurt that day.
She said, "My friend saw the Falun Gong banner and said to me, 'Look, it's in Chinese.' So she pulled me over.
"I feel very proud to see so many Chinese and Westerners in such a big band parading through the streets." Huang said there were other parades in Frankfurt that day but, "I think the Falun Gong parade is obviously very peaceful in comparison."
Huang gained some understanding of Falun Gong and said, "I think this is a very good practice—good for both body and mind. I want to practice, too."
Talking about the CCP, Huang said, "One of my aunts can get around the Internet censorship. She often read information on foreign websites and let me see it. So I knew that the CCP was very bad when I was in China."
A Chinese Student Renounces the CCP
A young Chinese student talked with a practitioner for more than half an hour. He said that when the persecution began in 1999, he was still very young, but he remembered that there were many negative reports about Falun Gong on TV at that time. He didn't believe them because, due to the influence of his family, he knew that the Communist Party was bad. But he didn't know anything about Falun Gong.
After leaving the country, he had seen information about the CCP's live organ harvesting many times, but he was still not sure: "I couldn't believe it. How could there be such a thing?" When the practitioner showed him the investigation report by a human rights lawyer, he finally understood that what Falun Gong practitioners said was true.
He renounced the Chinese Communist Party's (CCP) Youth League and Young Pioneers. He said he would talk to his father and ask him to quit the Party.
Public Support for Falun Gong
A woman in her 60s wanted to learn about the persecution of Falun Gong. She said, "I came here as soon as I saw the banners about the communist party and live organ harvesting. I come from the former East Germany and I know how much pressure and harm such a political system can cause people."
A Greek national wants to learn more about Falun Gong.
An elderly man from Greece read the display board about Falun Gong very carefully. He said, "People nowadays are in a hurry every day and put a lot of pressure on themselves just to make a little money. I still remember that people were not like this when I was young."
He pointed to the introduction of the five exercises on the flier and said, "This is what people need. People need to calm down and achieve inner peace." Before he left, he looked for a quiet place and carefully read the introduction to Falun Gong.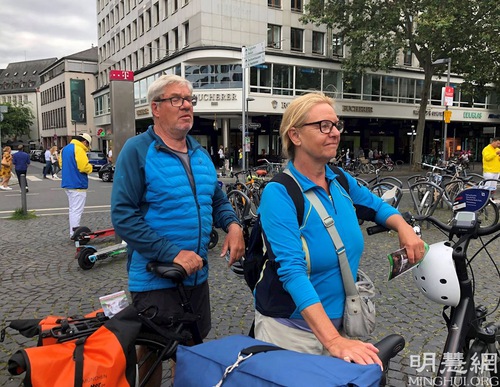 Martina and Gerd signed the petition protesting the persecution.
When Martina and Gerd showed up in time to hear the band perform. They then signed the petition calling for an end to the persecution. One said, "We think it is very good to expose the true face of the CCP regime here. We are very happy to see that people can talk about these topics prohibited by the CCP in Germany."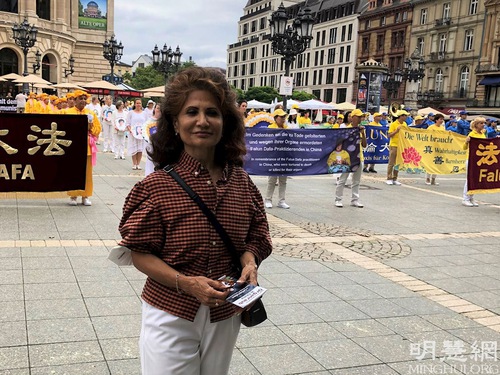 A woman from Pakistan
When a Falun Gong practitioner gave a speech, a woman from Pakistan exclaimed, "That's how it should be—to expose the truth that these dictatorships want to hide." She also thanked the practitioners many times: "If you don't talk about the persecution, we won't know there is still such an inhumane thing happening in the world. You must continue."
Oliver works in a bank and his hobby is photography. He pointed to the banner "The Communism Specter Is Ruling the World" and said, "I saw this banner when I was watching your performance in front of the opera house. So I went home and got my camera so I could take photos of these banners."
Regarding the CCP's persecution of Falun Gong, he said, "This is communism. When power is concentrated in a small group of people, they take away freedom of speech from people not part of the clique. How terrible is that? It can happen."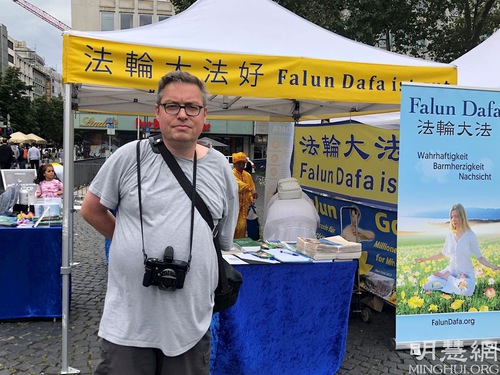 Oliver takes photos of the banners at the event.
All articles, graphics, and content published on Minghui.org are copyrighted. Non-commercial reproduction is allowed but requires attribution with the article title and a link to the original article.
Category: Rallies & Protests