Netherlands: Activities Protest the Chinese Communist Regime's 22-Year-Long Persecution
(Minghui.org) Falun Gong practitioners held a rally in Amsterdam and the Hague, Netherlands on July 17 and 20, 2021, respectively, to condemn the Chinese Communist Party's (CCP) 22-year-long persecution. They also called for the immediate release of prisoners of conscience. 
The CCP initiated the persecution of Falun Gong on July 20, 1999. Since then, Falun Gong practitioners across the world have conducted peaceful protests to resist the persecution. They hold rallies, marches, and candlelight vigils around July 20 to condemn the brutalities and call for an end to it. 
An Event in the Capital, TV Reporter Supports
Falun Gong practitioners held a rally on Dam Square in downtown Amsterdam, the capital city, on July 17. 
Practitioners set up large banners and display boards on site. Several dozen practitioners demonstrated the exercises together to the exercise music. Many tourists watched the event.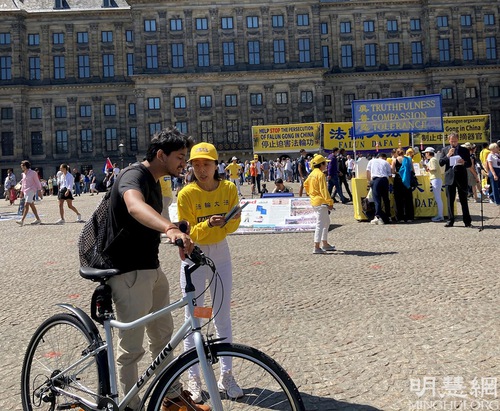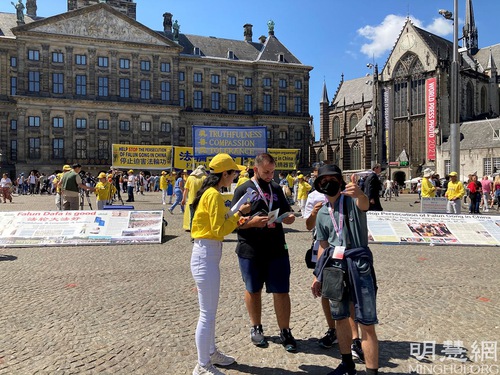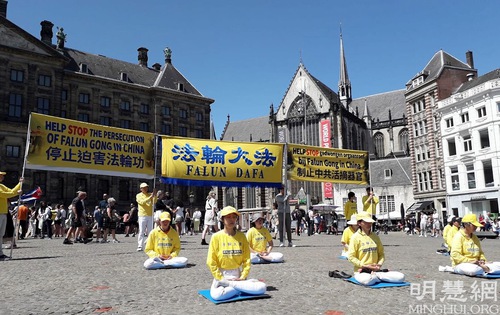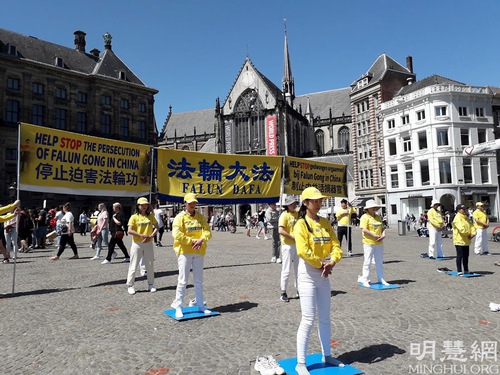 Falun Gong practitioners hold an event protesting the persecution on Dam square in downtown Amsterdam.
Several practitioners distributed fliers to passersby. Some practitioners spoke to people about Falun Gong and the persecution. Many passersby signed the petition calling to stop the CCP's state-sanctioned live organ harvesting. 
A reporter from SaltoTV accepted a Falun Dafa leaflet and recorded a group of Falun Gong practitioners doing the exercises together. The reporter also interviewed a Falun Gong practitioner. After learning more about the practice, he recorded more footage of the exercise demonstration.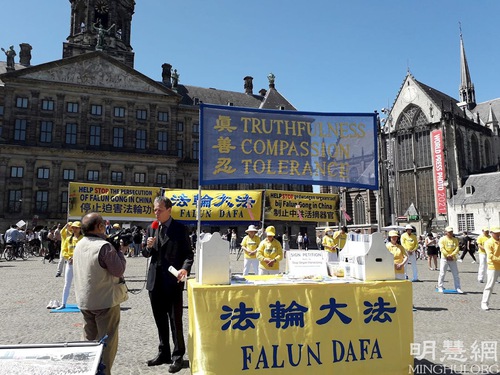 A reporter from Salto TV interviews a Falun Gong practitioner
The reporter later said he was from Suriname. "I've heard of Falun Gong before, but I don't know what Falun Gong is. Today I know more about you. The reason I'm recording here is to make more people know and show people what you are doing and what your purpose is. This is very important. I think the media pays little attention to you, so I want to spread your activities," he said.
He said his TV station was started in Amsterdam and surrounding areas. "Our recorded programs will also be broadcast in Suriname. There are many Chinese people living there. I want to make a contribution for you so that more Chinese people can understand your situation. You are admirable to stand up for justice and sincerity," he said.
Rally in Front of the Chinese Embassy in the Hague 
Falun Gong practitioners held a protest in front of the Chinese Embassy in the Hague. They called for an immediate end to the persecution and advised the embassy staffers to renounce their CCP memberships for a better future. 
More than a dozen Chinese people were lined up for visas and other business at the front entrance to the embassy. Several practitioners clarified the truth to them and exposed the CCP's crimes with loudspeakers.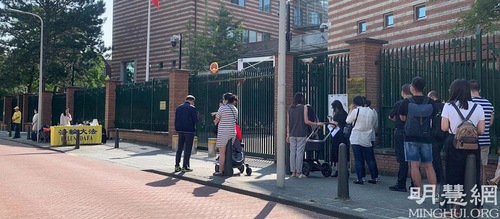 Practitioners clarify the truth to people waiting to enter the Chinese Embassy in the Hague on July 20, 2021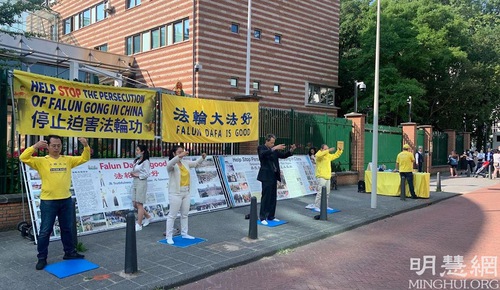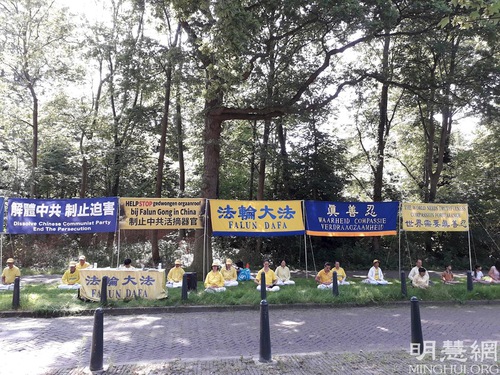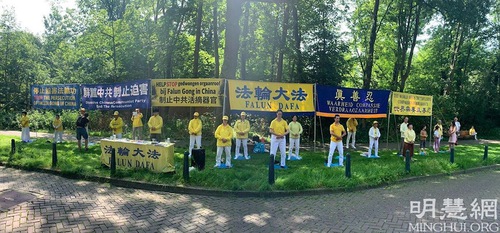 Practitioners practice the exercises together outside the Chinese Embassy in the Hague on July 20, 2021
The Hague is the seat of the Dutch Parliament and the Dutch Government. Falun Gong practitioners often go to the Dutch Parliament to clarify the truth and let parliament members recognize the nature of the CCP. Most parliament members have learned about the CCP's persecution of Falun Gong and its organ harvesting from practitioners. To date, seven Dutch dignitaries have jointly signed a joint statement to condemn the CCP's long-term persecution of Falun Gong.
Rally in the Hague
The practitioners went to the downtown business center in the Hague on the afternoon of July 20, 2021. They clarified the truth, exposed the CCP's crime of live organ harvesting, and collected signatures on a petition. Many people supported their efforts.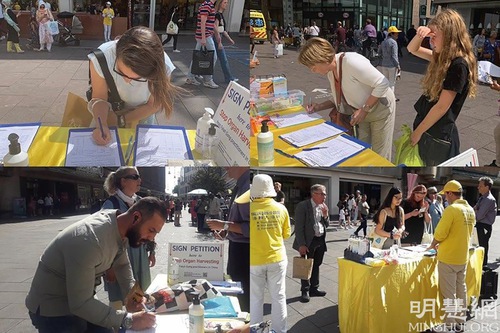 Activities in the Hague's central business district on July 20
A Chinese man named Mr. Lin told a Falun Gong practitioner that he had lived in the Netherlands for more than two years. 
"I came here because I don't like China," he said. "When I was in college in China, I got around the firewall every day through DynaWeb and learned a lot of the truth. I also quit the CCP organizations early through DynaWeb. I don't sing the national anthem. I know that it's all fake. I also know that the CCP staged the Tiananmen self-immolation to frame Falun Gong."
"Although I don't know much about Falun Gong, it is good that Falun Gong believes in Truthfulness-Compassion-Forbearance and does not infringe on others' freedom. China lacks belief. Without belief, there is no bottom line, causing the Chinese people to do all kinds of bad things. If China is to be truly strong, it must have faith. Without faith, there is no future," Mr. Lin said.
A 13-year-old boy named Long said that he had heard of Falun Gong before, but he was not very clear about what it is. 
"They told me just now that people who practice this kind of exercise in China are arrested. I think they are very wrong. I didn't know much when I was in China, but I know a lot after coming abroad, like the CCP lied and killed a lot of Chinese people. I learned about it from the Internet. Now I can visit Youtube and Twitter whenever I wish," he said.
After hearing about the persecution of Falun Gong, Ms. Anne solemnly signed the petition. "I've heard about the harvesting of organs from Falun Gong practitioners before," she said. "This is a crime against humanity. I don't like it. Those perpetrators don't have a conscience." 
"A person with a conscience couldn't do this kind of thing," she said. "You collect signatures. It's very good to do this. The truth about live organ harvesting is spreading more and more. More people know the truth. The more its exposed, the harder it is for them [the CCP] to continue to do this."
Ms. Rafna saw several Falun Gong practitioners doing the exercise demonstration and said: "Your exercise method looks very peaceful." A Falun Gong practitioner explained to her that Falun Gong was persecuted in China and practitioners were even subjected to organ harvesting. 
Rafner was appalled when she heard this. "I really didn't expect it. It's bad. I really don't think it is possible. How can you [the CCP] do this to people? I really have nothing to say," she said.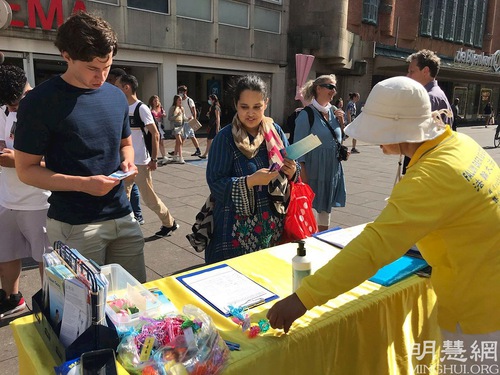 Rafna (middle)
Ms. Elesia is from Ukraine and has been living in the Netherlands for three years. She also signed the petition. "I have heard a lot about what the Chinese government does to people," she said. "The terrible thing is that people try to exercise but are put in prison or even killed by the government. This should not be the case."
When she learned that Falun Gong is a practice that believes in the principles of Truthfulness-Compassion-Forbearance, she said: "[Truthfulness-Compassion-Forbearance] This is a good thing like peace, which can bring peace to the world. It's very good to do good and does not harm people, and we should all be like this."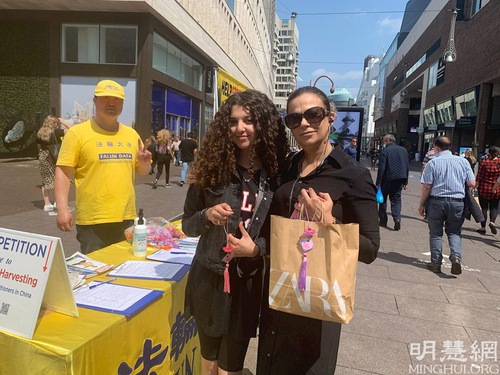 Elesia (right) from Ukraine 
A Vietnamese man named Son said: "This persecution of Falun Gong is a very bad thing. Falun Dafa is good, and everyone should know that. Please support Falun Gong and oppose the Communist Party. The Communist Party is too bad. All should try to fight back. In this 21st century, people must have freedom. The Communist Party must go," he said.
All articles, graphics, and content published on Minghui.org are copyrighted. Non-commercial reproduction is allowed but requires attribution with the article title and a link to the original article.
Category: July 20 Events