Copenhagen, Denmark: Series of Activities Call for an End to the Persecution of Falun Gong
July 27, 2021 | By Shu Hui, Minghui correspondent in Denmark
(Minghui.org) Falun Gong practitioners of Denmark held activities between July 18 and 20 in Copenhagen, condemning the Chinese Communist Party's (CCP) 22-year-long persecution of Falun Gong. Based on incomplete statistics, more than 100,000 Falun Gong practitioners have been detained or jailed, and there have been 4,536 verified cases of practitioners having died due to torture since July 1999.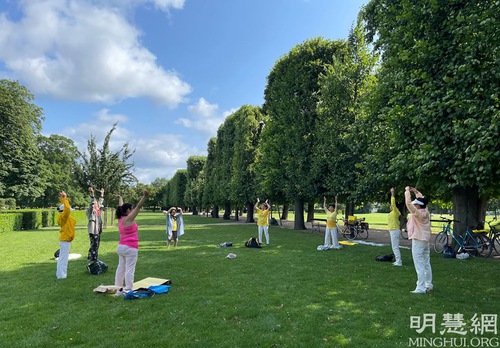 Doing the Dafa exercises at Kongens Have (the Kings Garden) on July 18, 2021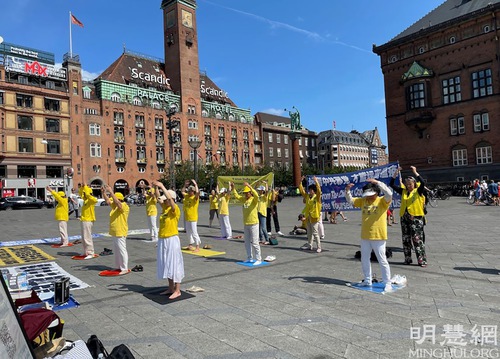 Falun Gong exercise demonstration and a protest of the persecution of Falun Gong in China at City Hall Square (Rådhuspladsen) on the afternoon of July 18, 2021.
A passerby signed a petition to stop the persecution
The Persecution Has Lasted for 22 Years
The newly repaired city hall square is clean and looks nice. Falun Gong practitioners protested the persecution in China on the afternoon of July 18, 2021.
The host told passersby that the persecution has continued for 22 years and is ongoing. A middle-aged man from Pakistan listened and then read the display boards. Afterwards, he signed a petition to stop the persecution and commented, "Falun Gong practitioners are persecuted, and some even have their vital organs removed. It is too cruel and a violation of human rights How can this crime last 22 years? I must tell all my friends and relatives to sign and support you!"
Seeing selfishness, fear, and desperation during the Covid virus pandemic since the beginning of 2020, the man said he couldn't understand the meaning of life anymore. A practitioner shared with him that Falun Gong (also known as Falun Dafa) practitioners follow Truthfulness-Compassion-Forbearance, which can bring peace to one's heart and help people find their true self. The man immediately took out his mobile phone and opened the website for Falun Dafa. "Great!" he said as he read, and his expression gradually changed until he appeared relaxed and delighted.
A college student, a physics major, wanted to learn Falun Gong. She took a flier and talked to a practitioner. "Seeing that Falun Gong practitioners are so peaceful and their movements are so beautiful, I also want to try it. Falun Gong is being persecuted in China, which is really incomprehensible. Many bad things have happened in this world."
A woman visiting Copenhagen was very interested in the healing effects of Falun Gong. She told a practitioner that she had experienced anxiety and stress recently.
The practitioner told her that she was a serious and responsible person at work and easily feels pressure, too. After doing the exercises, she feels physically and mentally relaxed and is filled with energy to do her job. Moreover, Falun Gong teaches people to cultivate their hearts to be kind and helps people to be calm and optimistic and have fewer worries.
The woman was very happy and said she would contact the Falun Gong teaching site in her city.
"Truthfulness-Compassion-Forbearance guides me to find inner peace"
Simone has practiced Falun Gong for two months. She passed by when Falun Gong practitioners were celebrating World Falun Dafa Day on May 13, and a strong energy field caught her attention.
She asked many questions about the practice and decided to learn it. She read the books written by the founder of the practice and joined the group practice on the weekends. Within two months, she experienced many changes both in mind and body.
"Sometimes I felt uncomfortable at work, but after going home and doing the exercises, I immediately feel relieved. Truthfulness-Compassion-Forbearance guided me to find inner peace," she said. She is very happy that she finally found Falun Gong after many years of searching for a cultivation practice.
Simone and other practitioners demonstrated the Dafa exercises at City Hall Square. "This is a very important thing to participate in today's event, opposing the CCP's persecution of Falun Gong, and telling many people about it. I am not afraid at all. Many Falun Gong practitioners are persecuted in China, and Falun Gong is good. Yes, I ought to stand up. I will also participate in the protest in front of the Chinese Embassy on July 20."
Rally in front of the Chinese Embassy to protest the persecution
Falun Gong practitioners protested in front of the Chinese Embassy on the morning of July 20 for the 22-year-long persecution of Falun Gong.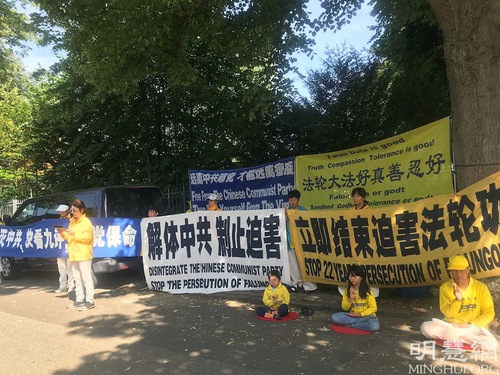 Protesting CCP atrocities
Falun Gong practitioner Chen Man was imprisoned for seven years for her belief. Speaking in front of the Chinese Embassy, she said, "As an official of the communist government, you can't say that the persecution of Falun Gong practitioners has nothing to do with you. Perhaps you did not directly participate in force-feeding, beating, and even killing, but being a government official who appears on the territory of another country on behalf of the regime, your official status has determined that all of this has everything to do with you."
Practitioner Bao Xuezhen was imprisoned for three-and-a-half years in China for her belief.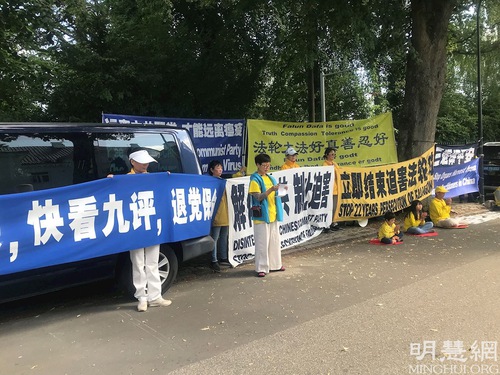 Torture and death in China
Practitioner Wei Zaiqun said that her older sister, brother-in-law, and younger sister were imprisoned for practicing Falun Gong, and her brother-in-law died due to the persecution. Her older sister is still in a prison in China.
Practitioners also urged the CCP officials to quit the Party online, and choose a better future for themselves.
All articles, graphics, and content published on Minghui.org are copyrighted. Non-commercial reproduction is allowed but requires attribution with the article title and a link to the original article.
Category: July 20 Events