Indonesia: District Council Members Join Practitioners' Heartfelt Call to End the 22-Year Persecution in China
July 25, 2021 | By a Falun Dafa practitioner in Indonesia
(Minghui.org) On July 20, 1999, the Chinese Communist Party (CCP) started a large-scale persecution of Falun Dafa practitioners. Former Party leader Jiang Zemin claimed that he would eliminate Falun Dafa (also known as Falun Gong) within three months. Twenty-two years later, more and more people in over a hundred countries are practicing Falun Dafa, including in Indonesia.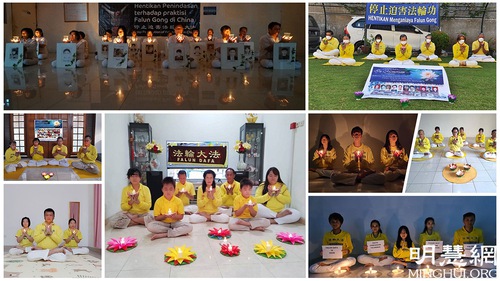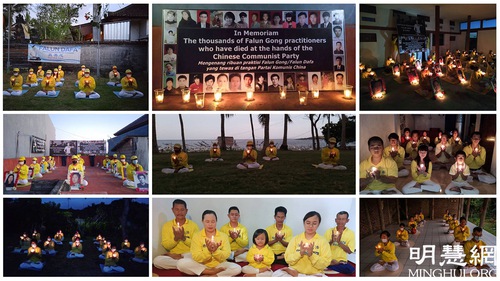 Practitioners held activities in different parts of Indonesia to express their heartfelt wish for the persecution in China to end.
Due to the global pandemic, entire cities in Indonesia, especially on the islands of Java and Bali, are locked down with no gatherings or parades allowed. Nevertheless ,Falun Dafa practitioners across Indonesia expressed their support to their fellow practitioners in China. They hope that more people will learn about the CCP's cruel persecution and join their efforts to stop the persecution.
Mr. Gatot Machali, coordinator for the Indonesia Falun Dafa Association, said, "The CCP persecutes Falun Dafa and attacks people who follow the principles of 'Truthfulness, Compassion and Forbearance' to become altruistic people. These principles are completely opposite to the 'Fake, Evil and Fight' philosophy that the CCP keeps promoting."
"Truthfulness, Compassion and Forbearance are universal values and are the fundamental moral values of civilization, mankind and society. Everyone needs Truthfulness, Compassion and Forbearance in their hearts. If human beings lose these fundamental moral values, mankind will face many disasters that are brought about by their unrestrained behavior. One example is the pandemic that is affecting the entire world today—this is a result of the CCP regime's covering up the truth when the virus first started to spread in Wuhan," Mr. Gatot said.
The appeal to end the persecution came from not only practitioners; more voices are being heard from people of different backgrounds. They all expressed their support for practitioners' peaceful efforts to stop the CCP's criminal acts against humankind.
District Council Members Call on the CCP to End the Persecution
Four district council members from Bali, H. Sajudin, I Ketut Wijaya, I Ketut Catur and I Komang Dekritasa, said they "call on the CCP to immediately stop the persecution of Falun Dafa and release the cultivators who are being illegally detained for upholding their belief."
At the same time, some local business leaders also voiced their support for practitioners' efforts to counter the persecution. They include Edy, owner of the Batam bread and coffee shop, as well as professionals Aries Kwek and Agung.
Practitioner Karulin said, "The CCP has committed criminal acts against humankind that exceeds the bottom line of the human race's moral values and sanity. Persecuting people who want to be good is the most immoral act that the violent CCP regime has done."
Rudy, a practitioner from Batam, said, "If every member of society can support and let their righteous voices for Falun Dafa be heard, that will be the sound of hope during this pandemic period."
All articles, graphics, and content published on Minghui.org are copyrighted. Non-commercial reproduction is allowed but requires attribution with the article title and a link to the original article.
Category: July 20 Events