(Minghui.org) David Matas, a Canadian human rights lawyer, received numerous threats after he started to expose forced organ harvesting by the Chinese Communist Party (CCP). One such incident occurred at the host's office in Brisbane, Australia, on October 29, 2010. An airgun projectile was fired from a passing car, damaging the window glass. Fortunately no one was hurt.
"I would say that there is a pattern of intimidation, but it doesn't normally descend to the level of shots," recalled Matas.
Another incident occurred at the event venue, also in Brisbane, when he received a phone call from a CCP Internet police officer.
"What you are doing now has put your life in danger," said the officer, "Aren't you afraid?"
If the officer did not like the speech, he should go ahead and stop the organ harvesting in China, instead of murdering the messengers, replied Matas.
He was threatened after launching the efforts in 2006 to expose the CCP's crime of organ harvesting from living Falun Gong practitioners. After all, if it was not real, why was the CCP panicking trying to keep him silent?
After Initial Exposure
Annie, a former employee of a hospital in Shenyang City, Liaoning Province, exposed in April 2006 that her ex-husband had taken corneas from about 2,000 Falun Gong practitioners.
Since then, over 2,000 phone call recordings and testimonies from witnesses have confirmed that forced organ harvesting was ordered by Jiang Zemin, the former CCP leader who launched the persecution of Falun Gong.
Managed by the CCP government and military, the forced organ harvesting has become a secret, vicious killing supply chain, with participation by prisons, courts, and hospitals.
David Kilgour, former Canadian Secretary of State (Asia Pacific), also worked with Matas to uncover this crime. They noted that a large number of detained Falun Gong practitioners had experienced sudden, thorough physical examinations, and then killed, with their bodies often missing organs.
Kilgour and Matas interviewed many foreign patients who had undergone organ transplantation in China, and their findings were also shocking. In Western countries where established organ donation systems are in place, one usually must wait one year or longer for a matching organ. In China, where organ donation is very rare due to cultural reasons, however, the waiting period is less than one month, and sometimes less than one week. This can only be explained by a large organ supply bank to support quick matching.
Another item of evidence came from the sudden increase of organ transplantation in China after the CCP began to suppress Falun Gong in 1999. With few organ donations and unchanged (or even decreased) numbers of executed prisoners, it was hard to imagine the exponential growth in organ transplants. In fact, about 41,500 organs transplanted between 2000 and 2005 had unknown sources.
After initially publishing the investigation results in July 2006, Matas and Kilgour concluded that innocent Falun Gong practitioners were being murdered for their organs. They also referred to the organ harvesting crime as a "new form of evil on this planet." They published the results in 2009 in a book titled Bloody Harvest: Organ Harvesting of Falun Gong Practitioners in China.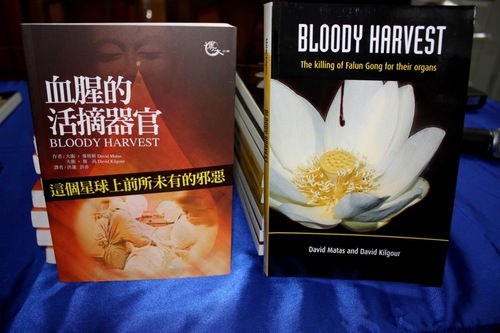 Bloody Harvest: Organ Harvesting of Falun Gong Practitioners in China by David Matas and David Kilgour
Judgment from China Tribunal
An independent people's tribunal in London was established to inquire into forced organ harvesting from prisoners of conscience in China. Led by Sir Geoffrey Nice QC, who was a prosecutor at the international criminal tribunal for the former Yugoslavia, the China Tribunal announced its findings on June 17, 2019. The panel concluded that the CCP has been harvesting organs from living Falun Gong practitioners in China for many years, and that this brutality still continues.
The China Tribunal released its 160-page final judgment on March 1, 2020, with 300-pages of witness testimonies. Since the judgment was announced, no one has questioned the detailed evidence.
Sir Nice said that the China Tribunal's judgment was reached entirely based on testimonies provided by witnesses, nothing else. Although Matas, Kilgour and others including Ethan Gutmann have provided solid conclusions regarding the CCP's organ harvesting, the China Tribunal reached its own conclusion independently.
The Tribunal held five days of hearings in 2018 and 2019, calling 55 witnesses to testify, including Mr. Liu Wenyu and Ms. Jiang Li. Mr. Liu, who graduated from renowned Tsinghua University, was arrested numerous times for his belief in Falun Gong. During his detention between 2002 and 2003, he and over 40 other detained practitioners were forced to give blood samples, while no regular inmates had this requirement.
Ms. Jiang is from Chongqing City. Her father Mr. Jiang Xiqing suddenly died in a forced labor camp in 2009. His body was still warm while being kept in a freezer inside a funeral parlor, but police cremated his body soon afterwards, despite his family's refusal to sign a consent form. The police offered 300,000 yuan to the family to keep them silent and stop pursuing this case. Two months later, an officer from the Chongqing Procuratorate told the family that all of Mr. Jiang's internal organs had been removed as "specimens." Ms. Jiang kept an audio recording of this conversation and brought it overseas.
Testimony from an Insider
In late December 2020, the World Organization to Investigate the Persecution of Falun Gong (WOIPFG) published a document from a witness with detailed information on the contacts, facility, process, and description of organ harvesting.
The witness provided this information, including a voice recording, to WOIPFG in late 2016. The witness remained anonymous out of safety concerns until December 2020, when he felt compelled to reveal his real name and what he knew about the organ harvesting crime.
The witness, Lu Shuheng, was born in China in 1950. He held a U.S. green card in 2016 and ran a home remodeling business in California. When Lu returned to Shanghai to visit relatives in 2002, his brother's wife's sister Zhou Qing and Zhou's husband asked Lu to help refer U.S. patients to Shanghai for organ transplant surgeries.
Zhou was the director of Obstetrics and Gynecology at Pudong Hospital, and later became president of Wanping Hospital. Zhou's husband, Mao Shuping, was former deputy director of the Shanghai Reform-Through-Labor (laogai) Bureau, and later deputy director of the Shanghai Justice Bureau. He has a close connection with Wu Zhiming, then Party secretary of the Shanghai Political and Legal Affairs Committee (PLAC). Wu is a nephew of Jiang Zemin, former leader of the Chinese Communist Party (CCP) who launched the persecution of Falun Gong in July 1999.
The commission fee for referring an organ transplant patient could be much higher than the profit from remodeling several houses, Mao told Lu in one conversation. When Lu asked what kind of transplant surgeries were involved, Mao replied, "organs such as kidneys, livers, or corneas."
Zhou was an experienced surgeon, testified Lu. But after participating in organ harvesting from Falun Gong practitioners several times, she stopped, as the horrifying scenes often brought her nightmares.
Lu's testimonies also confirmed that the victims, who were tied up when being pushed to operating rooms, were Falun Gong practitioners, and called out, "Falun Dafa is good!" This indicated at least two things. First, that they were detained Falun Gong practitioners, not death-row prisoners as the CCP had claimed were the sources of organs until 2015. Second, they were healthy people with clear minds, not brain-dead donors.
Jiang Zemin became the top CCP leader because of the tough position he took during the Tiananmen Square Massacre in 1989. Similarly, many officials who closely followed his persecution policy against Falun Gong were promoted. Mao was one such example. After gaining trust from Wu, Mao, Jiang's nephew and police chief in Shanghai who led the persecution in the area, learned a lot of inside information and became an accomplice of Jiang and his followers in the organ harvesting crimes.
Story of an Organ Transplant Recipient
A Falun Gong practitioner submitted a story of an organ transplant recipient to the Minghui.org website. This practitioner, who is from Jinan City, Shandong Province, one day met a retired government official who came to Jinan to visit this son. This official just had a heart transplant at Qianfoshan Hospital, which cost over 400,000 yuan. "My health insurance does not cover the surgery," he said to the practitioner.
"Have you heard about live organ harvesting? Like those from Falun Gong practitioners?" the practitioner asked.
The retired official became nervous. After looking around and making sure no one else was around, he lowered his voice and said, "It's a secret. Those people [from the hospital] told my son to never tell anyone about this." Then his tears started to fall. "Had I known this earlier, I would not have had such a sinful operation even if I had to die!" he cried out.
The practitioner told him about Falun Gong, and how the Chinese Communist Party had harmed Chinese people during numerous political campaigns. He also talked about organ harvesting from Falun Gong practitioners in many hospitals. "I already knew the Party was no good, but did not know it was so evil. That is horrible!" the old man said. He then quit all the CCP organizations.
Legislation to Stop Organ Harvesting
Tom Cotton, Republican U.S. Senator from Arkansas, announced on December 16 last year that he and two Congress members, Congressmen Chris Smith (R-New Jersey) and Tom Suozzi (D-New York), had introduced a bipartisan bill to curb forced organ harvesting in China.
Known as the Stop Forced Organ Harvesting Act, this legislation "aims to prevent the Chinese Communist Party from harvesting organs from prisoners of conscience," explained Cotton in a press release on the Senate website, "According to an international tribunal in London, Chinese doctors harvest organs from detainees in Chinese prison camps—sometimes while patients are still alive—for sale in a market worth $1 billion a year."
This is the latest bill introduced to address organ harvesting from living Falun Gong practitioners in China since House Resolution 343 was passed in June 2016. Initiated by representatives Ileana Ros-Lehtinen (R-FL), chairman of the Subcommittee on the Middle East and North Africa, and Rep. Gerald Connolly (D-VA), as well as six other members of Congress, H.Res. 343 garnered strong bipartisan support with 185 co-sponsors.
Entitled "Expressing concern regarding persistent and credible reports of systematic, state-sanctioned organ harvesting from non-consenting prisoners of conscience in the People's Republic of China, including from large numbers of Falun Gong practitioners and members of other religious and ethnic minority groups," the resolution condemned forced organ harvesting in China and called to bring it to an end.
The latest bill introduced by Cotton, Smith, and Suozzi proposed action items to achieve the goal of H.Res. 343. "There is growing evidence that the Chinese Communist Party has and continues to harvest organs from prisoners and members of Chinese religious groups. This bill will identify and punish CCP members involved in forced organ harvesting. It's past time to hold Beijing accountable for these heinous acts," wrote Cotton's announcement.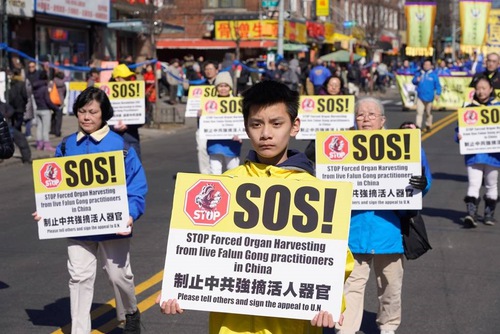 Falun Gong practitioners march to call for an end of the crime of forced organ harvesting.