Orlando, Florida: Congress Members Support Event Protesting Persecution of Falun Gong in China
July 24, 2021 | By a Falun Gong practitioner in Florida
(Minghui.org) Falun Gong practitioners in Florida held a rally in Orlando on July 17 to raise awareness of the persecution in China. Several U.S. Congress members sent letters commending practitioners' perseverance and calling for an end to the brutality.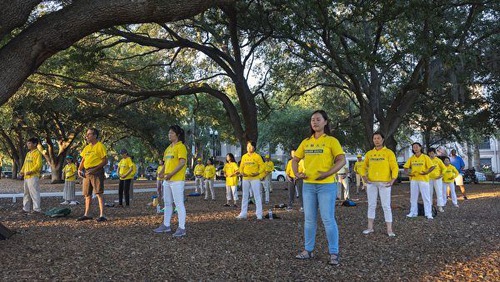 Group exercises during rally in Orlando on July 17
Rubio: Holding the CCP Accountable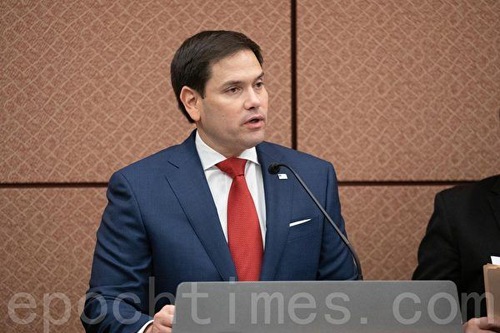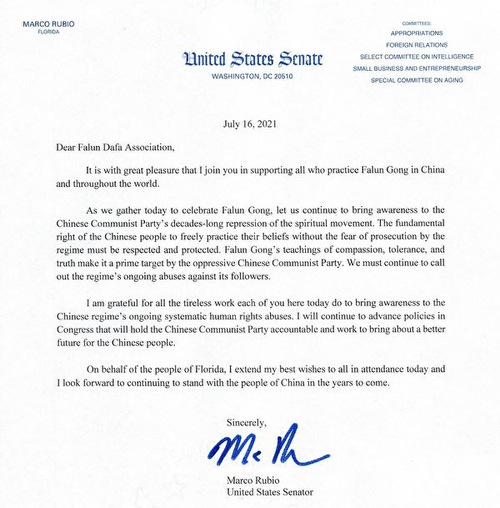 Letter from Senator Marco Rubio 
Senator Marco Rubio, Vice Chairman of the Senate Select Committee on Intelligence and former co-chair of Congressional-Executive Commission on China (CECC), wrote a letter to the event on July 16.
"As we gather today to celebrate Falun Gong, let us continue to bring awareness to the Chinese Communist Party's decades-long repression of the spiritual movement," he wrote, "The fundamental right of the Chinese people to freely practice their beliefs without the fear of persecution by the regime must be respected and protected. Falun Gong's teachings of compassion, tolerance, and truth make it a prime target by the oppressive Chinese Communist Party. We must continue to call out the regime's ongoing abuses against its followers."
"I will continue to advance policies in Congress that will hold the Chinese Communist Party accountable and work to bring about a better future for the Chinese people," he added. "On behalf of the people of Florida, I extend my best wishes to all in attendance today and I look forward to continuing to stand with the people of China in the years to come."
Rescuing Constituent's Father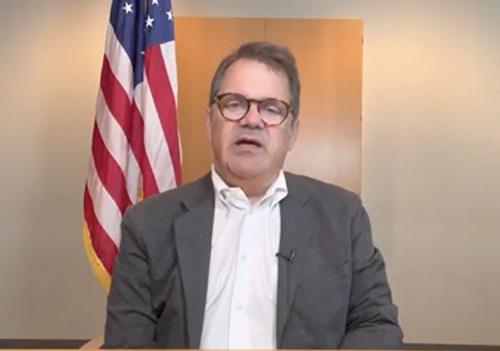 Gus Bilirakis, a member from House of Representatives
Representative Gus Bilirakis is a member of the Tom Lantos Human Rights Commission. In a video message, he supported Falun Gong practitioners' efforts to bring the 22-year-long suppression to an end. 
Mr. Zhou You is Bilirakis's constituent. His father, Mr. Zhou Deyong from Shengli Oil Field in Shandong Province, was arrested by the Chinese Communist Party (CCP) and has been detained since then. In an April 30 letter to Xi Jinping, the CCP's top leader, Bilirakis urged him to release Mr. Zhou. 
In the video message, Bilirakis said he had personally experienced the persecution through Zhou You. Both Zhou's parents are Falun Gong practitioners and police arrested his father at home. Before Bilirakis intervened in this case, Mr. Zhou's family did not know his whereabouts. Several weeks later, the elder Mr. Zhou was finally able to see his lawyer. 
Bilirakis said this is a serious matter. Were Mr. Zhou to be sentenced, he could stay in a prison for many years. This is unacceptable and the U.S. Congress has a responsibility to raise awareness of this. 
The persecution of Falun Gong in China has lasted 22 years since July 1999, said Bilirakis. To expose its seriousness, he planned to initiate a resolution to condemn the CCP's systematic suppression of Falun Gong. In addition, he had submitted a proposal urging actions from the United Nations to remove China from the agency's Security Council. 
In the end, Bilirakis reaffirmed that he would do his best to stop the CCP's brutality against Falun Gong practitioners. 
Candlelight Vigil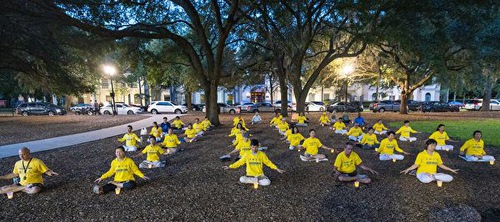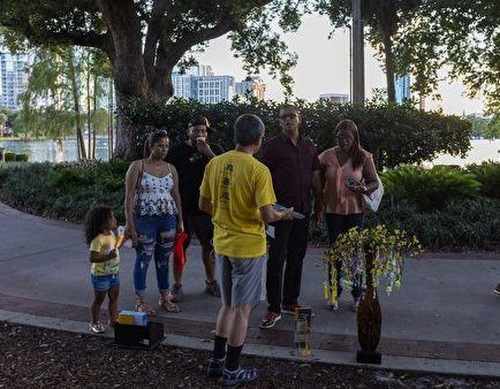 Candlelight vigil at Lake Eola Park
At Lake Eola Park in downtown Orlando, many practitioners took part in group exercises at dusk. Pedestrians stopped to ask question and learn more about what is going on in China. 
Later on, practitioners held a candlelight vigil to mourn the practitioners who had been killed in the persecution. According to Minghui.org, over 4,000 practitioners are confirmed to have died as a result of the persecution. The actual death toll is presumed to be much higher, given the CCP's information control.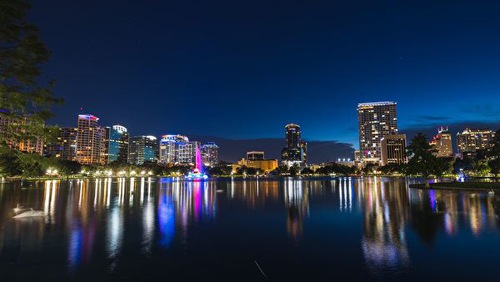 Practitioners often come to Lake Eola Park telling local residents and tourists what Falun Gong is, as well as the persecution in China. 
Detained Practitioner's Family: Being a Good Person Is Not a Crime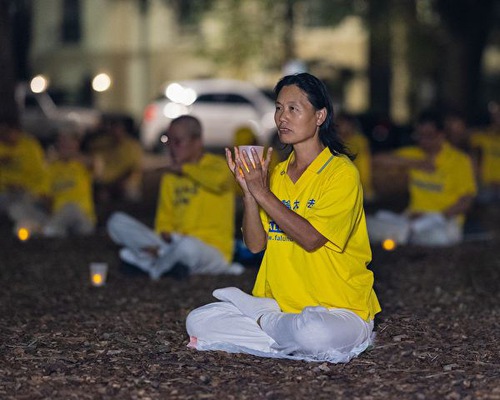 Ms. You Ling, wife of Mr. Zhou Deyong
Among the practitioners at the candlelight vigil was Ms. You Ling, wife of Mr. Zhou Deyong, who is also a Falun Gong practitioner and is currently detained in China. "I am glad to attend an event like this. We have freedom here – totally different from China," she said. 
Because of the CCP's hate propaganda demonizing Falun Gong, most Chinese people were misled and turned hostile towards Falun Gong practitioners. Ms. You joined other practitioners distributing materials to clarify what Falun Gong really is when she was still in China. "Whenever going out doing this, however, I did not know if I could return home safely because lots of practitioners were arrested," she recalled. "And the situation is getting worse – even practitioners who stay at home could be arrested for no reason."
Speaking of Mr. Zhou's arrest, Ms. You was heartbroken. Although she and her son, both residing in the U.S., had been trying many ways to rescue Mr. Zhou, he is still detained. "My husband was also arrested at home. We did not know that until we lost contact with him for one day. We called the local police station and officials did not tell us either," she recalled.
It look a long time for the family to find out Mr. Zhou was held at Niuzhuang Detention Center in Dongying City, Shandong Province. The family hired a lawyer to visit him. So far, neither the lawyer nor Mr. Zhou knew why he was arrested. 
"We Falun Gong practitioners just want to be good citizens following the principles of Truthfulness-Compassion-Forbearance," Ms. You said. "My husband did not violate any law and he should be released."
Stopping the Tragedies
Mr. Yang Weide, contact person for the Falun Dafa Association in Florida, said the persecution has lasted 22 years. "The persecution has no legal basis. It tramples on human rights and undermines the moral values of society," he explained. 
Although practitioners in the U.S. and other countries have the freedom to practice their belief, practitioners in China continue suffering for their belief and risk being arrested, detained, imprisoned, tortured, forced to do hard labor, and subjected to psychiatric abuse or even organ harvesting. 
"This candlelight vigil is a reminder of the situation we are facing – the more people that join in to stand against the communist regime, the more light this world will have," he added. 
All articles, graphics, and content published on Minghui.org are copyrighted. Non-commercial reproduction is allowed but requires attribution with the article title and a link to the original article.
Category: July 20 Events