British Parliament Member Speaks at Falun Gong Rally: China's Human Rights Crimes Should Be "Exposed in Broad Daylight"
July 24, 2021 | By a Falun Dafa practitioner in the U.K.
(Minghui.org) Falun Gong practitioners held an event at Parliament Square in London on Tuesday, July 20, 2021. Two days earlier, on Sunday, July 18, they had held a rally in the same spot. They demonstrated the Falun Dafa exercises and collected signatures on a petition calling for an end to the Chinese Communist Party's (CCP) persecution of the spiritual practice.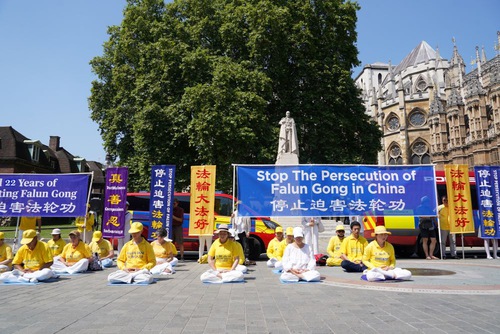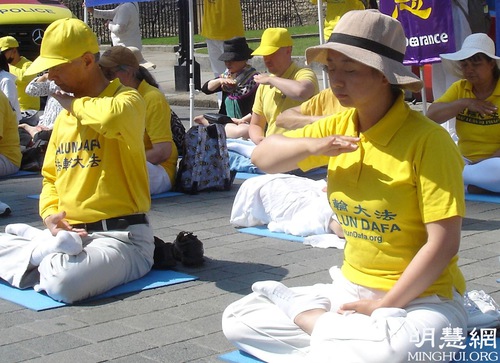 Demonstrating the exercises at Parliament Square in London 
British Parliament Member Expresses Support for the Event 
Member of Parliament for Glasgow North Patrick Grady gave a speech at the event. He said that more and more information about the human rights abuses by the Chinese regime has come out in recent years, such as the persecution of Uighurs, forced slave labour and, of course, Falun Gong. He said China's list of human rights abuses is long and very disturbing. 
"I've read reports that gave me the impression that people are responding. One of the reasons I am here today is because some of my constituents are Falun Gong practitioners who had to leave China for the UK in the hope that their voices will be heard. So I'm here today to support and am delighted to have the opportunity to learn more," he said.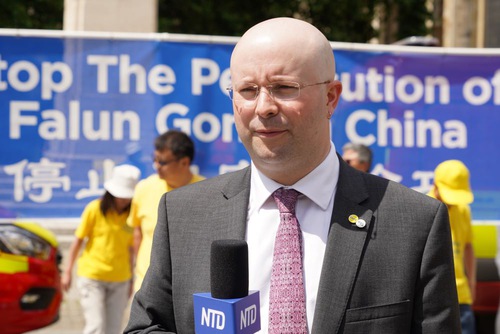 Patrick J. Patrick Grady MP from Glasgow
The lawmaker believes that true economic development, truly sustainable social development, and respect for human rights are two sides of the same coin. So, if China really wants to have a place in the world, it needs to understand that respect for human rights and religious freedom must be part of it. 
"The international community will do its part to ensure that this message is conveyed. Today the House of Commons is discussing our relationship with the Chinese government. Politicians are increasingly willing to raise human rights issues," he said.
He pointed out that dealing with this kind of thing requires a global approach. The more pressure the world applies, the harder it will be for the Chinese regime.
He said, "More politicians and governments around the world are ready to speak out and put all sorts of diplomatic pressure on them." 
He gave credit to the many different activists who have been peacefully resisting China's human rights abuses "like the people behind us holding banners" (Falun Gong practitioners).
"We want to make sure that these problems are exposed in broad daylight," he said. 
"It's especially important, and as I said, one of the main reasons I'm here is because the people of my district are so concerned about it that they came to me to talk about it. It gave me the confidence and empowerment to speak up for them. So I'm glad to see people speaking out about it, and of course, in such a very, very peaceful way, and in a very visible way. You've managed to attract pedestrians over the last two or three days," he said.
People Condemned the Atrocities Committed by the CCP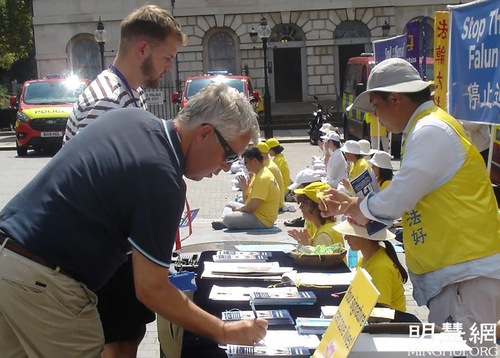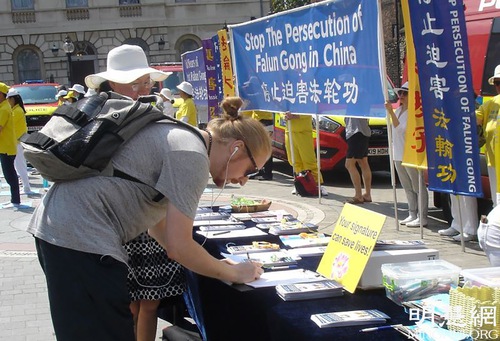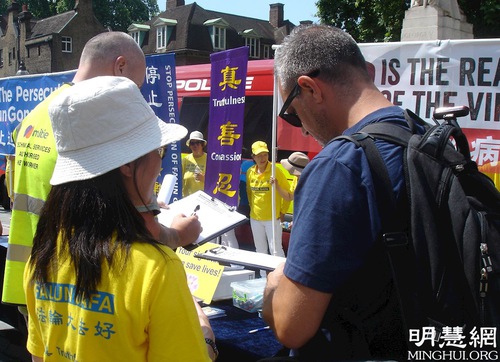 People sign the petition to condemn the persecution and support Falun Gong
Paula, a local resident, spoke to Falun Gong practitioners for a long time. She said she thought the event was a particularly good way to get people to know what's going on. "We need to make people aware of modern slavery and the removal of organs from people when they are still alive," she said.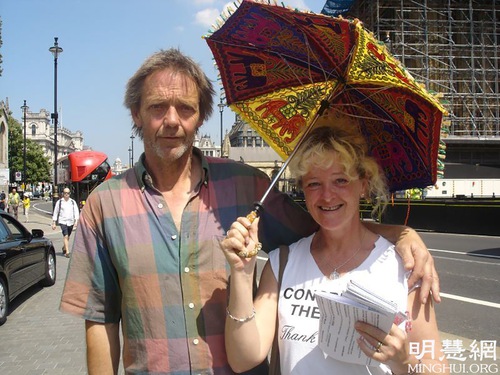 Paula and Mark
"We are honored to be here today. We need to recognize the fact that there are brothers and sisters on this planet who need our help. Helping and supporting you as a group always makes me feel very humble! Thank you for doing this!" This is very important! You've done a great job," Paula said. 
Paula's husband, Mark also expressed his views. "We learned about the state-sanctioned organ harvesting in China three years ago. It's really serious. It's unbelievable. It's the kind of thing that people cannot accept all of a sudden and need an awareness process because it's terrible."
"To fight this evil, people all over the world need to get together, and that's happening. But it may take a long time, and we still need to fight evil. We may not see an end, but at least it's starting.
"Don't let those evils crush you," Mark said to encourage practitioners.
All articles, graphics, and content published on Minghui.org are copyrighted. Non-commercial reproduction is allowed but requires attribution with the article title and a link to the original article.
Category: July 20 Events