German Commissioner for Religious Freedom to the CCP: Immediately Stop the Persecution of Falun Gong
July 22, 2021 | By De Xiang, a Minghui correspondent in Germany
(Minghui.org) On the occasion of the 22nd anniversary of the persecution campaign against Falun Gong practitioners, Markus Grübel, German Commissioner for Religious Freedom and Member of Parliament, called on the Chinese Communist Party to immediately stop the persecution of Falun Gong and its discrimination against and persecution of other ethnic, religious and cultural minority groups.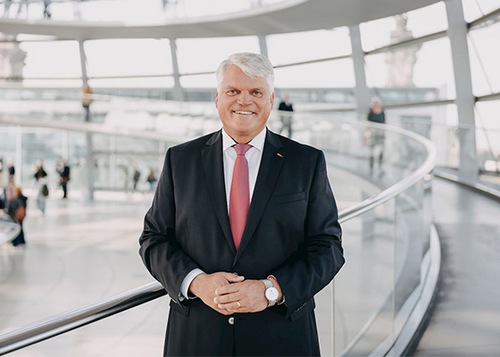 Markus Grübel, MdB, German Commissioner for Religious Freedom and Member of Parliament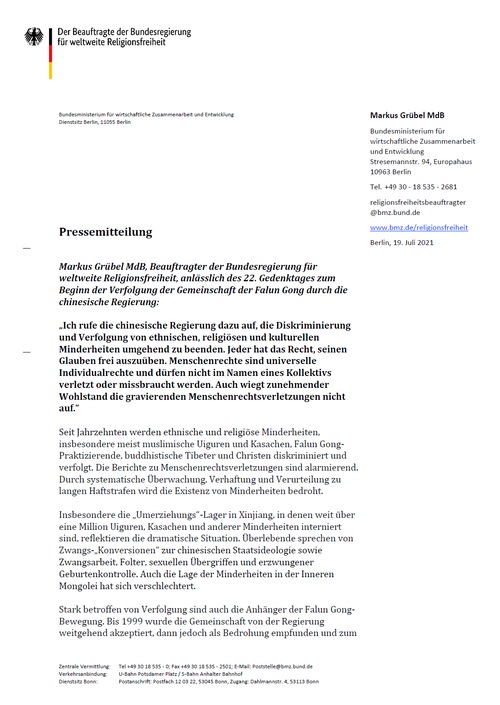 Markus Grübel's statement demanding an immediate end to the persecution of Falun Gong
Grübel said in his statement, "I call on the Chinese government to immediately stop the discrimination and persecution of ethnic, religious and cultural minorities. Everyone has the right to freely practice their beliefs. Human rights are universal individual rights and must not be violated or abused on behalf of the collective.
"Until 1999, the [Falun Gong] community was largely accepted by the government, but then perceived as a threat and declared an 'enemy of the state.' Its supporters are also victims of widespread propaganda campaigns, re-education, imprisonment, forced labor and torture. UN human rights experts were extremely alarmed of forced organ removal, which is carried out from imprisoned religious and ethnic minorities, in particular Falun Gong practitioners.
"For decades, ethnic and religious minorities, especially mostly Muslim Uyghurs and Kazakhs, Falun Gong practitioners, Buddhist Tibetans and Christians have been discriminated against and persecuted. The reports of human rights violations are alarming. Systematic surveillance, arrest and long prison sentences threaten the existence of minorities.
"The denial by the Chinese government and the unilateral suspension of the previously annual German-Chinese human rights dialogue in March 2021 is not helping to build trust. Human rights have universal validity, regardless of nationality and ethnic or religious affiliation. The 'Sinization' of religions and cultures, that is, the forced adaptation to socialist ideology, is a serious violation of freedom of religion and belief.
"The Religious Act [passed by the Chinese Communist Party] in January 2018 further legalized the tightened surveillance and persecution of minorities. In addition to Muslims, Falun Gong and Buddhist Tibetans, this also applies to unregistered Christian house churches and other communities. The 'National Security law,' which became effective in Hong Kong in June 2020, now also threatens human rights in Hong Kong. According to human rights organizations, this law is used to target dissidents, crush criticism and legitimize arbitrary arrests."
All articles, graphics, and content published on Minghui.org are copyrighted. Non-commercial reproduction is allowed but requires attribution with the article title and a link to the original article.
Category: Voices of Support Worldwide