Seattle: Falun Dafa Practitioners Rally in Chinatown to Protest the CCP's 22-Year-Long Persecution of Falun Dafa
July 21, 2021 | By a Falun Dafa practitioner in Seattle, Washington
(Minghui.org) Falun Dafa practitioners gathered at Hing Hay Park in Seattle's Chinatown to call for an end to the Chinese Communist Party's (CCP) persecution of Falun Dafa practitioners in China. Practitioners talked to local people about Falun Dafa and peacefully demonstrated the five sets of exercises. Many people stopped to sign the petition to end the CCP's persecution of Falun Dafa.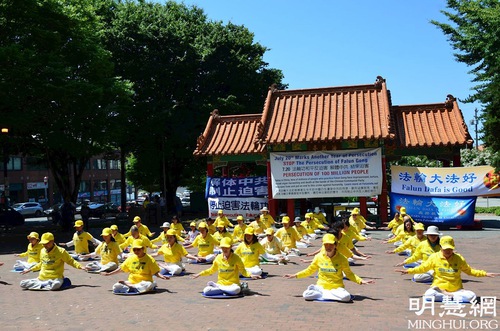 Practitioners rally in Hing Hay Park in Seattle and call for an end to the CCP's persecution of Falun Dafa practitioners.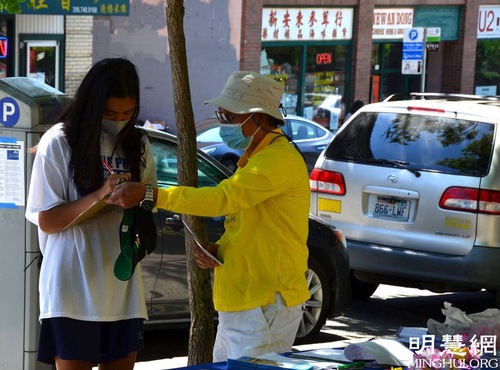 A local resident signs the petition to end the CCP's persecution of Falun Dafa.
Three Washington State Cities Issue Proclamations in Celebration of Falun Dafa Day
The CCP began to suppress Falun Gong (also known as Falun Dafa) in July 1999, under the direct order of former CCP leader Jiang Zemin. Millions of practitioners who believe in the Falun Dafa principles of "Truthfulness-Compassion-Forbearance" have been arrested, sentenced to jail, brutally tortured to death, and even been subjected to forced organ harvesting over the last 22 years. 
But outside of China, Falun Dafa is warmly welcomed and has received proclamations from all levels of government worldwide. Snoqualmie, Spokane, and Pullman, three cities in Washington State, issued proclamations in July 2021 to celebrate World Falun Dafa Day. 
The Mayor of Spokane, Nadine Woodward, stated: "Anyone is welcome to learn Falun Dafa because its universal principles of "Truthfulness, Compassion, and Forbearance" transcend cultural, social, economic and national boundaries, and the great compassion and forbearance demonstrated by Falun Dafa practitioners have touched the hearts of people all over the world.
"Although Falun Dafa practitioners have been persecuted in China for their belief since 1999, there are many local practitioners, including in the City of Spokane, that welcome all individuals to experience this peaceful practice."
"Only Those Without a Soul Would Commit Crimes Like Forced Live Organ Harvesting!"
Melanie moved to Seattle from Michigan. She was passing Hing Hay Park in Chinatown on her way to find an authentic Chinese restaurant when she saw practitioners exercising together. She stopped to read the truth-clarification poster boards out of curiosity.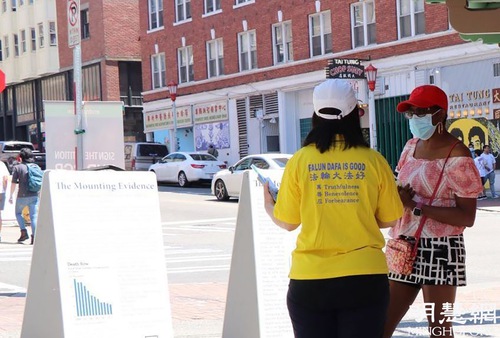 Melanie learned more about Falun Dafa while chatting with a practitioner.
After learning about the CCP's persecution of Falun Dafa, Melanie, a devout Catholic, said she agrees with the principles of Truthfulness-Compassion-Forbearance because the world needs these principles. 
She said she sensed that communism has infiltrated society in the United States over the last couple of years. She hoped that everyone would voice their opinions, similar to how Falun Dafa practitioners are exposing the evil nature of the CCP for persecuting practitioners.
Melanie condemned the CCP for harvesting organs from Falun Dafa practitioners. "Only those without a soul would commit crimes like forced live organ harvesting," she said. "These lives will ultimately end up in hell!"
Melanie said that she would pray for practitioners and also for the United States to stay away from communism. Goodwill always prevails over evil when one has righteous faith.
"It is Very Beautiful to Believe in Truthfulness-Compassion-Forbearance"
April and her husband saw the group practice from afar and thought that it must be some kind of Taiji practice. They came closer to find out more and learned that it was Falun Dafa. A practitioner told them about the CCP's persecution and forced live organ harvesting. 
After hearing about live organ harvesting, April was shocked and asked what she could do to help. She wanted to learn how to pronounce "Falun Dafa" in Chinese. 
"It is very beautiful that you are cultivating Truthfulness-Compassion-Forbearance," April said. "All good lives will yearn to achieve the realms of Truthfulness-Compassion-Forbearance. May God be with you and protect you!"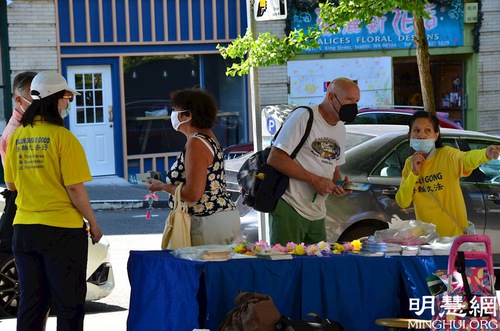 April (middle) learning about Falun Dafa
All articles, graphics, and content published on Minghui.org are copyrighted. Non-commercial reproduction is allowed but requires attribution with the article title and a link to the original article.
Category: July 20 Events