San Francisco, California: Rally and March Call Attention to 22-Year-Long Persecution
July 20, 2021 | By Minghui correspondents Jia Wei and Wang Ying
(Minghui.org) Falun Dafa practitioners held a rally and march in San Francisco on Saturday, July 17 to condemn the Chinese Communist Party's (CCP) 22-year-long persecution. They also called for the persecution to end and for the CCP to be disintegrated. 
Practitioners started the day's events by demonstrating the exercises in front of the Ferry Building at 8 a.m. Many tourists stopped to watch. Some followed along with the practitioners' exercise movements. The rally was held at 10 a.m.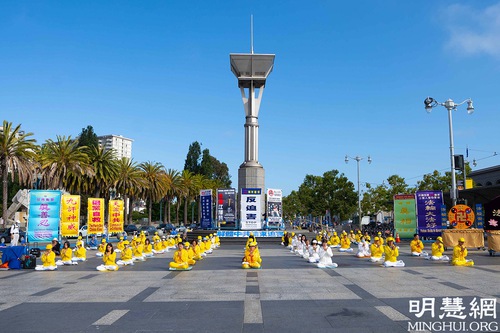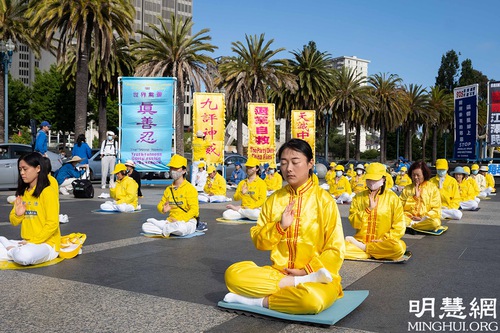 Group exercise practice in front of the Ferry Building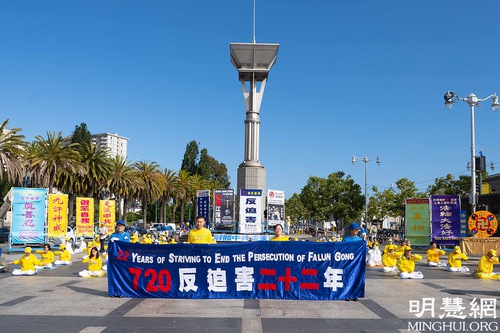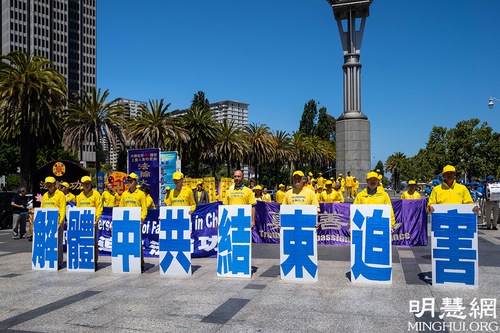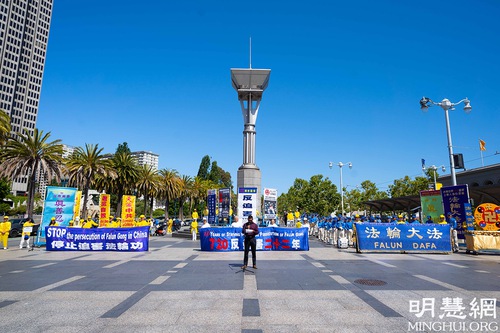 Rally in front of the Ferry Building in San Francisco.
The two-mile march stepped off at noon from the Ferry Building, passed by the Embarcadero, and arrived at the Maritime Garden on Jefferson Street. 
The march was led by the Tian Guo Marching Band and was composed of three sections. The theme of the first section was "Falun Dafa is good." It consisted of the Tian Guo Marching Band, the banner team, the exercise team, and the flag team. The second section exposed the persecution and consisted of practitioners wearing white mourning clothes and holding portraits of fellow practitioners who lost their lives in the persecution. The section also included banners with messages demanding an end to the CCP's violence and to bring the main culprit, former CCP leader Jiang Zemin, to justice. The third section called on the Chinese people to quit the CCP and its affiliated organizations for a safe future.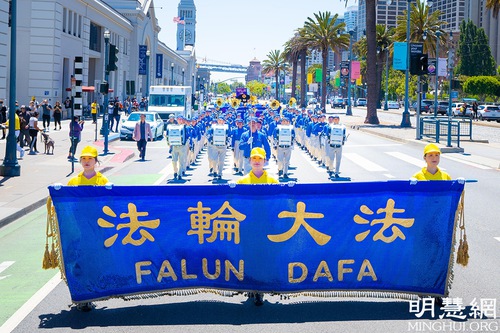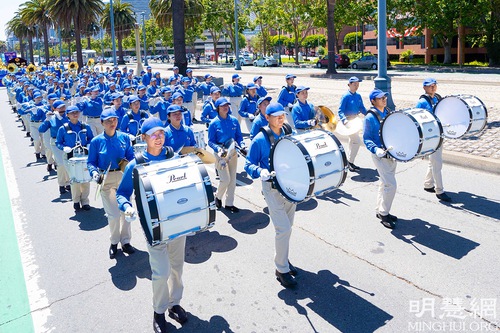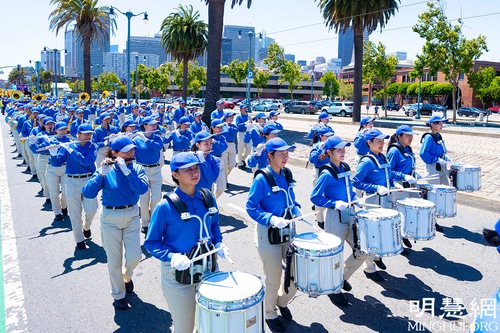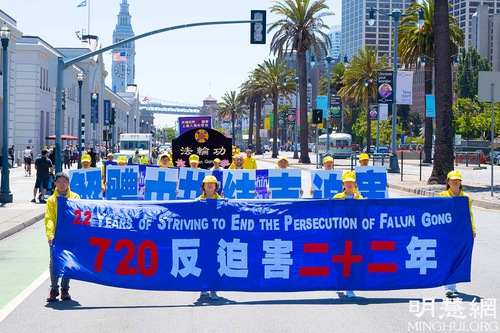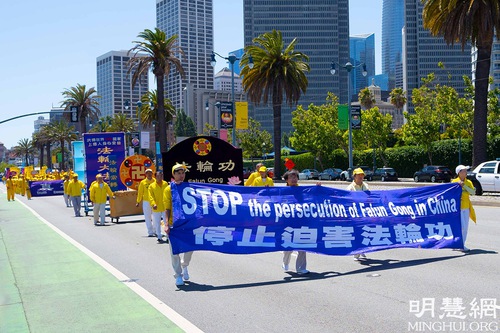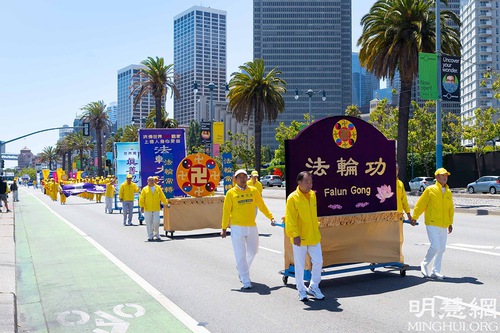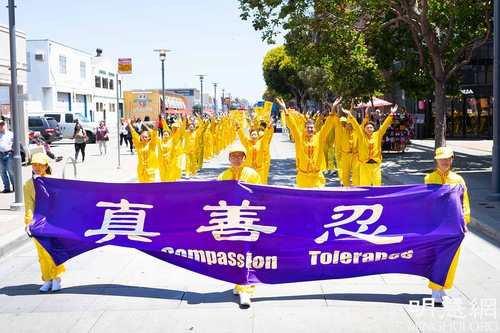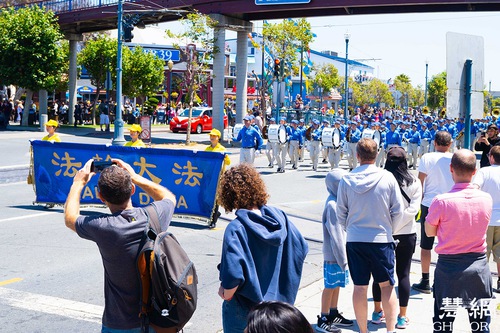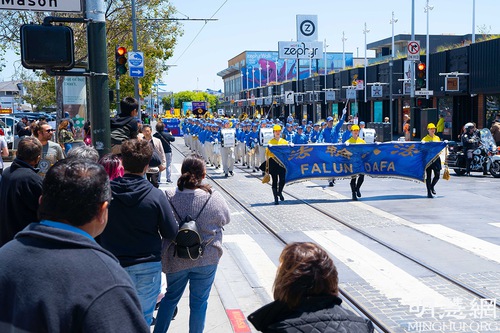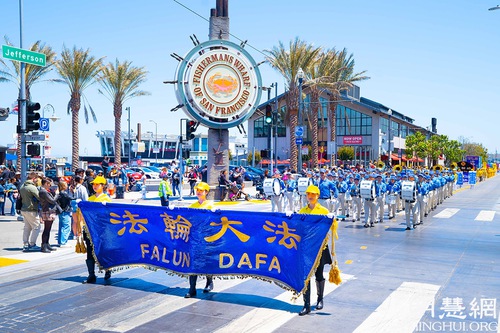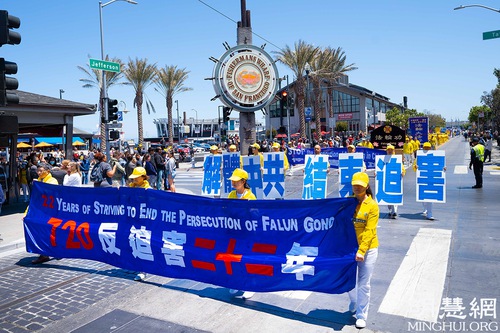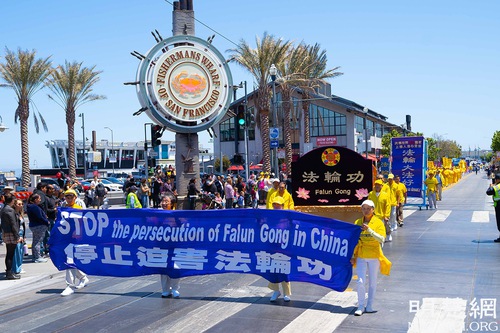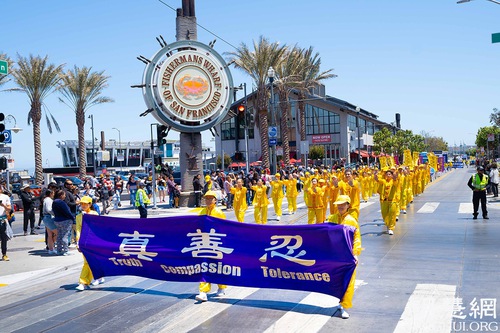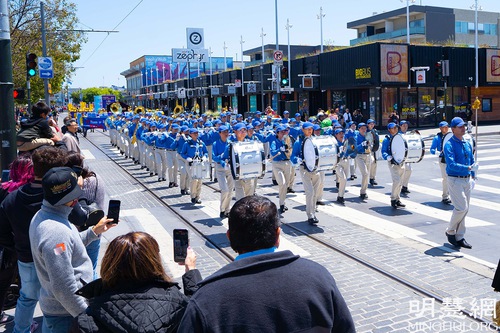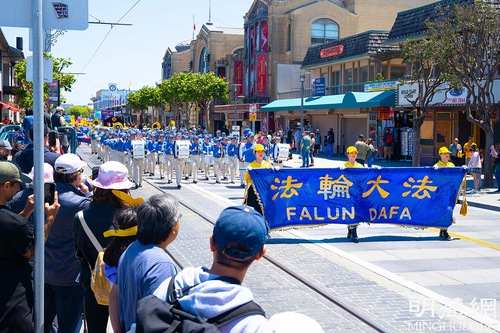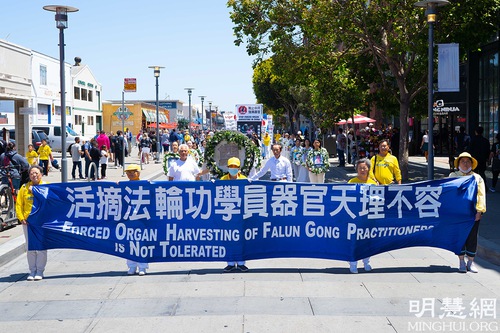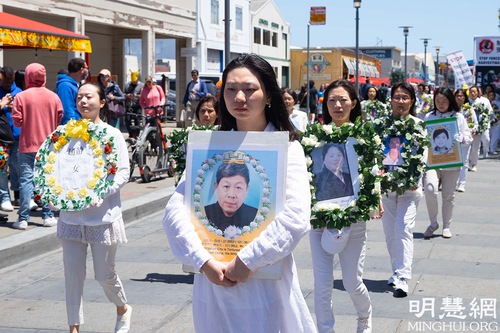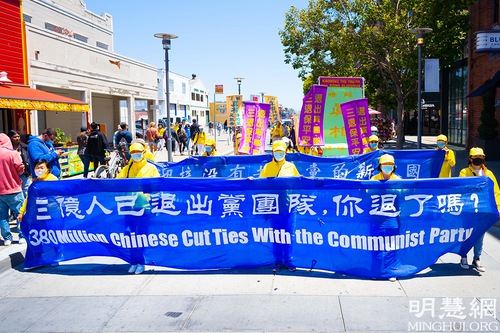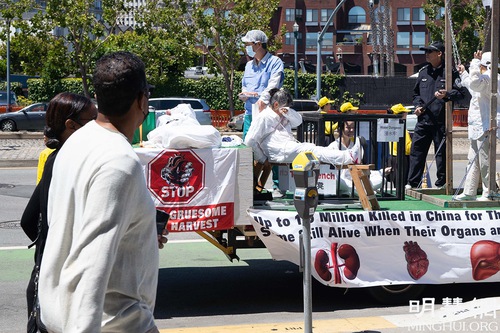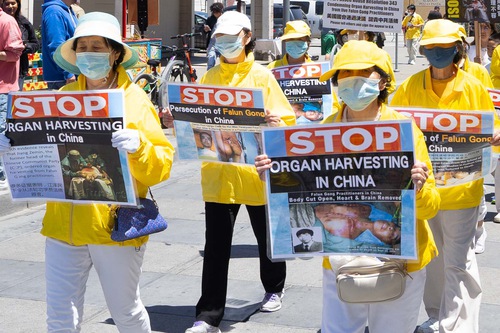 Practitioners held a march on July 17, 2021 to peacefully protest the 22-year persecution of Falun Dafa in China.
Vice Mayor Writes to Support the Rally 
Vice Mayor Victor Aguilar of San Leandro sent a letter to support and encourage the practitioners in their effort to bring an end to the persecution. He stated in the letter that as a supporter of human rights, he is concerned about the CCP's persecution of Falun Dafa. He is deeply troubled by the torture and indefinite detention of Falun Dafa practitioners, and said that to protect people's right of belief, pressure should be put on those responsible for such shameful acts.
Practitioner Zhenni Zhang: Stop the CCP's Persecution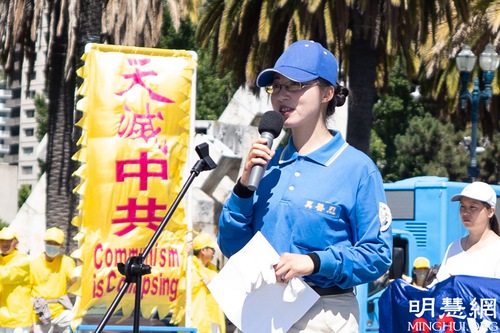 Zhenni Zhang addressed the rally and said her family was targeted for persecution.
Zhenni Zhang, who began practicing Falun Dafa in China in 1994, said that after her sister and parents practiced for a few months, their chronic diseases were gone. "The people around us noticed that we were very healthy and our relationship with our neighbors was quite harmonious. They also began practicing Falun Dafa," she said.
However, after the CCP began to persecute Falun Dafa in 1999, the state-run media slandered the practice, and the entire CCP state machinery was mobilized to persecute these innocent people. Their normal lives were disrupted.
Ms. Zhang's mother was a university professor. She was abducted three times for practicing Falun Dafa, tortured, and then forced to retire without her pension. Her father was a researcher in an institute. He was also kidnapped, and his bank account was frozen. Her sister was dismissed by her workplace.
Seeing how the CCP slandered Falun Dafa and how its media continually publicized rumors and propaganda, Ms. Zhang decided to go to Beijing to appeal. She sent a letter to the government to let them know how her family benefited from practicing Dafa. 
"As a result, I was handcuffed and locked in a detention center. I went on a hunger strike for six days. After I was released, I was expelled from school and I could not complete my college education."
She said that almost every Falun Dafa practitioner she knew was harassed, kidnapped, and detained. One day, she learned that two university professors she knew had been tortured to death. One of them was a professor of mathematics, and her husband was sentenced to 12 years in prison. Their four-year-old daughter became an orphan.
"That was definitely the darkest period in my life," Zhang said. She related that the CCP police continued to harass them and threatened to kidnap them and take them to a brainwashing center. "We were forced to leave home. During those eleven years of displacement, every moment was spent in great pressure and fear. We didn't know what the police would do to us if they found us. We were worried that one day we would be seized again and would 'disappear.'"
The CCP has been persecuting Falun Dafa for 22 years. The cruel persecution and and killing of innocent people continue.
Now, more and more people are speaking out for justice. More than one million people have signed a petition calling for the disintegration of the CCP. To date, over 380 million Chinese people have withdrawn from the CCP and its affiliated youth organizations.
Zhenni Zhang called on people to work together to stop the CCP's persecution.
Computer Engineer: I Feel Refreshed after Practicing Falun Dafa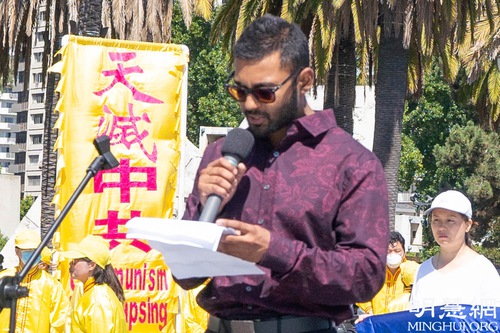 Vijay Kumar
Vijay Kumar, a Silicon Valley computer engineer, came to the United States from India. With his family in India, he often felt lonely and empty. Although he found a good job after graduating from college, bought a nice car, and new clothes, these material things did not really make him happy. He still felt empty and sad.
In 2018, he met a Falun Dafa practitioner at his workplace. Mr. Kumar observed the practitioner for several weeks. 
"He did a similar job to mine, but somehow he was so calm and composed. I sometimes drank three cups of coffee a day, but I never saw him drinking coffee. I never saw him as stressed as the rest of our colleagues. One time I couldn't help approaching him at lunch, and I asked what made him so calm and peaceful? How could he sit in front of the computer all day and still remain so calm? He told me that he practiced Falun Dafa."
Kumar said that this Falun Dafa practitioner was so compassionate and kind when he spoke. He said the exercises were easy to learn and he offered to teach him. 
"The first time I did the exercises, I really felt refreshed. The immediate benefit I felt was that my appetite improved. This alone was enough for me to continue learning the exercises.
"My original intention was just to learn the exercises. But seeing the benefits of the exercises, I wanted to learn more. So I asked the practitioner if there was anything else? He explained that Falun Dafa is a practice of both mind and body. He suggested that I read Zhuan Falun, the main book of Falun Dafa."
After reading the book, many of Mr. Kumar's questions and puzzles were solved. "I can better understand what cultivation is. It's not about going up into the mountains or throwing everything away, but to improve my xinxing and be a good person. I don't need to leave my family. I can practice while working and become a good man."
Integrating Falun Dafa's teachings of Truthfulness-Compassion-Forbearance into his daily life has brought tremendous changes to his body and mind. Kumar learned to ignore the contradictions encountered in his work and treat any difficulties with kindness and tolerance.
Speaking of the CCP's persecution of Falun Dafa, Mr. Kumar said, "What the CCP does is evil. It is terrible to cruelly persecute people who just want to be good people. The CCP is evil. This persecution should stop."
Professor: Live Organ Harvesting Is Terrible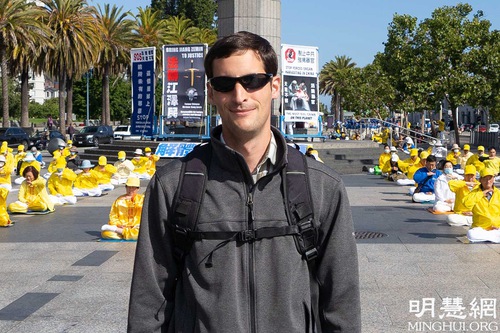 Professor Branson Herrera
Professor Branson Herrera and his wife were touring San Francisco and noticed the practitioners' event. Professor Herrera said that the persecution was troubling and he was concerned about the CCP's violation of human rights. 
After he learned about the CCP's state-sanctioned organ harvesting from living practitioners for profit, he said, "Live organ harvesting is terrible. I am troubled by the human rights violations that have occurred in China. Hollywood and major American companies should sever contacts with the CCP. I hope more and more people can wake up and fight evil."
Oakland Resident: Forced Organ Harvesting Is Evil 
Stevie Chevalier from Oakland
Stevie Chevalier, a resident of Oakland, in Northern California, immediately signed the petition calling to end the CCP. She said, "I think the CCP bans people's freedom of belief. I noticed this group of Falun Dafa practitioners doing the exercises so peacefully. 
"However, this group of kind people are persecuted for not giving up their faith, in their own country. This is completely wrong—so I signed the petition to show my support."
When she learned that practitioners have been persistently protesting the persecution for 22 years, she expressed admiration and said, "It's incredible. It also means that upholding one's faith is very important. 
"It also surprised me that all the CCP's actions are persecuting human rights and hurting its own people. How can we let this happen? I believe that many people who know about the CCP's actions against humanity, ignore it because of money and personal interests. They choose to turn a blind eye, which is sad."
Regarding the CCP's crime of harvesting organs from living practitioners, Ms. Chevalier said, "I'm shocked. The theft of organs for profit is evil. People should be treated with kindness and respect. The CCP is despicable."
She praised Falun Dafa's principles and said, "Truthfulness-Compassion-Forbearance are universal values of mankind. I am eager to understand what Falun Dafa is and learn to make myself a better person."
San Francisco Resident: The CCP Persecutes Human Rights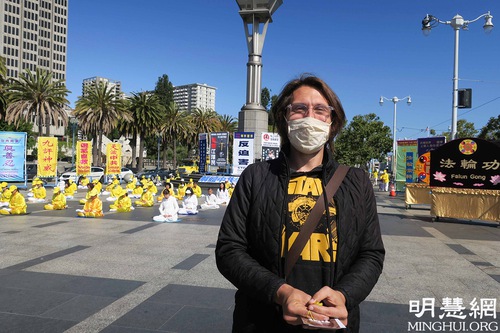 Jeremiah Strong from San Francisco
Jeremiah Strong, a San Francisco resident, is works in the field of arts. He said, "I heard of the persecution in China before, and I have been studying and collecting more relevant information." He said the CCP has done a lot of persecution of human rights and actions against humanity. He was very supportive of practitioners' activities to expose the persecution. 
Mr. Strong said, "When I hear the peaceful exercise music and see practitioners doing the exercises here, I like it very much. It makes me feel like I am at home. I really like Falun Dafa's principles of Truthfulness-Compassion-Forbearance. It also makes me wish to learn more about Falun Dafa."
Resident of Sacramento: Persecution Should Have Ended Long Ago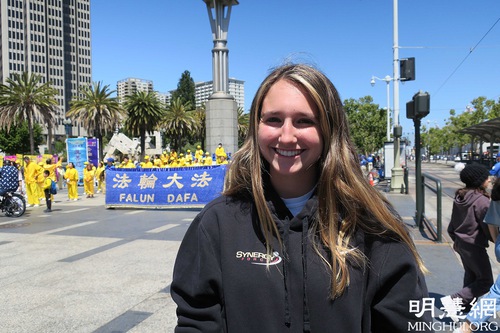 Ashlyn Watson, resident of Sacramento
Ashlyn Watson, a resident of Sacramento, the capital of California, was shocked to hear about the persecution of Falun Dafa in China for the first time. 
Ms. Watson said, "It is unbelievable to be persecuted to death for sticking to their beliefs and being good people. How could this happen? I think this is wrong. They should have the freedom of belief. However, it is still happening in China at this moment. The CCP's organ harvesting from practitioners for profit should not happen. It is sad."
She added, "Practitioners have been persecuted in China for 22 years. This should have ended long ago. Falun Dafa is based on the principles of Truthfulness-Compassion-Forbearance. I agree with this very much."
All articles, graphics, and content published on Minghui.org are copyrighted. Non-commercial reproduction is allowed but requires attribution with the article title and a link to the original article.
Category: July 20 Events